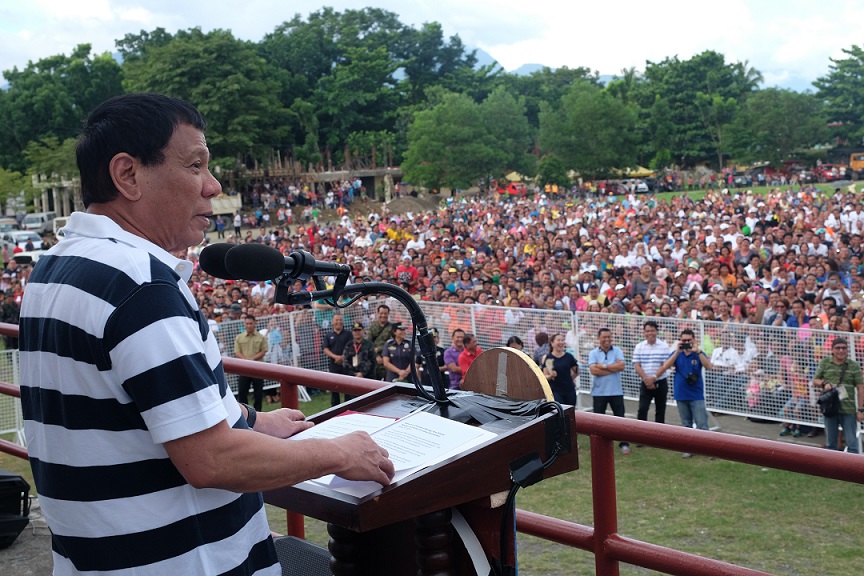 Pres. Duterte's first public appeasing after a five-day absence iat the 4th Infantry Division in Bancasi, Butuan City. (Malacañang photo)
In his re-appearance speech five days after he was not seen in public, President Duterte gave an explanation for the military's "mis-appreciation" of intelligence report that has been blamed for the difficulty being encountered by government forces in the ongoing war against the Islamist militants in Marawi city.
It will be recalled that Solicitor General Jose Calida said that the military had received intel reports about possible Maute- Abu Sayyaf attackin Marawifive days before May 23, when the fighting started sparked by the serving of warrant of arrest to ASG leader Isnilon Hapilon.The fierce fighting was the basis of the declaration of Martial Law in Mindanao by Duterte on May 23 .
Defense Secretary Delfin Lorenzana, who was in Moscow with the President together with otherhigh-ranking security officials said there was no lapse in intelligence monitoring. "It's just appreciation of the intelligence that was lacking there," he said.
The President speaking before soldiers that compose the 401st Brigade, 4th Infantry Division Advance Command post in Bancasi, Butuan City, gave his version of the armed conflict that has claimed the lives of at least 58 soldiers, 191 terrorists and a number of civilians. Almost 300,000 have been displaced and are miserable in evacuation centers.
Duterte explained: " It was not a question of failure on the part of government. Kasi naman tayo, we have adapted a very soft policy towards sa mga rebels. And this came about because nagdadala sila ng baril eh. And since we are thinking of getting peace with the MNLF and MI, ang laro ng armas diyan, we took it for granted. We took it really for granted na. Pero alam natin na mabibigat. Pero hinayaan kasi natin because we never knew at that time kung sino talaga ang kalaban. Iyon bang mga pulitikong nag-aaway, nagri-rido sila, o iyong mga itong private army ba ito ng politicians?"
Now, he said they realised, "Kalabas-labasan, itong Maute were bringing the firearms surreptitiously at hindi natin nakuha na gaano na karami ang ammo pati baril sa loob."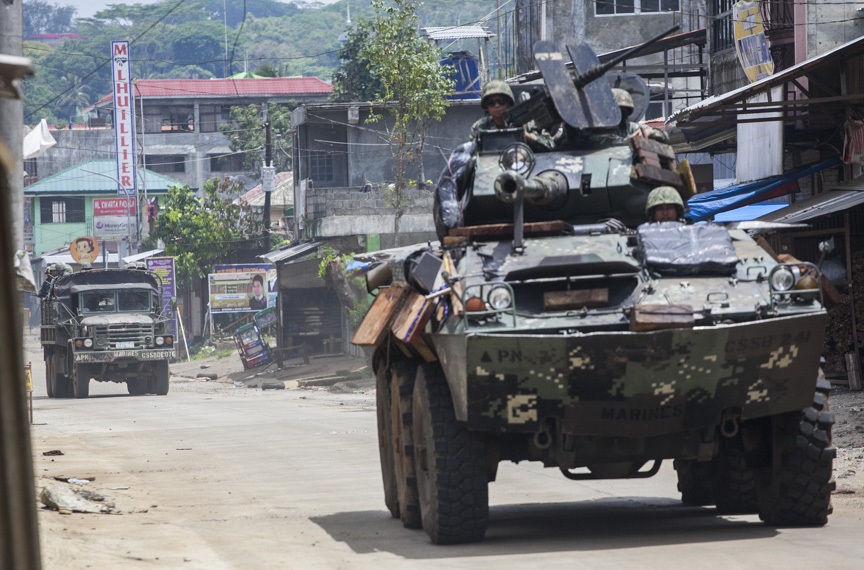 A convoy of Philippine marines pass through a deserted main street in Marawi as heavy fighting continues between ISIS inspired Maute militants and the government. (Photo by Luis Liwanag)
He stressed, "It was not a failure of intelligence. Kasi kung makita pa silang may armas, tapos sabihin nila, MI, MN, ang standing order naman is 'huwag ninyong galawin.' Baka, baka sakali mapakiusapan pa natin ang mga kapatid natin, na walang gulo. But all the while, itong Maute, with the connivance of the politicians there, iyong mga warlords, were stockpiling."
That's the reason why, he said, the Islamic terrorists don't seem to run out of arms and ammunition in the almost a month of of fighting:" Kaya ni hindi maubos iyong M-203 na bala at napakarami. Magputok ang isa ng gobyerno, dadagdagan na—ibabalik sa atin, lima. So parang endless supply when Maute rose to fight against government."
He said the militants were ready last month and they were just waiting for an opportune time to attack. They got it in theattempted arrest of Hapilon. " Naghihintay lang sila noon ng 'bikil' tawag nila, iyong rason at mag-serve ng warrant of arrest which is an everyday occurrence anywhere in the Philippines, lumaban. Ayun, nagkabakbakan. At iyong forces ng mga Indonesian nasa bukid-bukid, nagbabaan. So you have a conglomeration there of ISIS fighters from Syria, Indonesia, Malaysia, Sri Lankan, at iyong mga Arabo na — maputi. Maputi iyong Arabo eh, na… Kuwait. "
More than six months ago, the President dared the Maute Group to make good their threat to burn Marawi. Speaking at theDec. 12 Wallace Business Forum Dinner in Malacañang, he said: "We took consideration of the Maute rebellion going on in Lanao…And they demanded that we stop the offensive. They are in there in the forest. I don't know where and I said, they would stop fighting, provided we stop the offensive or not, they said that they will go down upon Marawi to burn the place. And I said, "Go ahead, do it."
With Marawi in shambles, gone was the braggadocio last Saturday as Duterte spoke of " the danger of Maute and ISIS."
As he promised the soldiers more support,he cautioned them of the brutality of the terror group: "Bantay kayo diyan. Mahirap kalabanin iyong taong gustong mamatay."