PRESIDENT Benigno Aquino made history by appointing Lourdes Sereno as the country's first female Chief Justice, but he also broke tradition by setting aside the seniority rule and naming to the highest judicial post one of the Court's youngest associate justices, who also happens to be his college schoolmate.
Sereno's appointment places control over the judicial and executive branches of government in the hands of two graduates of the Ateneo de Manila University, both 52 years old, who obtained degrees in Economics within a year of each other.
Sereno however has always maintained she has no ties with the President. She is said to have left an impression on him when she briefed the Senate on different issues on at least two occasions while Aquino was still a Senator.
Sereno, who was Aquino's first appointee to the Supreme Court, obtained her Economics degree from the Ateneo in 1980. Aquino got his a year later, in 1981. Sereno went to the University of the Philippines for her law degree. (The name and photo of Sereno, who was known as Lourdes Punzalan Aranal in her college days, do not appear in the Ateneo yearbook Aegis in 1980, the year she graduated).
A VERA Files study on the judiciary noted that only two presidents before Aquino had broken the tradition of appointing the most senior member of the Court as Chief Justice. The first was Ferdinand Marcos who twice bypassed the independent-minded Claudio Teehankee as Chief Justice to appoint Ramon Aquino and Felix Makasiar.
The second was Gloria Macapagal Arroyo, who bypassed Reynato Puno in favor of Artemio Panganiban in 2005. By then, Panganiban had been on the Court for 10 years, while Puno had served for 12 years. About a month before she stepped down from office, Arroyo also bypassed Antonio Carpio and named as Chief Justice her former chief of staff, Renato Corona, who was convicted by the Senate sitting as an impeachment court on May 29, 2012.
Teehankee got his chance to become Chief Justice when in 1986 former President Corazon Aquino named him her first Chief Justice. Carpio will never get that chance since Sereno will be serving for 18 years. Carpio retires in eight years.
The VERA Files study noted that breaking or keeping the tradition of seniority remains a presidential prerogative. But when the JBC was first constituted under the term of former president Corazon Aquino, it informed Aquino in a 1988 letter that it was unanimously endorsing the "established tradition since the beginning…of appointing the most senior Associate Justice as Chief Justice."
"This tradition has helped to isolate the Supreme Court from the pressures of politics and other extraneous considerations as well as to avoid internal strife and jockeying for position," the JBC told her.
Chief Justices of the Philippine Supreme Court, 1987-2012

Date appointed

Chief Justice

Seniority

Appointed by

April 1988
Pedro L. Yap
Most senior Associate Justice
Corazon C. Aquino
July 1988
Marcelo B. Fernan
Most senior Associate Justice
Corazon C. Aquino
December 1992
Andres R. Narvasa
Most senior Associate Justice
Corazon C. Aquino
November 1998
Hilario G. Davide, Jr.
Most senior Associate Justice
Joseph E. Estrada
December 2005
Artemio V. Panganiban
Bypassed the more senior Reynato S. Puno
Gloria Macapagal-Arroyo
December 2007
Reynato S. Puno
Most senior Associate Justice
Gloria Macapagal-Arroyo
May 2010
Renato C. Corona
Bypassed the more senior Antonio T. Carpio
Gloria Macapagal-Arroyo
August 2012
Maria Lourdes P.A. Sereno
Bypassed 11 more senior Associate Justices
Benigno C. Aquino III
The VERA Files study likewise pointed out that it falls within the president's prerogative to appoint anyone he pleases, as long as the appointee passes JBC scrutiny and meets the requirements of the position.
The 1987 Constitution requires judicial appointees to be natural-born citizens, at least 40 years old, and must have been a judge or a practicing lawyer for at least 15 years.
The Constitution also requires a member of the judiciary to be a person of proven competence, integrity, probity, and independence.
Early this year, Sereno voted along with the entire Supreme Court to distribute the 6,000-hectare Hacienda Luisita in Tarlac owned by the President's family, the Cojuangcos, to farmer-beneficiaries.  But when it came time to decide how much the Cojuangcos should get for the land, she was among the minority who voted to pay them a higher amount based on the value of the land in 2006, rather than the lower 1989 levels. Hacienda Luisita came under agrarian reform coverage in 1989, but its owners opted to distribute stock instead of land to farmers. In 2006, the Presidential Agrarian Reform Council nullified the stock distribution option.
Sereno also voted against allowing former President Gloria Macapagal Arroyo to leave the country to seek medical treatment in late 2011.
Sereno's appointment to the Supreme Court, first as associate justice and now as Chief Justice, makes her one of a number of Ateneo graduates who hold key government posts under the Aquino administration.
Other government officials who attended the Ateneo during their undergraduate years in the late 1970s to early 1980s are Energy Secretary Rene Almendras, Transportation Secretary Mar Roxas, Pagcor Chairman Cristino Naguiat, Metro Manila Development Authority Chairman Francis Tolentino and Land Registration Authority Eulalio Diaz III. Roxas, however, left the country to finish his studies at Wharton School in Pennsylvania.
In the Judicial and Bar Council, two members who took part in the screening and selection of the Chief Justice are Ateneo alumni. Jose Mejia, like Sereno a 1980 Economics graduate, represents the academe in the JBC, while Michael Frederick Musngi, a palace undersecretary who obtained his law degree from the Ateneo, represented Justice Secretary Leila de Lima who had to inhibit because she was herself a candidate for Chief Justice.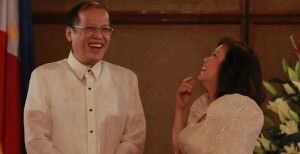 Other government officials who graduated from the Ateneo in the early 1980s are Tourism undersecretary Simeon Marfori, and Pagcor Assistant Vice President Jose Christopher Manalo.
Budget Secretary Florencio Abad and Tourism Secretary Alberto Lim obtained their Bachelor's degrees from the Ateneo in the 1970s. Abad's daughter and Presidential Management Staff head Julia Abad graduated from the Ateneo in 2000.
Those who went to the Ateneo for their law degrees are Executive Secretary Paquito Ochoa, Bureau of Internal Revenue Commissioner Kim Henares, and Presidential Spokesperson Edwin Lacierda.
When she starts work, among the many cases awaiting Sereno is the electoral protest filed by Aquino's defeated vice presidential candidate, Mar Roxas, against Vice President Jejomar Binay.—Yvonne Chua, Ellen Tordesillas, Luz Rimban, and Lala Ordenes.