BONGAO, Tawi-tawi—Muslim leaders challenged followers of Islam to change public perceptions that the Autonomous Region for Muslim Mindanao (ARMM) is the cheating capital of the Philippines.
Religious leader Mofti Aleem Abdulwahid led the thousands who gathered at Tawi-tawi's Provincial Sports Complex ground for the morning prayer marking Eid'l Fitr, the end of Ramadan, the Islamic holy month of fasting. He congratulated those who fulfilled their vows of fasting.  Eid'l Fitr also marks Hari Raya, the start of three days of rejoicing and celebrations.
In his khutba or public sermon, Abdulwahid challenged followers of Islam to reverse ARMM's image as the region where electoral malpractices happen.
Ramadan began on July 19, a day after the Commission on Elections held a general voters' registration in ARMM's five provinces and two cities to cleanse the book of voters which was allegedly padded by unscrupulous politicians.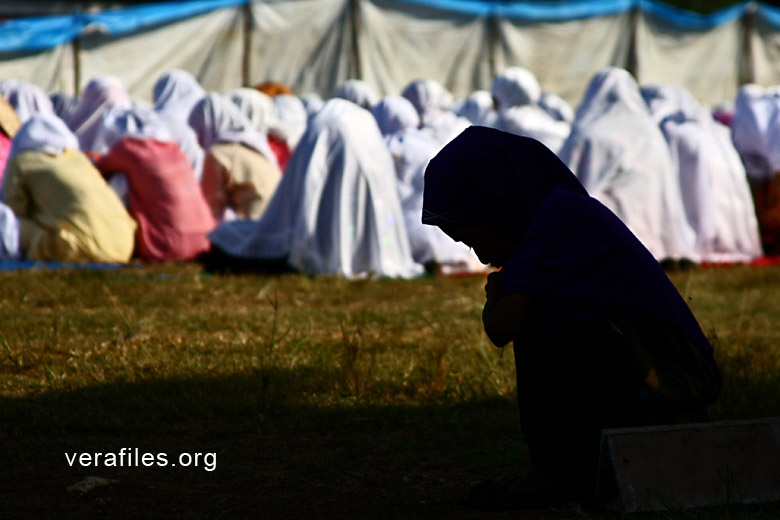 Abdulwahid said that the root of it all was the "desire" and lust for too much power and wealth. He called on the followers of Islam to commit to Jihad and fight those temptations from within oneself.
After the open field prayer and sermons, families go home and start to prepare for the celebration.
Dayang Carlsum Sangkula-Jumaide, Assembly Woman and Regional Legislative Speaker of ARMM, said that it was one of the best sermons she has ever heard that tackled a regional and local concern that must really be addressed.
Hari Raya, she said, was a day of prayer, a day of celebration, a chance for family and relatives to gather and update each other. It is also a time of happiness, to share and give what they can.
(ARMM WATCH  is a project of VERA Files in partnership with MindaNews, The Asia Foundation and Australian Agency for International Development.)