MALAMAUI, Basilan—Islam sets restrictions on how women conduct their lifestyles and function alongside men in society. But for a group of women residing in the remote community of Carbon in Malamaui in Basilan province, this seems to be a minor setback.
Monarassana "Mona" Muctar, a college graduate, decided to leave her life in the city of Isabela to return to the island of Malamaui and form a group called Women Association for Islamic Learning and Awareness (WASILA).
For the month of Ramadan,  Mona and the other women of Carbon decided to devote their time to preparing food for the whole congregation for "Iftar," the meal eaten after sunset during Sawm, the fasting during the month of Ramadan in Muslim tradition.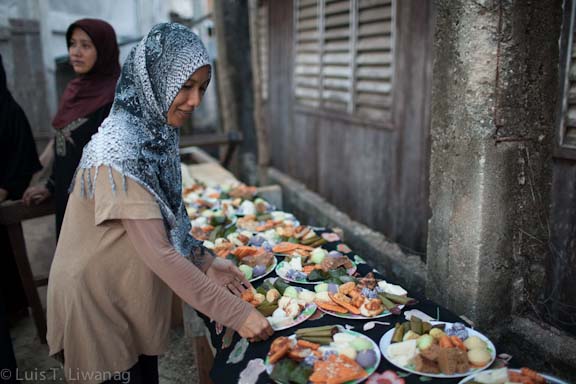 According to Mona, it also promotes unity among the Muslim community as they eat and break their fast together.
"It also promotes the spirit of voluntarism among us,  as we believe that when you feed a fasting person, the reward from God is also  multiplied so why not grab the opportunity for the Holy month of Ramadan…which only comes once a year," Mona said.
Since people have not eaten at all during the day, they are often quite hungry by the time Iftar comes around.  The fasters are served a feast of fruits, dates and other starchy and sweet delicacies,  which starts with a hot bowl of arroz caldo, a porridge with bits of chicken and egg to slowly introduce nutrients into the empty stomach.
Mona adds that the women of Malamaui aim to learn and be aware of what Islam really is. "To attain peace…we have to start it at home where the women or the mothers are always around. When we as women…or  as mothers are educated on both Islam and western education our children learn the right virtues from us as their first teachers."