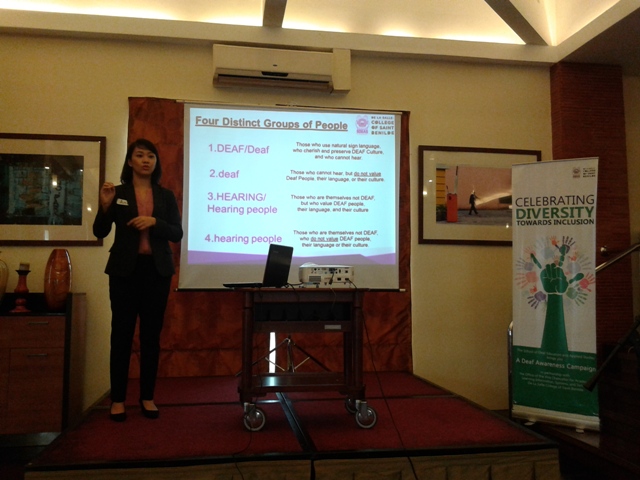 BY JAKE SORIANO
WHEN President Benigno S. Aquino III delivered his inaugural address on live television in June 2010, he said people know how it feels to have a government that is "bulag at bingi."
Television screens had no insets for sign language interpreters then, and deaf Filipinos had to wait for the transcript of the president's speech. Some were offended with this reference to deafness, and did not understand that its use was metaphorical.
"Those of us who could hear and were working with the deaf community [had] to explain that it was miscommunication," recounts Maria Veronica Templo-Perez, Dean of the De La Salle-College of Saint Benilde School of Deaf and Applied Studies (DLS-CSB SDEAS).
"And it was from that experience that the following year we went to the big TV stations, and said na baka gusto ninyong magkaron na ng inset para di na magkagulo," she says.
Making Filipino sign language (FSL) insets mandatory in broadcast media is one of the measures Templo-Perez and other advocates are pushing as the Philippines celebrates Deaf Awareness Week from November 10 to 16.
During a workshop themed "Celebrating Diversity Towards Inclusion" on Tuesday (November 11), DLS-CSB SDEAS expressed its support of Senate Bill 2117 filed by Senator Bam Aquino in February this year.
Also known as the Filipino Sign Language Act in Broadcast Media of 2014, SB 2117 seeks to amend a section of the Magna Carta for Persons with Disabilities (PWDs) which at present only encourages television stations to provide sign language insets or subtitles.
The bill, when approved, will require television stations to provide specifically Filipino sign language insets, and where possible, closed captions or subtitles. It will also increase the required number of newscasts or special events programs needing insets to at least two per day from the present one per day.
During the same workshop, Mackie Calbay, coordinator of the DLS-CSB SDEAS Deaf Advocacy Program and herself deaf, notes that they are also pushing for the passage of two other bills in Congress: House Bill 450 filed by ACT Teachers Party-List Rep. Antonio Tinio and SB 2118 by Sen. Aquino.
Both bills seek similar ends: the declaration Filipino sign language (FSL) as the national sign language of the Filipino Deaf and the official language that would be used by the government in all transactions involving the Deaf.
The said bills also seek to mandate the use of FSL in schools, broadcast media and workplaces.
There are currently around half a million Filipinos with hearing difficulties, according to SDEAS.
In 2012, the World Health Organization (WHO) estimated that 360 million people, or 5.3 percent of the world's population, have disabling hearing loss. The Asia-Pacific region, it noted, has one of the highest prevalence of disabling hearing loss in children.
Asked if the Philippines has become more inclusive towards Deaf and the PWD sector in general, Templo-Perez says: "Have we become more inclusive? Baby steps. We're getting there, but no, not yet. We're not there."
Promoting disability inclusive development is at the core of the declaration by President Aquino of 2013-2022 as the Philippine Decade to "Make the Right Real" for Persons with Disabilities.
The said declaration was in support of the Incheon Strategy, which similar to the   Millennium Development Goals (MDGs), contains time-bound goals and targets  for PWDs by countries and territories in the entire Asia Pacific.