By ALLAN YVES BRIONES AND BRYAN EZRA GONZALES
THOUSANDS of persons with disabilities (PWDs) participated in the recent annual earthquake simulation exercise, some of them showing they could take part in rescue operations and provide invaluable assistance to others in times of disaster.
Among those who took part in the drill were four students of the Special Education (SPED) division of the General Maximino Hizon Elementary School (GMHES) in Tondo, who had intellectual disabilities.
The boys were in charge of rescue exercises, and managed to help shepherd their classmates out of their rooms and into the school's quadrangle in five minutes, the optimal benchmark set by the Department of Education (DepEd), the school's disaster risk reduction and management (DRRM) coordinator Dexter Gonzaga said.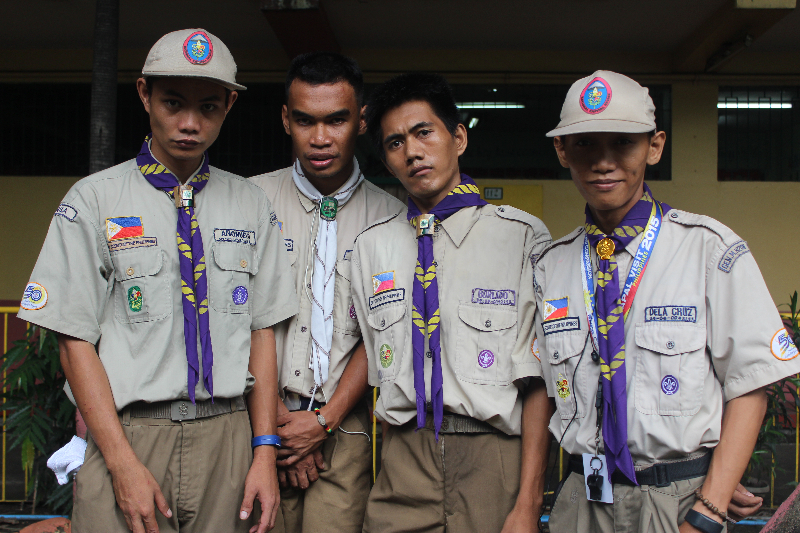 "Nagsimula kami ng training tapos ang gagawin dapat naming ituturo naming sa mga bagong bata na papasok (We have already started training and we need to share what we learned with the kids)," 30-year-old Marth Anthony Añonuevo said. "Magiging kuya po kami (We are their older brothers)."
With Añonuevo were Andrew dela Cruz and Edwin Borlado, 24, and Carlo Ilagan, 27. Apart from sixth-grader dela Cruz, the boys are currently taking up livelihood education, and also happen to be official members of the Boy Scouts of the Philippines.
Challenges in SPED centers
At GMHES, the lack of ramps, signage and passageways, as well as trained medical staff and disaster preparedness equipment raises safety issues for thousands of students with disabilities.
GMHES has 2,700 students, 391 of whom are SPED students, including gifted students or students of high achievement.
To help them get around, the school built a ramp to give students with mobility disabilities greater access to their rooms on the second floor. But a faulty design forced the school to close it down.
"We have a ramp but it looks like a dump," Josefina Quizon, the school's head nurse, said. "Like a swimming pool slide, they [students with mobility disabilities] would get hurt because it's too steep."
Quizon added the ramp's poor design meant students on wheelchairs would have to use the stairs to reach their classrooms on the second floor, often needing the assistance of the other students.
Evacuating SPED students is a huge challenge, given the absence of an emergency priority lane for PWD students.
"We have five fire exits," the school's principal Eleodora Vergara said. "But the exit for SPED is the same as the one used by regular students." The school has no special passageways for PWDs.
During the drill, the absence of a working ramp was a big problem for students with mobility disabilities.
"We had this student on a wheelchair, I told the kid, 'You're going to have to carry that because when an actual earthquake hits, you really have to carry that,'" she said.
Vergara blamed the lack of facilities on the lack of funding from DepEd.
She said all expenses for the SPED program are now taken from the regular school's Maintenance and Other Operating Expenses, unlike before when the SPED program had its own MOOE. This leaves little for improvements in facilities for students with disabilities.
For students with hearing, visual, or intellectual disabilities, GMHES SPED chairperson Irene Gatdula said the school still lacks teachers capable of assisting them in times of calamity.
The school has teachers who can attend to students with visual and hearing disabilities and for students with autism, the school can tap the parents for assistance, Gatdula said.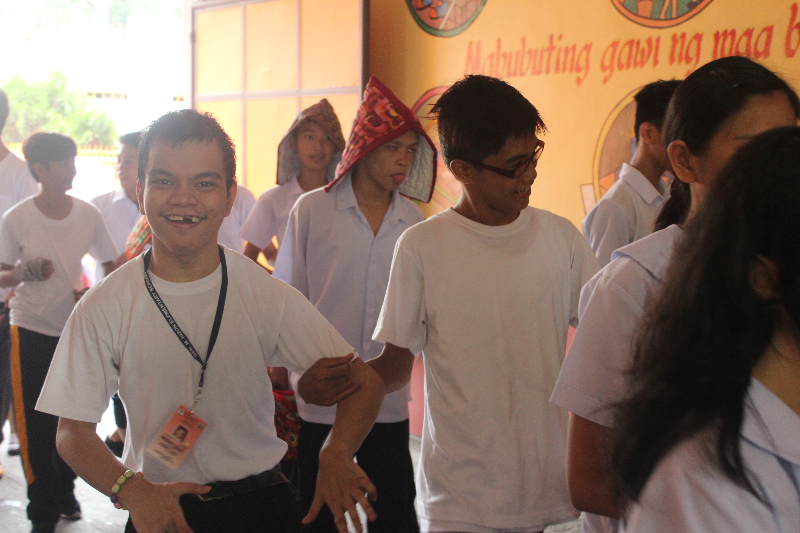 The school has also implemented a buddy system, since parents will not likely be around when an earthquake strikes.
"I teach my kids to help the younger students, that they should act as their older siblings," she said.
After the drill, Vergara said she was happy with the way the earthquake simulation exercises went."It was indeed successful because everybody participated and took it seriously," Vergara said. "Although there were some lapses, I think we can make better the next time around."
Coping with disasters
PWDs are often the most vulnerable during disasters. An online survey by the United Nations Office for Disaster Risk Reductionin 2013 found that only 20 percent of respondents could evacuate with ease, while around 6 percent said they would not be able to evacuate at all.
Around 5,700 respondents from 137 countries participated in the survey.
"We can expect that as many as 30 million people living with a disability are affected during an average year by earthquakes and weather-related hazards," Special Representative of the Secretary-General for Disaster Risk Reduction Margareta Wahlström said.
Various groups have also called for the amendment of Republic Act No. 10121 or the Philippine Disaster Risk Reduction and Management Act of 2010, hoping to cover the participation of PWDs and other vulnerable sectors in DRRM operations.
Preparing for disasters on their own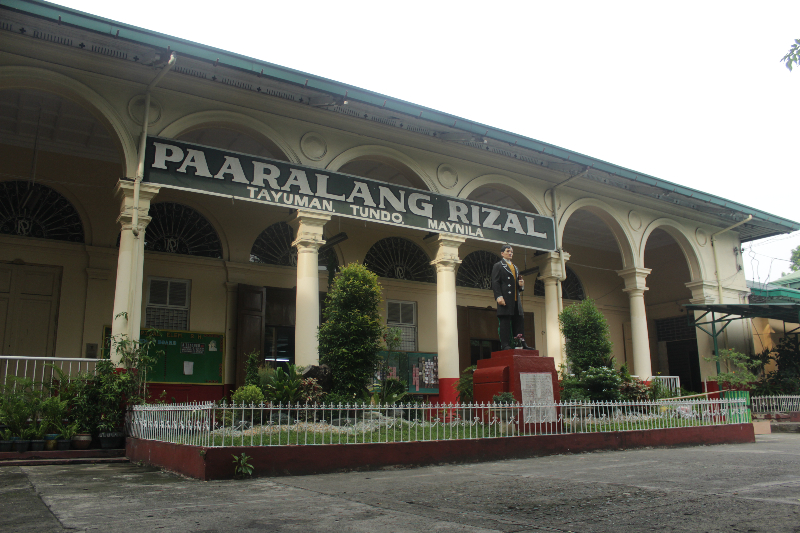 The Jose P. Rizal Elementary School (JPRES), just minutes away from GMHES, has more than 4,000 students and is one of the biggest SPED centers in the district with around 400 SPED enrollees.
Alma Layog, one of the teachers assisting in the drill, said students with disabilities had to travel for five to 10 minutes to get to the quadrangle, given the center's distance from the open ground.
A student on wheelchair had to be carried down by several members of the faculty. But despite the presence of ramps in almost every building on campus, the young girl was left on one corner of the SPED's ground floor, with only a small notebook to protect her head.
Most of the parents waiting near the school's entrance did not participate in the drill, Layog said.
Still, JPRES DRRM coordinator John Candelaria said the school is striving to inject its DRRM program in their usual lectures so that the students can bring the program to their homes.
The school conducts two earthquake drills a month, he added.
"Conducting drills has become a part of our system," Candelaria said, explaining that the school will conduct earthquake drills even without any order from the government.
Like many students in the school, students with disabilities are equipped with flashlights and whistles. Almost all rooms in the SPED center have first aid kits installed. Students are also trained to make improvised headgears from recycled door mats.
But despite these preparations, Candelaria said the school still lacks equipment and resources for disaster risk reduction and management efforts and rescue operations.
"We need the help of those who can provide assistance, so we can increase the resources we can use during a disaster," he added.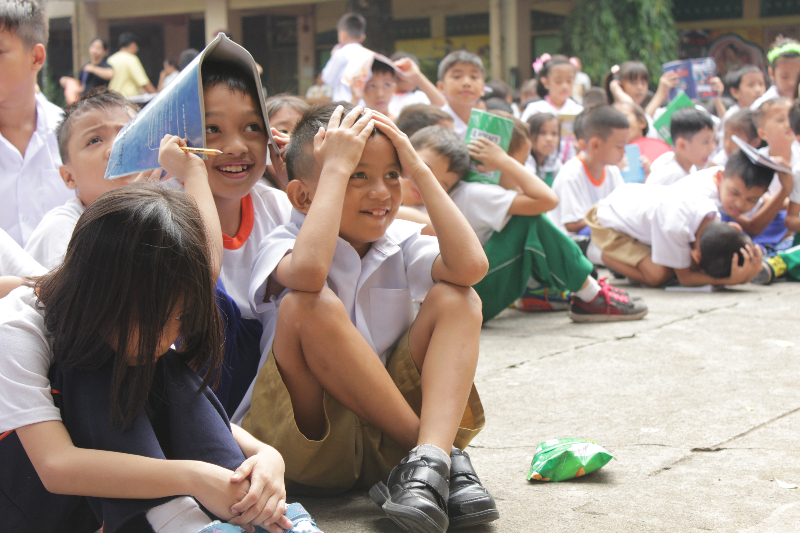 And while the school tries to make the most of what it has to make up for these insufficiencies, it is having a difficult time convincing some students to purchase materials and equipment for their safety, Candelaria said.
"They would rather spend their money on food," Candelaria said.
Like in GMHES, JPRES also trains and mobilizes its boy scouts for DRRM operations. The boy scouts are tasked to provide immediate help to their classmates and assist in their evacuation.
As the country struggles to boost its disaster preparedness programs, one of the boy scouts from GMHES said, "Hindi natin alam kung kalian tatami yung the Big One, kaya gaya sa [Boy Scout] training, dapat laging handa (We don't know when the Big One will hit, but as they say in our boy scout training, we should always be prepared)."
(The authors are University of the Philippines students writing for VERA Files as part of their internship.)