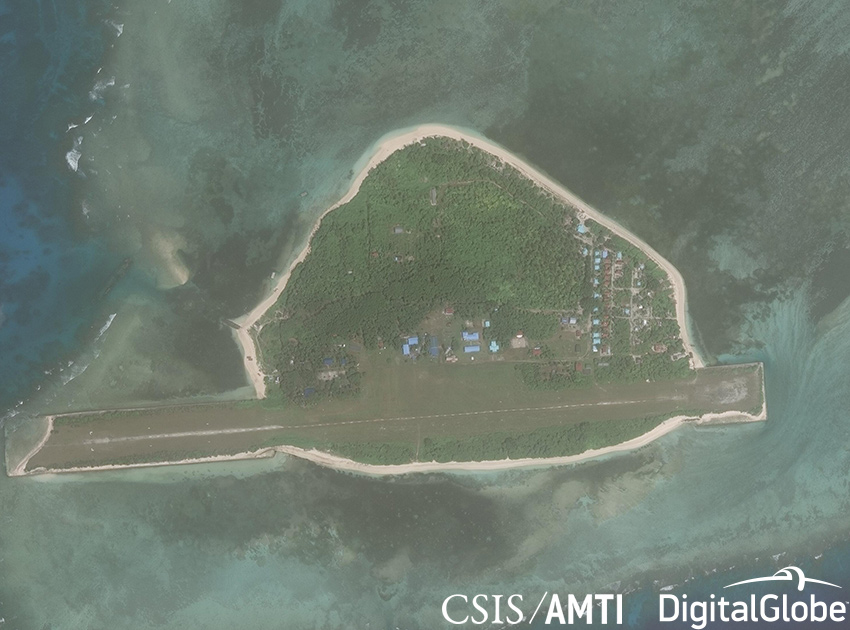 Pag-asa island (international name: Thitu)
The Philippines has effectively occupied Pag-asa Island (international name: Thitu) since 1978 and has incorporated it as a municipality that is part of the Province of Palawan. There have been elections for the municipal officials of Pag-asa, and there will be elections there in May 2019 like in the rest of the archipelago. There are 400 voters in Pag-asa. Pag-asa has a land area of 37.2 hectares.
These were strategic moves but moves that have not been followed through. Much of the integration of Pag-asa into the life of the nation has been symbolic. While the Chinese have intensively built-up reefs into islands in the South China Sea / West Philippine Sea, the Philippines has not even maintained the infrastructure and facilities that the Marcos Regime built there during Martial Law.
The military almost surreptitiously repairs the runway and facilities, afraid it may incense the ever-present Chinese who monitor activities on the island. Funny that the owner of the island is constricted by the disapproving gaze of a nosy neighbor.
This is ironic, because Pag-asa Island is a real island, with trees, fresh water, and land that can sustain human life and community. The reason it does not have to be built-up like the Chinese occupied reefs and shoals is that it is not a molehill to be upgraded into a mountain.
This means that if the Philippine government only continued to go beyond symbolism and made Pag-asa a real integral part of the nation, then it would have evoked a strong emotional bond with the people, so that they would be willing to contribute to its defense, survival, and development. So far, Pag-asa has an airstrip, a 5-bed lying-in clinic, a small elementary school, and military barracks.
In 2002, Pag-Asa, once a strictly military installation, was opened to civilian settlement. The airfield is open for joint civilian and military use, but there are as yet no regular commercial flights to the island.
Pag-asa is 300 kilometers from Palawan. It will take perhaps two days by boat, but it is two to three hours by propeller-driven aircraft. The last time a congressional delegation visited, it cost them P2 million for the aircraft use alone.
Pag-asa is naturally isolated due to nature, and artificially due to red tape. One writer observes: "Of the four key hurdles: weather, air access, sea access, and red tape — the latter is both the principal show-stopper, as well as the issue that should be the easiest to address." Permits to visit the island are required from the municipality, the CAAP, the AFP, and the DFA (if foreigners).
Isolated Pag-asa may seem, but there are activities that make life and work on Pag-asa island logical. These activities can be non-military in nature, so that they will not be attacked as an escalation of tension in the SCS/WPS.
For instance, one good option is to let the University of the Philippines Marine Science Institute (UP-MSI) operate a field research station on the island for coastal and marine science and sustainable development practitioners. A host of marine research studies can be undertaken by faculty and graduate students. Faculty and students who are into professional, masteral and PhD research know what three months of dedicated, undiverted attention can do for their academic and research work.
In fact, the Marine Science Institute is now working on studies that bring together the scientists of various nations — the Sustainability Initiative in the Marginal Seas of South and East Asia (SIMSEA). ("Marginal seas are fairly large basins of salt water that are connected to the open ocean")
If MSI had a station in Pag-Asa Island, it can even host international research studies. There is no reason why international conferences cannot be held on Pag-Asa, if the conference facilities can be constructed.
Pag-asa island can also accept a limited level of tourism, especially one that involves deep sea fishing as a sport.
Pag-Asa is a property that has remained fallow. It is like, the owner does not know what to do with it. Sure, there is a contingent of soldiers guarding it, like private security guards trying to prevent interlopers. But who cares about Pag-asa island? Perhaps not even one-tenth of one percent of Filipinos have stepped on the island.
The challenge for the Philippines is now to take Pag-Asa into the embrace of the whole nation. At the moment, Filipinos see it only as a potential invitation to Chinese invasion, and possibly a reason for war.
What can citizens do? Organize a visit to Pag-Asa, to force it open it up like a giant clam. Do all that is necessary — permits, logistics, organization — to step on the island. That should be an accomplishment.
Who knows. Next time around, you may need a Chinese visa to do so.
(The author,Dr. Segundo Joaquin E. Romero, Jr. is presently President of the Universities and Research Councils Network in Innovation for Inclusive Development in Southeast Asia (UNIID-SEA), a regional network engaged in development projects for the poor.)