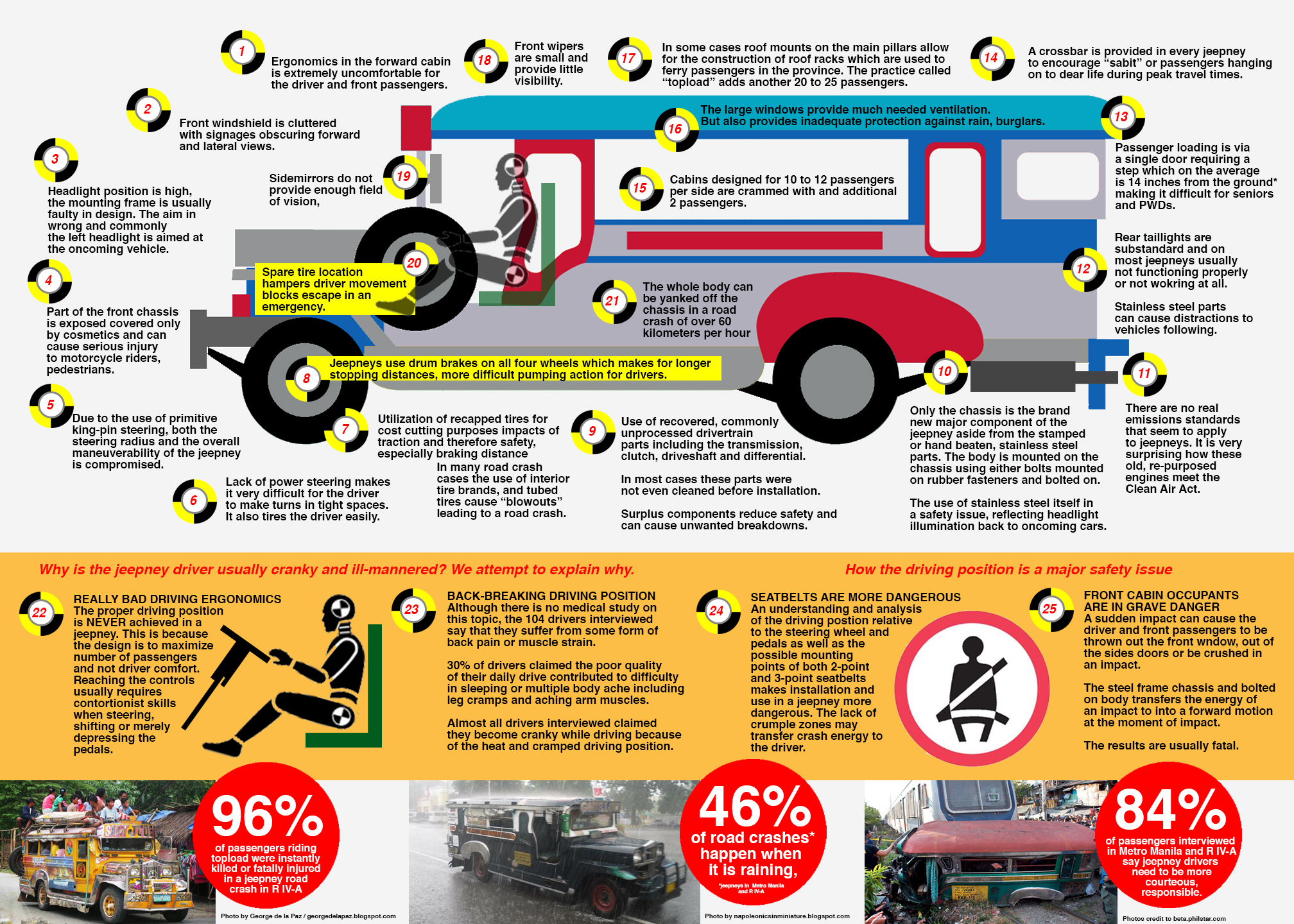 The ubiquitous jeepney has been plying Philippine roads for nearly 7 decades. Sarao Motors, once the country's mighty jeepney builder was established in 1953, but jeepney conversions have been with us since the Americans left behind thousands of the wartime jeeps behind.
Several attempts have been made to reconfigure the jeepney but for reasons of preference, cost and availability of craftsmen and materials, the jeepney has remained, mostly as a tourist attraction. But a dangerous one.
The Metropolitan Manila Development Authority (MMDA) has recorded 95,615 traffic incidents in the National Capital Region (NCR) in 2015. A total of 519 persons were killed, 17,103 were injured and some 77,993 cases of damage to property were recorded. Public utility jeepneys (PUJs) were responsible for only 2,161 nonfatal road crashes.
Jeepneys are not the number one vehicle involved in road crashes. However, it is in a jeepney where oftentimes 100% of the passengers are injured in one way or another. Compared to a car—safety engineering is not factored into the design and building of a jeepney. Not only is the vehicle itself a big safety risk, it is also the number one cause of road congestion due to their sheer number and to their odd driving, passenger loading and unloading and parking habits.
The very engineering (or lack of it) of the jeepney is a safety concern. Here in an infographic are 25 reasons why the jeepney is unsafe and why it must be replaced with a better engineered mass transportation vehicle that is safer and more environmentally conscious.
This story was first published on Malaya Business Insight and was produced under the Bloomberg Initiative-Global Road Safety Media Fellowship implemented by the World Health Organization, Department of Transportation and Communications and VERA Files.