Do the phrases "Basta sexy, libre (If you're sexy, you get a free ride)" and "Basta driver, sweet lover (If he's a driver, he's a sweet lover)" ring a bell to you?
Such quips that "project machismo" are common sights in local jeepneys, tricycles and buses, but this may soon change with the introduction of a nationwide campaign pushing for gender equality and the breaking of gender norms.
Gender-positive and women empowerment stickers will soon be found posted in public utility vehicles (PUVs) and train lines, as part the #inFAIRness campaign launched Aug. 15 by Senators Grace Poe and Risa Hontiveros.
The movement pushes for "fair" or equal economic opportunities between men and women, and the breaking of gender stereotypes, beginning with the country's transport sector.
"One of the reasons for why this (gender) gap is so persistent is that it is embedded in innocuous things we see everyday in advertising in jeepneys and in trains," said Australian ambassador to the Philippines Amanda Gorely, whose government is one of the movement's partners.
True enough, such Filipino jeepney graffiti has even made it into several literature.
A 2008 University of North Florida study noted that jeepneys have "sexy lady" stickers, while a sociologist talked about a sign that read "Sa Luneta ang sarap, sa maternity ang hirap (Luneta brings the pleasure, maternity brings the suffering)" in a 2012 Inquirer.net report.
"Through this advocacy campaign, the seemingly small step of covering signs that reinforce gender stereotypes with new gender positive stickers will leave a lasting message with commuters," said Gorely.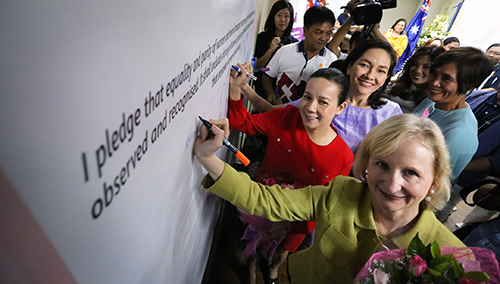 Senator Risa Hontiveros, Senator Grace Poe and Australian Ambassador to the Philipppines Amanda Gorely sign the commitment pledge for the #inFAIRness national campaign which promotes gender rights in the transport sector. (Photo by Joseph Vidal, senate.gov.ph)
Project #inFAIRness
The Philippines ranks first in Asia and tenth worldwide in having the narrowest gender gap according to the Global Gender Gap Index 2017, yet it has a widening disparity in the economic participation of its men and women.
In 2017, only 52.5% of Filipino women were employed, while men stood at 80.9%.
The #InFAIRness campaign intends to combat gender inequality and stereotypes with three main thrusts, specifically by:
posting stickers in PUVs in partnership with the Department of Transportation
conducting gender and development training for marketers and brand managers in partnership with the Philippine Marketing Association; and
holding regional campaign roadshows in Cebu and Davao.
About 500 stickers have already been distributed at the launch, bearing phrases like "Kaya ni mister, kaya ni misis (What the Mr. can do, the Mrs. can do)" and "Kapag mas maraming babae ang nagtatrabaho, ekonomiya ay lumalago (When more women are working, the economy is growing)."
By September, #inFAIRness organizer Samahan ng mga Pilipina para sa Reporma at Kaunlaran (Spark! Philippines) said the stickers will also be distributed to the Land Transportation Franchising and Regulatory Board, various other transport groups, the Light Rail Transit systems (LRT-1 and LRT-2) and the Metro Rail Transit system (MRT-3).
Regional launches in Cebu and Davao will also take place next month.
Why begin in transportation?
"Transportation and the larger transport industry is something that quite literally affects everyone," said Hontiveros, who chairs the Senate committee on women, children, family relations and gender equality.
"[R]oad safety and the collective experience of public transportation, just like public health, should be as inclusive as possible," she said.
A woman in a 'male-dominated' transpo sector
Data from the International Labor Organization– which Hontiveros cited in her speech – indicates that the transport sector is a male-dominated industry: of the 37.8% of Filipino women who were members of the workforce in 2008, only 9.5% worked in transport.
There even exists a stereotype about women drivers, both mentioned by Hontiveros and Poe in their speeches, about how they are seen as "incompetent, or at the very least, tentative drivers."
The woman at the helm of one of the country's largest transport groups has an answer to this.
"That's what many say, especially if it's a man who sees them [make a wrong move]. But if you look at it, there are a lot more men who drive irresponsibly than women," 73-year-old Zenaida Maranan said in Pilipino.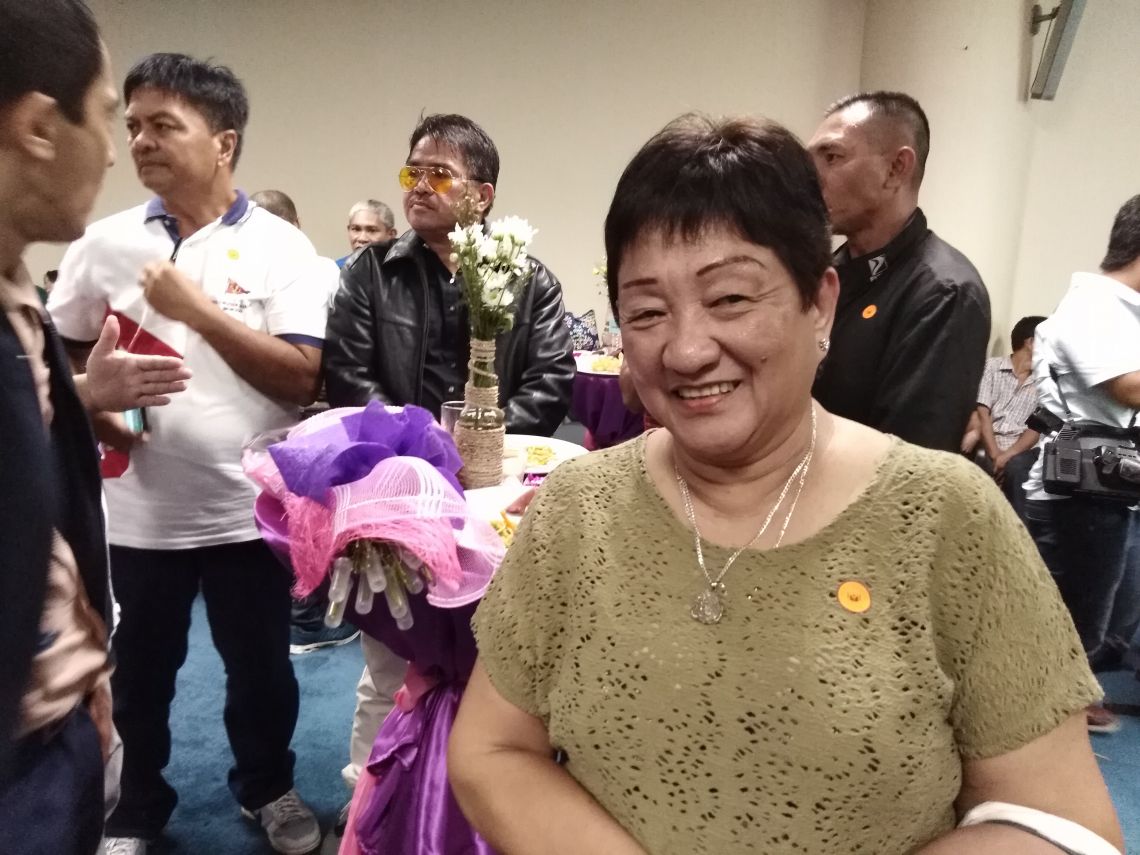 Zenaida Maranan, 17-year president of the Federation of Jeepney Operators and Drivers Association of the Philippines, leads her group at the launch of the nationwide gender equality campaign, #inFAIRness.
Maranan, president for the past 17 years of the FEJODAP (Federation of Jeepney Operators and Drivers Association of the Philippines), believes a person's capacity to drive well does not lie in whether one is male or female.
"No, it's not based on one's gender but on who the driver is. Man or a woman, it's how you follow the rules as a driver," she explained.
Maranan herself breaks stereotypes by being the leader of the predominantly male FEJODAP. In the organization of more than 250,000 tricycle and jeepney operators, she estimates only an eighth are women.
She took on the job in 2001 with no experience as a PUV driver but as wife of former FEJODAP president Romualdo, who died that year of a heart attack. Maranan said she had religiously attended meetings of the group, to the point she was at times the first one to call for a strike.
"Maybe it's because I had accommodated them as a wife before – because you take care of the members, whoever they may be – I think that may be the reason they liked me and asked me to take over," Maranan said in the vernacular.
She has taught FEJODAP's drivers to pray before and after they ply their routes, and helps them when they need medical assistance. She believes women's traits, namely "having patience, understanding and diligence," are what have made her constituents trust in her and keep her in position for so long.
Senate President Vicente "Tito" Sotto III, who gave the keynote speech at the #inFAIRness event, shares this sentiment.
Sotto, who has been called "sexist" and "discriminatory"for a remark he made about single mothers in May last year, said he believes roads will be "safer" if women's qualities are brought to the transport industry.
"[W]ith more women in the transport sector, I can venture an intelligent guess that our roads will be safer, less chaotic – or more orderly – there will be less road rage, fewer accidents and fewer deaths. There will be more discipline, more understanding and more compassion."
While the various organizations leading the campaign acknowledge that the problem in gender inequality is cultural and therefore may take time to change, a "genuine and sustained effort" – like starting the campaign in a sector that affects everyone – will help narrow the gap.
"[C]ultural norms are not easy to shift and it takes years of small changes to truly see transformation, but given the time Filipinos spend time commuting, I think transport is a great place to start," said Ambassador Gorely.