At 7:23 p.m. on Feb. 12, a CCTV camera captures a group of students crossing a pedestrian lane on J.P. Rizal Avenue in Makati. A traffic enforcer is also at the intersection making sure the pedestrians can cross safely.
While one car makes a full stop to make way for the students, a jeepney suddenly hurtles towards another side of the street, mowing down the students, aged between 13 and 17 years.
What appeared to be a quiet Wednesday evening turned into chaos as bystanders scrambled to aid victims sprawled along the intersection. A 14-year-old student died and six other teens suffered injuries from the road crash, police later reported.
Authorities identified the jeepney driver as Crizalde Tamparong, who not only tested positive for illegal drugs, but was also found to be driving without a license.
Six days later in San Jose Del Monte in Bulacan, bystanders also scrambled to save a 17-year-old woman and her three-month-old baby after they were crushed by a trailer truck carrying a backhoe.
CCTV footage of the Feb. 18 crash showed the truck careening into several vehicles and establishments, including the store the woman was tending at that time. The cries beneath the tons of steel eventually turned to silence, said one bystander in an amateur video, leaving two dead and 12 injured that Tuesday afternoon.
Authorities said the truck driver, 43-year-old Eliazar Lumawag, tested positive for illegal drugs. His license had also been confiscated earlier that day, they added, after he ran over traffic cones and road signs.
These shocking road crashes, less than a week apart, have again raised questions about the country's driving standards, the oftentimes problematic behavior of people behind the wheel, and how the government can address these recurring concerns.
One solution that the government is set to implement soon is a total revamp of the driver's licensing system, which aims to ensure that only qualified persons will be able to secure a driver's license.
New licensing system
Last Dec. 5, Land Transportation Office Chief Edgar Galvante signed Memorandum Circular (MC) No. 2019-2176, that spells out the Rules and Regulations on Accreditation, Supervision and Control of Driving Institutions, and on Standardization of Driver Education.
It outlines a new set of rules for the issuance of the Philippine driver's license and imposes stricter regulations on accredited driving schools.
The MC is part of the implementing rules and regulations of R.A. 10930 , the law that extends the validity of a driver's license from three years to five years, and imposes a point system for driving offenses. It was signed by President Rodrigo Duterte in August 2017.
The enforcement date of the circular has yet to be announced but Alberto Suansing, Philippine Global Road Safety Partnership Secretary General, told VERA Files that the new licensing regulations will help the government ensure that all drivers have the right skills to stay safe on the road.
"There will be a great reduction in road crashes because the drivers now know the rules and then they should obey those rules," the former LTO chief said.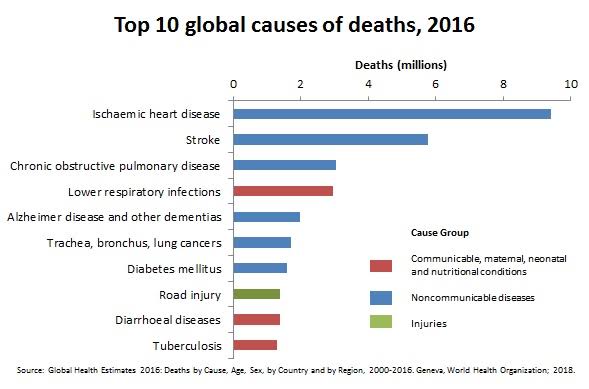 The World Health Organization (WHO) said in its 2018 Global Status Report on Road Safety that road crashes are the eighth leading cause of death globally, beating diarrheal diseases and tuberculosis.
More shockingly, the agency said road crashes are now the top killer of young people aged 5 to 29 years old.
Meanwhile, the Metropolitan Manila Development Authority said out of the 121,771 road crashes in 2019 in Metro Manila, 372 resulted in deaths. It added that among the 17 cities in the metro, Makati City had the third-highest number of incidents at 11,229 with Manila as second with 12,453 and Quezon City on top with a staggering 39,797 incidents.
Intensive training
Memorandum Circular 2019-2176 requires all drivers to complete a minimum number of hours of training by the LTO or an LTO-accredited driving school before being allowed to obtain or renew their licenses.
The training not only includes discussions on how to operate a motor vehicle, but also lessons on traffic signs, traffic rules and road safety.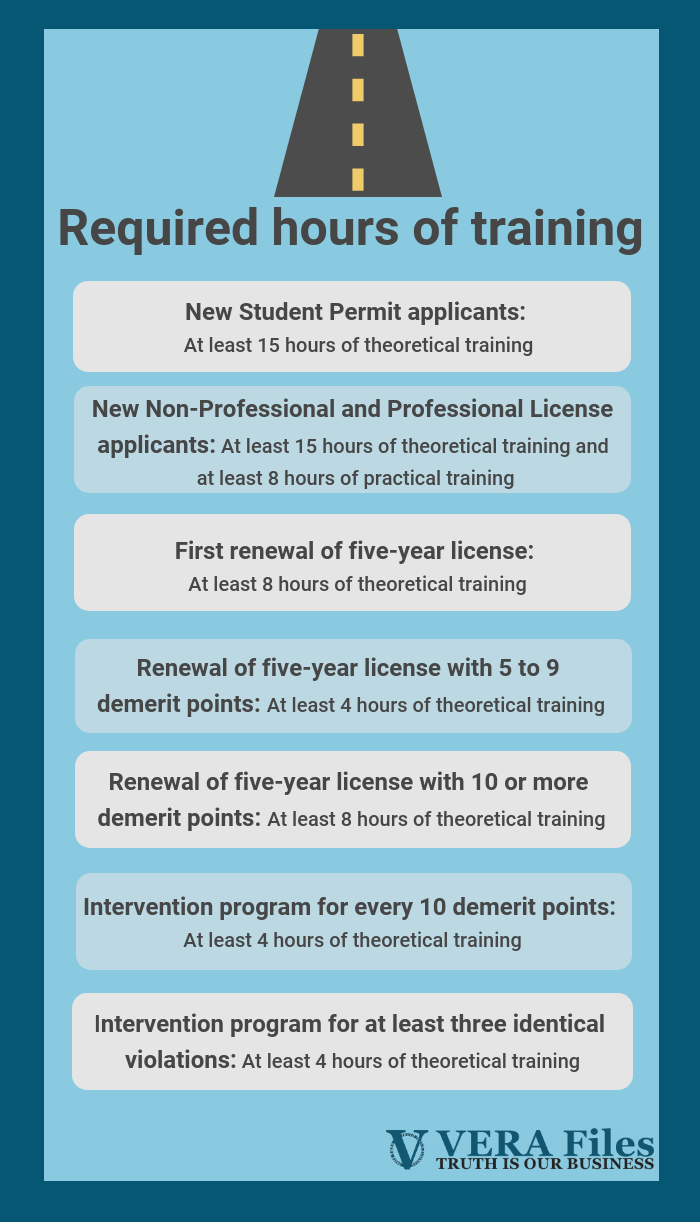 The required hours are:
For new Student Permit applicants: At least 15 hours of theoretical training.
For new Non-Professional and Professional License applicants: At least 15 hours of theoretical training and at least 8 hours of practical training.
For first renewal of five-year license: At least 8 hours of theoretical training.
For renewal of five-year license with 5 to 9 demerit points: At least 4 hours of theoretical training.
For renewal of five-year license with 10 or more demerit points: At least 8 hours of theoretical training.
Intervention program for every 10 demerit points: At least 4 hours of theoretical training
Intervention program for at least three identical violations: At least 4 hours of theoretical training.
Failure to attend the intervention programs within 30 days of the last apprehension will lead to suspension of the license. Meanwhile, drivers with at least 10 demerit points must also retake the theoretical driving exam before being allowed to renew his or her license.
LTO Field Enforcement Division chief Roberto Valera said in an ABS-CBN interview that the agency will also change the exams that drivers must take.
"We've raised our requirements for that. In the past, we gave the same exams to everyone. Now, it will depend on the restriction code that you are applying for," he said in Pilipino.
Suansing said the LTO decided to include all drivers in the program, even those who have already passed a driving exam, because the agency found the current system "ineffective."
"The rationale behind that is that many of those drivers who are holders of licenses now were able to get their licenses illicitly, perhaps through fixers," he said. "To ensure that the driver at least knows the rules, the LTO will require minimum hours of training."
Suansing also said that the aside from driving schools, the LTO itself will offer training programs for lower-income drivers.
Point system
Under the new law, drivers are given demerit points on their licenses when they are apprehended for committing traffic violations:
5 points – Grave Violations like driving under the influence of alcohol and/or drugs (upon conviction), driving a colorum PUV, driving without a license or vehicle registration, using unauthorized modifications, improper overtaking and others;
3 points – Less Grave Violations like improper parking, trip cutting, refusing to accept passengers (for PUV drivers), not dimming your headlights for oncoming vehicles and others; and
1 point – Light Violations like making illegal turns, unsafe towing, overcharging/undercharging fares, not displaying PUV fare matrices and others
Student permit holders who get at least five demerit points will have their permits revoked and will not be allowed to apply for a new one for one year. Drivers who have had their permits revoked three times will no longer be allowed to apply for a new one.
Meanwhile, demerit points are doubled for drivers of public utility vehicles (PUV) who commit the violation while operating their PUVs and for drivers operating a PUV without a Professional License.
The demerit points are reset to zero once the driver renews his or her license and pays his or her penalty fees. The license is immediately revoked if a driver gets at least 40 demerit points.
However, drivers who do not obtain demerit points are entitled to a10-year license validity upon their next renewal.
MMDA General Manager Jojo Garcia told ABS-CBN that transport authorities are now improving and linking their databases to ensure that drivers with outstanding violations will not get the chance to use the roads.
"When we apprehend drivers and they don't pay their fines, they cannot renew their licenses because we have a better system now," he said in Pilipino. "Let's say we flag a plate number through No-Contact Apprehension, the owner will not be able to renew the vehicle's registration. We need to be vigilant now."
New mindset
Suansing said he hopes that the new system will also make drivers value their driving privileges more.
"Right now, many license holders think a license is just an ordinary ID," he said. "Now, you should be afraid when you have a violation because there is a demerit. That should be the mindset of a driver license holder."
Suansing also said that the new system will ensure that traffic violations will be easier to catch.
"The chances of your license being renewed will be problematic," he said. "Once you're involved in a road crash, your driver's license might be confiscated and suspended."
Garcia said improving driving standards could also reduce road congestion.
"Kung iyang mga pasaway, matatanggal natin sa kalsada at mapapalitan ng matitino, at least 30 percent, na-solve natin iyong traffic (If we are able to get rid of errant drivers and replace them with disciplined ones, we could solve 30 percent of the traffic congestion problem)."
For Melisa Comafay, legal officer of advocacy group Initiatives for Dialogue and Empowerment through Alternative Legal Services (IDEALS) Inc., the new licensing standards are a welcome development.
"As a driver, you would want to follow the traffic rules as much as possible," she told VERA Files. "But then, if your neighbor, who is driving alongside you, does not even know the rules, then of course, it defeats the purpose. In the road system, you all have to work together to get to your destination."
Comafay added that these initiatives are meant to fill the gaps in existing road safety policies.
"Why is it that we have standards and licensing, but we have a high number of injuries and deaths on the road in the Philippines, not just in Metro Manila, but in the whole country?" she asked. "Looking at the big picture, filling in those gaps and setting standards properly will hopefully lead to a better traffic system and proper education for drivers in the country."
This story was produced under the Road Safety Journalism Fellowship of VERA Files, with support of the World Health Organization, under the Bloomberg Initiative for Global Road Safety.