PHILIPPINE roads are deadly. Every year on the average approximately 5 pedestrians a day die from road crashes, based on World Health Organization (WHO) data. But Philippine air quality is deadlier, killing an average of 157 Filipinos a day.
In 2013, the total deaths in the Philippines related to air pollution stood at 57,403 according to the WHO. The fact that more people die from air pollution related diseases than road crashes have caused many people to use face masks—including blue surgical masks and white cloth masks thinking that these can protect them from the effects of the harmful fumes emitted by vehicles, particularly smoke belchers, in Metro Manila.
Dr. Paul Evangelista, a pulmonologist from the Lung Center of the Philippines, however said surgical masks and cloth masks are not enough to filter small particles that can harm the lungs and the heart since it is not fit and tight to cover the nose and the mouth.
The air pollutants include nitrogen dioxide (NO2), which is emitted by vehicles idling in traffic, and PM2.5 or fine particle or unseen microscopic particles of dust including sulfur and unburned carbon.
Evangelista recommended the use of N-95 rated masks, which are thicker and provide the necessary filtration to protect users from harmful pollutants.
He also said commuters and pedestrians taking non-airconditioned buses, jeepneys, and motorcycles should use masks or risk lung inflammation. He also said those working outdoors without masks in high pollution areas have higher risks of getting chronic obstructive pulmonary diseases like bronchitis, emphysema, asthma, pneumonia, and heart diseases like hypertension.
Data from the Department of Environment and Natural Resources showed that the amount of pollution in Metro Manila is at 120 micrograms per cubic meter in 2015, which is 30 micrograms higher than the standard safe level.
The DENR, echoing WHO studies said earlier said 12 percent of premature deaths in the metropolis are caused by air pollution.
In 2012, the National Emissions Inventory said 85 percent of air pollution in the metropolis were from vehicles and smoke belchers.
Dr. Jorge Sison, chairman of the cardiology department at the Manila Medical Center, said toxins in the air may contribute to abnormal blood viscosity, causing blood vessels to become tight.
"When this happens, the blood pressure goes up causing hypertension, which is the number one cause of heart attacks and stroke," he said.
Apart from cardiac and respiratory diseases, the WHO said there is a probability of one in 10,000 that a person will have cancer when exposed to air pollution. Motor vehicles release cancer-causing pollutants called the polycyclic aromatic
hydrocarbons (PAH) during the combustion process.

Protecting traffic enforcers from pollution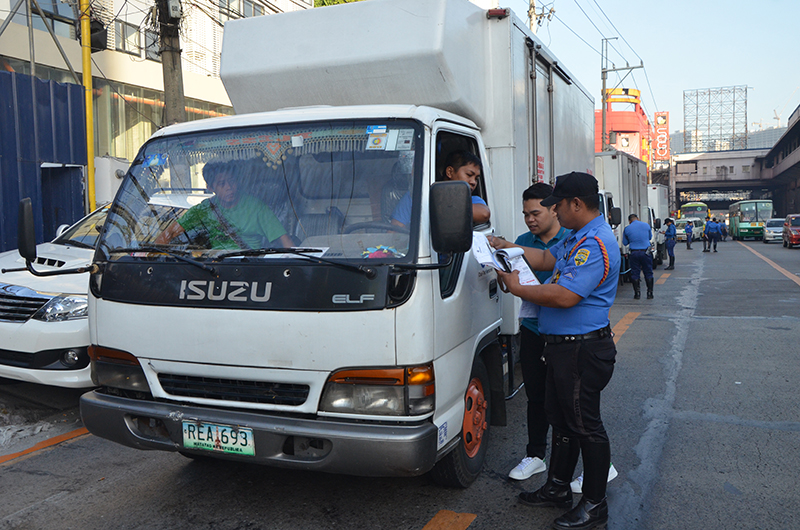 MMDA traffic constables apprehend a motorist during the full implementation of the light trucks ban along EDSA on March 20, 2017
Aside from commuters and pedestrians, Evangelista said traffic enforcers are also at risk since they are exposed to air pollution.
Last February, medical supplies provider IDS Medical Systems Philippines Inc. donated 1,000 anti-pollution masks to the Metropolitan Manila Development Authority since the agency does not provide masks to traffic enforcers.
MMDA general manager Thomas Orbos said many private companies had donated masks to traffic enforcers but they do not use it is "uncomfortable."
A male traffic enforcer of the MMDA's Traffic Discipline Office said he wears disposable face masks to protect himself from the fumes. He, however, changes masks every three days when the blue mask is already worn out. The traffic enforcer said he received a surgical mask last March and bought a P25 cloth mask after some days.
Many people buy cheaper cloth and surgical masks from sidewalk vendors at P25 to P65, or P5 to P7, respectively since these are cheaper than N-95 rated masks that cost anywhere from P150 to P300.
Another male traffic enforcer said he uses face towel to cover his nose and mouth instead.
He also said the agency rarely provides them with the proper mask and they are given surgical masks only when they ask for a new one. A proper face mask is not his priority as it is expensive.
"I can still smell the fumes even when I use the blue mask. I cough a lot when I smell the smoke," he said.
Evangelista said people who are exposed to harmful fumes for two hours will have lung inflammation. He also said traffic enforcers without masks should man traffic flow for less than two hours. Traffic enforcers work for eight hours with short breaks in between.
Motorcycle riders also need it
Robertzon Ramirez, 28, contacts a motorcycle rider daily from Cubao in Quezon City to Pasig City via "Angkas," an application that features motorcycle ride booking service.
He said ride app "Angkas" always provide passengers with a hair cap, face mask, helmet, and personal accident insurance. It is convenient and quick thus despite the statistics for motorcycle related road crashes and deaths, Ramirez continues to use this service.
Fare ranges from P170 to P200, which is higher than the usual P18 in jeepneys.
"I would rather ride the motorcycle than the jeepney since it is difficult to take the latter during rush hours and most are already full of passengers," he said.
Yet despite of the protective gear and face mask, Ramirez, says he can still smell the smoke from other vehicles since the mask is thin.
"We have an increase in the volume of cars. Health practitioners are afraid that there will be more people who will suffer from respiratory diseases," Dr. Evangalista said. He said people should use N-95 masks and if possible change it daily.
"They should change it every day since the pollutants are already stuck in there and they might inhale it," he said.
This story, first published on Malaya Business Insight, was produced under the Bloomberg Initiative-Global Road Safety Media Fellowship implemented by the World Health Organization, Department of Transportation and VERA Files