A Filipino Facebook (FB) page gave false context for two images of a Vietnamese celebrity's jam-packed mall tour in his country. The publisher claimed people were fainting while lining up at SM Mall of Asia during a sale of air conditioners. 
The false Aug. 23 FB post featured a photo of a crowd surrounding a woman who fainted and another of hordes of people filling three floors of a mall.
Its untrue caption read: "Gulat na gulat, maraming nanghihina habang nakapila, nagpupumilit bumili ng aircon sa Mall of Asia (Very shocked. Many are getting weak while lining up, insisting on buying an air conditioner at the Mall of Asia)." It has since received more than 678,000 recent views, according to FB.
According to a reverse image search, the two images were from the Oct. 28, 2016 concert of Vietnamese pop star Noo Phuoc Thinh at Aeon mall in Long Bien district, Hanoi.
Local online news websites reported that the event attracted three full floors of spectators, and that the woman in the photo fainted after being jostled in the crowd.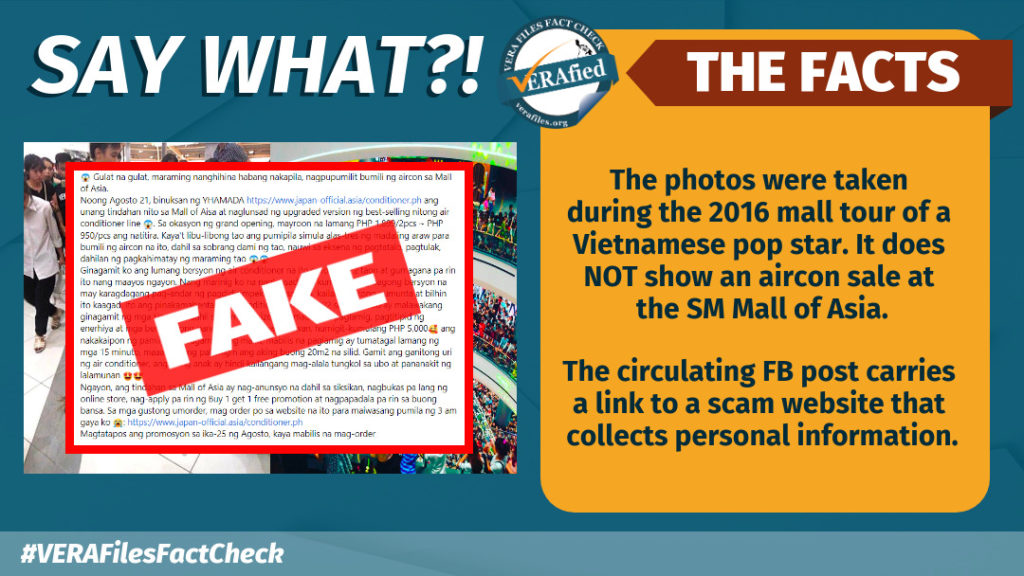 The rest of the false FB post caption talked about the supposed launch and promotional sale of an air conditioner at the SM Mall of Asia under Japanese brand "Yhamada." A cursory search revealed no record of the particular brand.
The page also provided a link where to purchase the product, and when clicked will lead to a bogus web page that asks for personal information.
A few days before the fake promotion appeared, the SM e-commerce store announced on Aug. 19 a three-day weekend sale.
FB page Carmelita Basnig published the fake promotion and has garnered over 1,800 reactions, 890 comments and 99 shares. The FB page created on June 14 was first named "Volcanic Deep Sea Mud," before it changed to its current name on Aug. 23.
Have you seen any dubious claims, photos, memes, or online posts that you want us to verify? Fill out this reader request form or send it to 'VERA, the truth bot' on Viber.
(Editor's Note: VERA Files has partnered with Facebook to fight the spread of disinformation. Find out more about this partnership and our methodology.)