Two Facebook pages (FB) impersonating Filipino celebrities claim that several people fainted after waiting in line at the SM Mall of Asia in Pasay City to buy air conditioners. These posts are fake.
No such event happened. Photos that were part of the bogus posts were not in the Philippines. One was manipulated.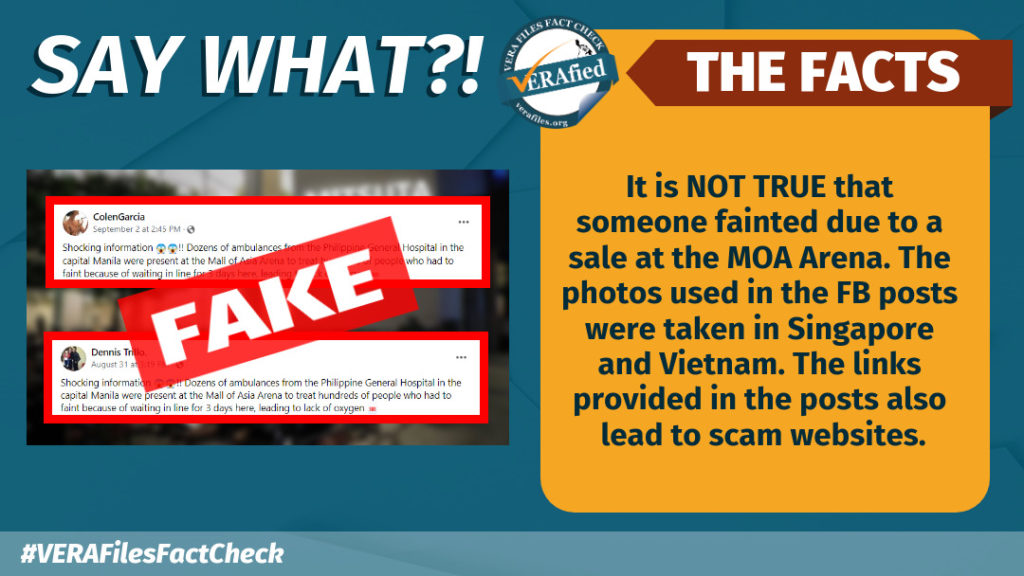 The fake FB posts appeared on Aug. 31 and Sept. 2 bearing the same caption, which began with this statement: 
"Shocking information!! Dozens of ambulances from the Philippine General Hospital in the capital Manila were present at the Mall of Asia Arena to treat hundreds of people who had to faint because of waiting in line for 3 days here, leading to lack of oxygen."
Both also carried four photos: one featuring a massive crowd camping in front of a building with the logo of so-called Japanese brand "Mitsuta," another showed healthcare workers loading a patient onto an ambulance, and the last two were of the air conditioning units.
A reverse image search of the crowd photo showed that it was actually taken outside of an Apple store in Singapore in September 2019 during the opening sale of the iPhone 11. To replace the Apple logo on the building facade with the word "Mitsuta," the photo had to be digitally altered.
News reports show the same crowd here, here and here.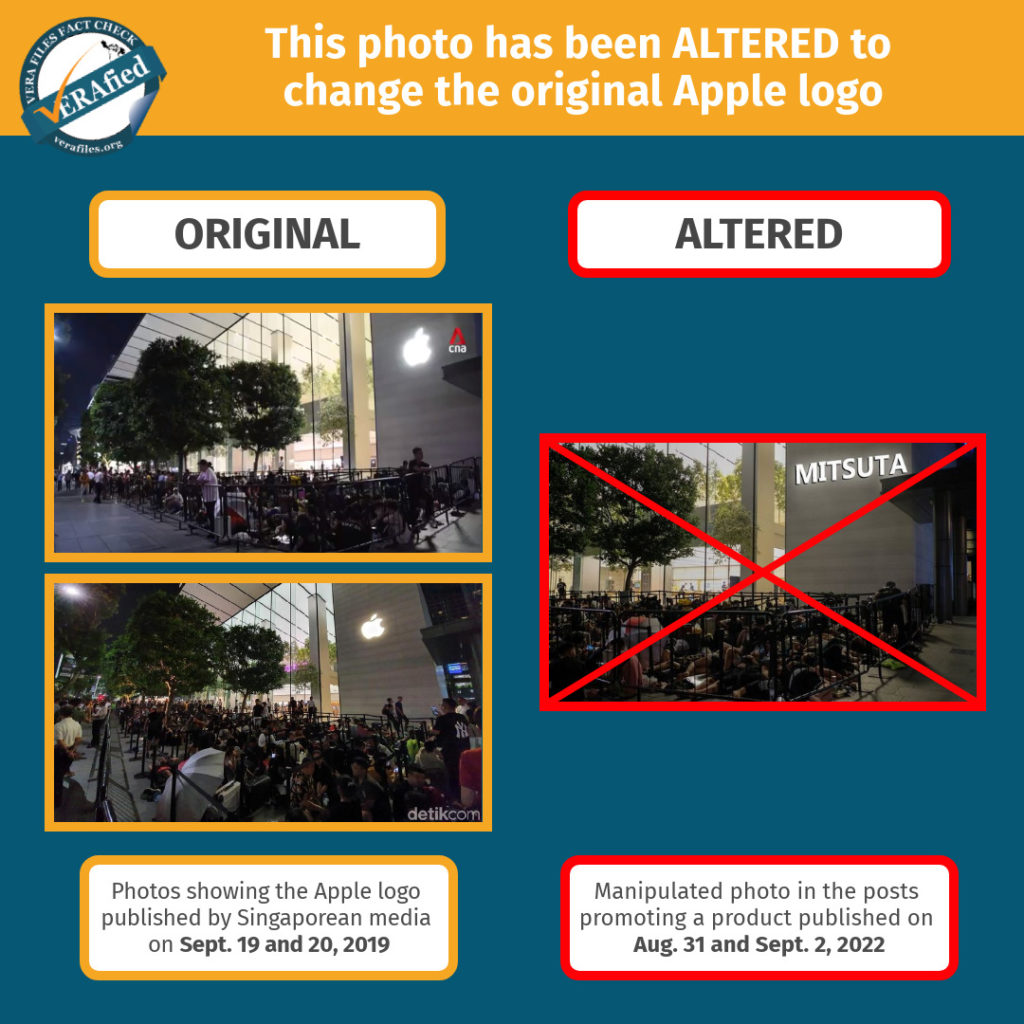 The photo of the ambulance was taken in 2019 in Ho Chi Minh by a Vietnamese journalist who wrote a story on rising ambulance costs.
The circulating FB posts provided a link to a website where netizens can supposedly order an air conditioner. It leads to a scam website that asks for personal information.
VERA Files Fact Check has debunked similar posts leading to a bogus website several times. (Read 2016 photos in Vietnam mall FALSELY shown as 'MOA aircon sale' crowd and Unrelated photos MISREPRESENTED as 'Megamall sale crowd')
These deceptive posts appeared after the SM Appliance Center announced a sale for the months of August and September.
The fake posts were published by FB pages Dennis Trillo. (created on July 3) and ColenGarcia (April 18), which changed its names this Aug. 15 and 16, respectively, to imitate celebrities Dennis Trillo and Coleen Garcia. The posts have collectively garnered over 3,000 reactions, 650 comments, and 260 shares.
Have you seen any dubious claims, photos, memes, or online posts that you want us to verify? Fill out this reader request form or send it to 'VERA, the truth bot' on Viber.
(Editor's Note: VERA Files has partnered with Facebook to fight the spread of disinformation. Find out more about this partnership and our methodology.)