Facebook page Awaken Philippines, which publishes and shares posts critical of the Duterte administration, posted April 11 a false report portraying the president's hometown Davao as more polluted than Boracay by using photos of other places.
STATEMENT
The post includes a collage showing nine photos, one of Boracay and eight of "Davao," with text that reads:
"Boracay ipapasara ni Duterte dahil gustong linisin. Bakit hindi nya muna tingnan sariling nyang bakuran. Sayang naman yung P2B na budget sa transpo expenses nya Davao-Manila sa isang taon (Boracay ordered closed by Duterte for cleanup. Why doesn't he look at his own backyard? What's the use of his P2 billion a year Davao-Manila transport expenses)?"
FACT
Only the top left photo in the collage is actually Davao, sourced from a 2014 SunStar Davao report on pollution in Barangay 23-C, Davao City. The same photo is also found in the bottom left.
The rest of the photos are:
The bottom right photo, an unclear image of what looks to be ruins, could not be traced.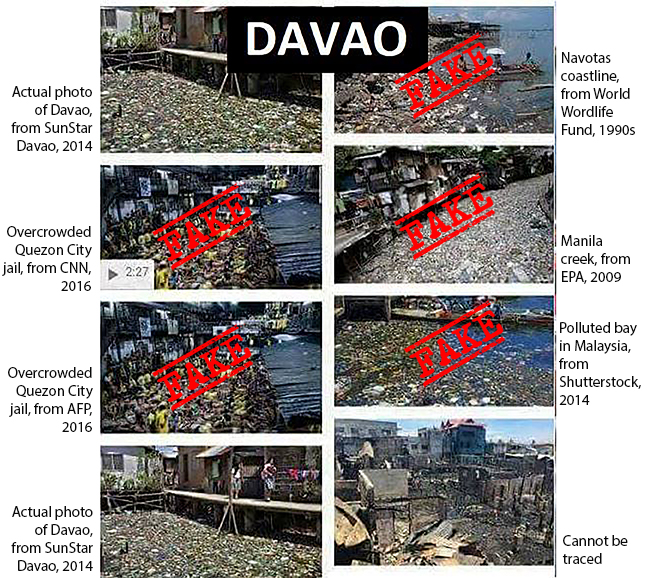 The photo of Boracay, which appears relatively clean, is at least 11 years old according to photographer Anders Thorsell, who also used the photo in a 2007 blog post.
The Awaken Philippines post was created a week after Duterte ordered the closure of Boracay starting April 26 to make way for its rehabilitation. (See Emergency assistance for workers as Boracay cleanup gets underway)
It has been shared almost 5,000 times, and could have reached more than 280,000 Facebook users.
Its biggest traffic generators are Sen Trillanes Power, Marcos Loyalist, and Cruelty of Noynoy "Abnoy" Aquino And His Government. The last called Awaken Philippines, which was created in 2014, "trash."
Sources:
Anders Thorsell, personal correspondence, May 1, 2018
Anders Thorsell, Resefoto Blog, Dec. 26, 2007
CNN, "CNN goes inside massively overcrowded jail," Aug. 22, 2016
Shutterstock, Rich Carey's portfolio, April 24, 2014
Stella and Jürgen Freund, personal correspondence, May 2, 2018
SunStar Davao, "Garbage everywhere and failed communication," Aug. 6, 2017
World Wildlife Fund, Blog post on pollution, n.d.
The Guardian, "World's poor overwhelmed by rubbish", June 5, 2009
The Sun, "Inside the Philippines most notorious prison that houses 3,800 inmates", July 30, 2016
(Guided by the code of principles of the International Fact-Checking Network at Poynter, VERA Files tracks the false claims, flip-flops, misleading statements of public officials and figures, and debunks them with factual evidence. Find out more about this initiative and our methodology.)
2018-05-05 11:35:07 UTC