A fake report by website now.balitatol.com claiming to show an already clean Boracay weeks since its closure is making rounds on social media.
Bearing the headline "Silipin: Boracay makalipas ng ilang linggong rehibilitasyon (Look: Boracay a few weeks after rehabilitation)," the undated story carries supposed before-and-after photos of the island.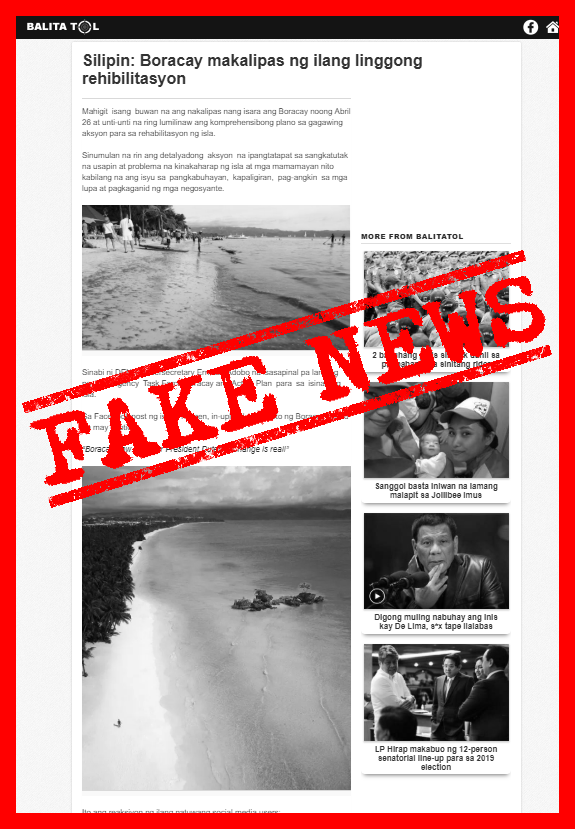 A quick reverse search shows the first photo, a beachfront filled with algae, was lifted from an April 2 Business World report, "DTI recommends closure of Boracay 'in phases'."
Boracay was closed to tourists April 26, the start of a six-month cleanup and rehabilitation.
The second photo, which the fake report claims was uploaded by a netizen with the caption "Boracay now… Under President Duterte! Change is real!" was lifted from a June 6 Instagram post; its original caption reads, "Daydreaming of this view of Boracay. Excited to come back as it reopens."
The fake report, which could have reached more than 1.3 million people, surfaced almost a week after President Rodrigo Duterte said he wanted Boracay land distributed to natives, but would not mind if they eventually sold it off to big businesses.
Social media traffic to the story was largely generated by the pages The Philippines News and Showbiz Government, which shared the story daily from June 17 to June 21.
Now.balitatol.com was created in September 2017.
(Editor's Note: VERA Files has partnered with Facebook to fight the spread of disinformation. Find out more about this partnership and our methodology.)

2018-06-22 12:11:50 UTC