Comedian-turned-senator Vicente Sotto III thinks condoms are solely for contraception.
Invoking science, he said a condom does not block the entry of the human immunodeficiency virus (HIV) into one's system.
STATEMENT
In a heated debate with National Youth Commission Chair Aiza Seguerra over the government's planned distribution of condoms in schools, Sotto said:
"Besides, for their information, the HIV virus is smaller than the pores of condoms which can only prevent pregnancy. Scientifically proven."

(Sources: Aiza Seguerra, Tito Sotto trade barbs over condomsAiza, Tito trade barbs on condom distributions in schoolsAiza Seguerra slams Sotto over condoms)
FACT
Over the years, several studies and worldwide health institutions have backed the effectivity of correct and consistent condom use in preventing HIV.
The World Health Organization, the United Nations Programme on HIV/AIDS and the UN Population Fund have ruled that consistent and correct use of condoms are highly effective in preventing HIV, since condoms do not allow particles of sexually transmitted infections to pass through.
In the Philippines, the Department of Health has established the Adolescent and Youth Health Program, which tackles the risk of HIV/AIDS due to unprotected sex.
"The limited use of condoms to protect adolescents from risk of HIV is an issue to reflect on for condom use is not only to prevent pregnancy but also sexually transmitted disease," the DOH said in its website.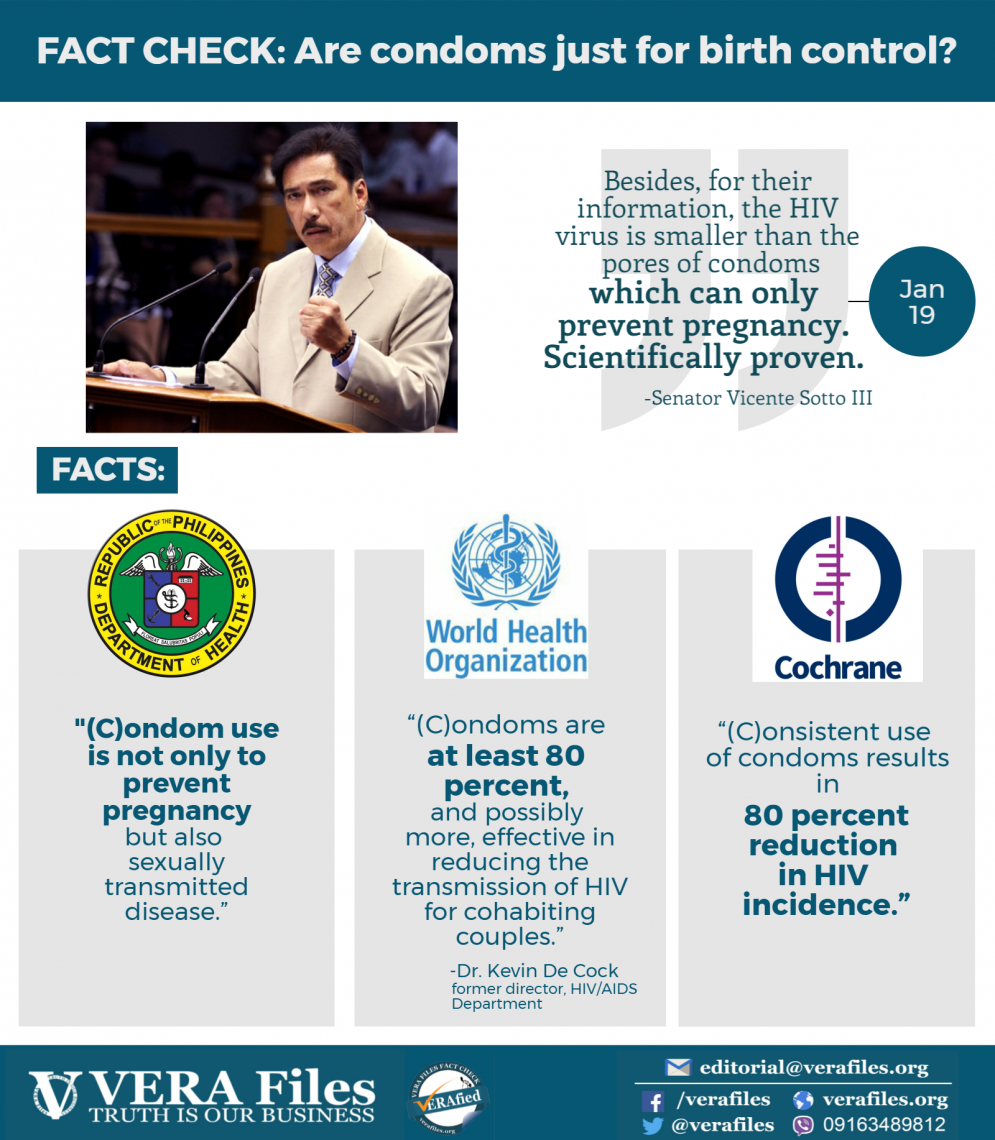 (The original infographic inadvertently referred to Sotto III as "Sotto II." We apologize for the typo error. – Ed)

In 2009, Dr. Kevin De Cock, former director of the WHO HIV/AIDS Department, said "studies suggest that condoms are at least 80 percent, and possibly more, effective in reducing the transmission of HIV for cohabiting couples."
"The evidence around use of male condoms to prevent HIV transmission is that latex condoms if used consistently and correctly are highly effective in preventing the transmission of HIV," De Cock, who is an infectious disease specialist, said.
The Cochrane Collaboration, an independent network of health researchers and professionals, also published a scientific review of thousands of available studies on condom effectiveness. It found that consistent use of condoms results in 80 percent reduction in HIV incidence.
The review, however, did not delve on the "correctness" of use, which includes whether or not condoms were used "correctly and perfectly for each and every act of intercourse."
Incorrect use of condoms, which can compromise their ability in preventing HIV, is common, according to Canada-based research organization CATIE.
This includes using condoms that are too small or large, damaged or expired, using sharp objects to open them, or not following correct procedures while putting them on. All these practices can potentially increase the risk of HIV transmission by causing the condom to break, slip, or leak.
Virus smaller than condom pores?
Sotto also thinks the virus can seep through the holes of latex condoms.
However, a study done by US Food and Drug Administration scientists in 1997 revealed that the latex membrane of condoms are "normally impervious to virus passage" and holes occurred "infrequently."
Although some viruses have diameters smaller than the holes of latex condoms, virus transmission depends on several other factors apart from hole sizes, including pressure, viscosity or thickness of the carrier fluid or semen, and condom thickness.
In 2016, the DOH reported that roughly 26 new cases of HIV are detected every day. From January 1984 to October 2016, there had been a total of 38,114 cases in the country.
Sotto said the rising epidemic cannot be attributed to students but to men who have sex with men (MSM), hence his opposition to the proposal to distribute condoms in schools.
From 1984 to 2007, the predominant mode of HIV transmission was unprotected sex between males and females, the DOH said. After 2009, male-male unprotected sex became the predominant trend.
Science has proven, however, that condom distribution has reduced rates of HIV in sex workers and MSM. A 2015 study by the Centers for Disease Control and Prevention on condom effectiveness for HIV prevention among men who reported anal sex with an HIV-positive male partner revealed that condoms are 70 percent effective in preventing HIV.
Sources:
Adolescent and Youth Health Program, Department of Health
An In Vitro Evaluation of Condoms as Barriers to a Small Virus
Condoms an important form of protection from HIV (Podcast)
Condoms: Tried, tested and true?
Condom effectiveness for HIV prevention by consistency of use among men who have sex with men in the United States
Condom effectiveness in reducing heterosexual HIV transmission (Review)
DOH to consider self-testing for HIV as country commemorates World AIDS Day
UNFPA, WHO and UNAIDS: Position statement on condoms and the prevention of HIV, other Sexually Transmitted Infections and unintended pregnancy