A video on YouTube is erroneously claiming that United States President Joseph Biden burst into tears as he welcomed President Ferdinand "Bongbong" Marcos to the White House this week. This is not true.
On May 1, a YouTube channel published a video that bore the false headline:
"KAKAPASOK LANG OMG! si PRES MARCOS lang NAKAKAGAWA nito! PBBM NASA AMERICA NA! JOE BIDEN NA-IYAK! (Just in OMG! Only President Marcos can do this! Marcos is now in America! Joe Biden cried!)"
In the video's thumbnail, a portrait of Biden wiping away his tears with a handkerchief was placed on top of a May 1 photo of Marcos and First Lady Liza Araneta-Marcos arriving in Washington D.C. for a five-day state visit.
The image of Biden shown in the thumbnail is not related to Marcos' official visit. It was taken during a different event.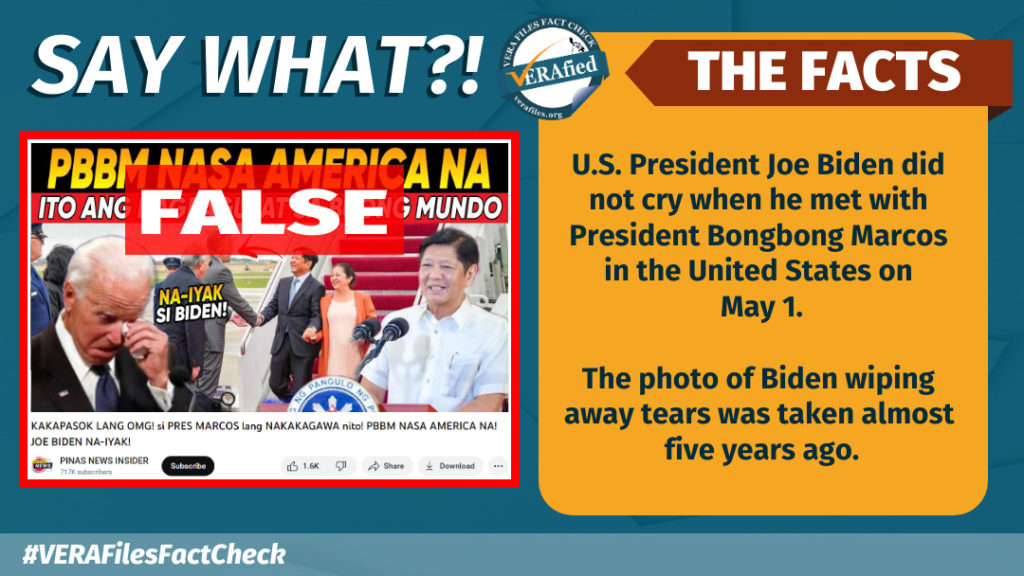 A reverse image search shows that the photo of Biden crying was actually taken in August 2018, when the then-U.S. vice president was giving a tribute at a U.S. senator's memorial service in Phoenix, Arizona.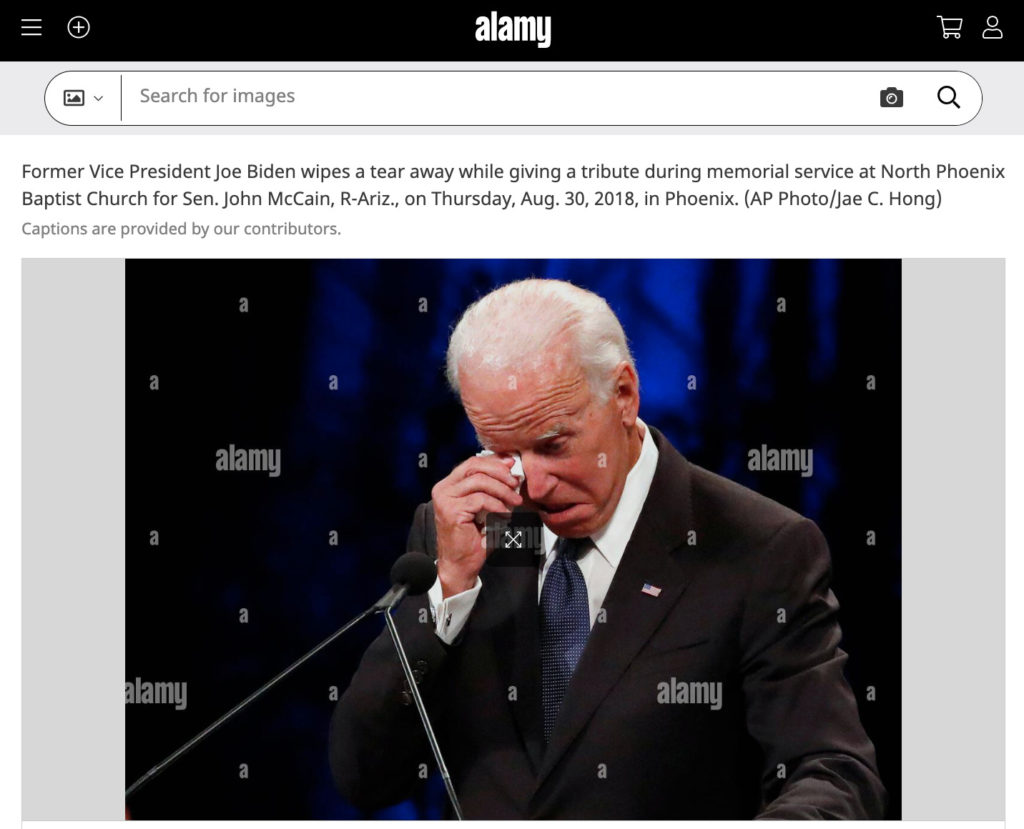 The same old photo had been used in 2021 to claim that the U.S. "pleaded" with former president Rodrigo Duterte to restore the Visiting Forces Agreement. 
(Read: VERA FILES FACT CHECK: Claim that U.S. 'begged' Duterte to restore VFA FALSE)
During the bilateral meeting this week, Biden talked about deepening the economic relationship between the U.S. and the Philippines. There were no reports of him crying during the visit, and neither does official footage show him doing so.
The narrator of the untrue video never touched on this claim and instead only talked about what Biden and Marcos discussed during the state visit.
The spurious YouTube video, currently with over 61,000 views, surfaced on the first day of Marcos' official visit to the U.S. In a tweet, the president said he aims to strengthen ties with the superpower and promote key initiatives in various sectors of the economy.
Have you seen any dubious claims, photos, memes, or online posts that you want us to verify? Fill out this reader request form or send it to 'VERA, the truth bot' on Viber.
(Editor's Note: VERA Files has partnered with Facebook to fight the spread of disinformation. Find out more about this partnership and our methodology.)