A video on Facebook (FB) claims President Ferdinand Marcos was astonished by United States (U.S.) President Joe Biden's shocking decision to "arm" the country with nuclear power. It is misleading. The talks with the U.S. referred to a possible deal on nuclear energy, not weapons.
Besides, deals on nuclear weapons are not possible under the Philippine Constitution. Article II Section 8 states that: The Philippines, consistent with the national interest, adopts and pursues a policy of freedom from nuclear weapons in its territory.
The four-minute video, which started with a news report on nuclear talks between the Philippines and the U.S., was followed by the video narrator's vague statement: "Biglaang pag-uutos ng Amerika na ito na ang tamang panahon upang armasan ng nuclear ang Pilipinas (The sudden order of the U.S. [implies] this is the right time to arm the Philippines with nuclear)."
An FB page published this video on Nov. 26 with the headline: "President BBM, nagulat sa biglaang pag-uutos, ng US president na si Joe Biden (President [Marcos] surprised by the sudden order of US President Joe Biden)."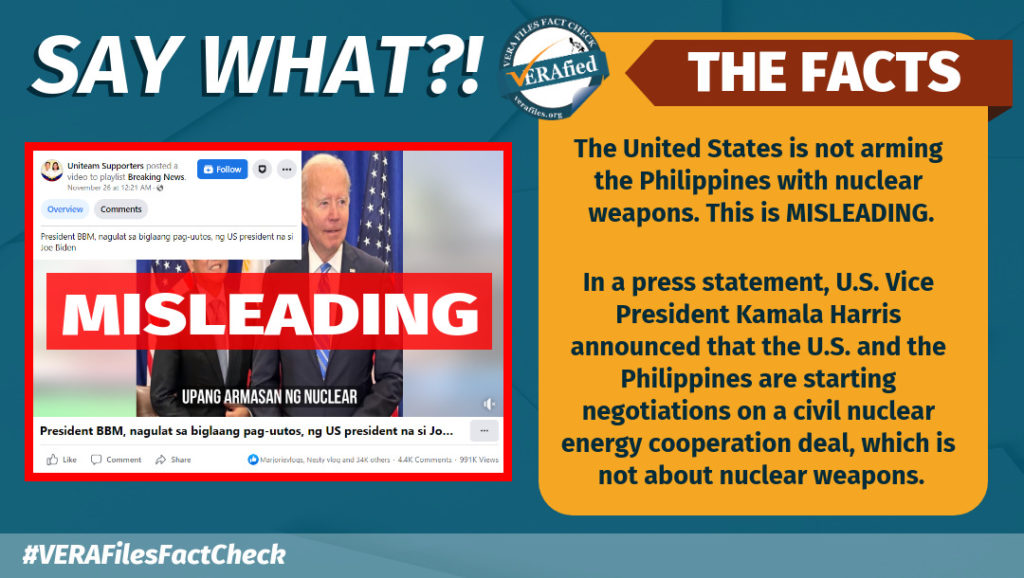 In a Nov. 20 press statement on launching initiatives to strengthen ties between the U.S. and the Philippines, U.S. Vice President Kamala Harris announced that the two countries would set talks on the nuclear energy deal. There was no mention of providing the Philippines with nuclear weapons.
Talks on the possible deal have yet to be set. Nothing has yet been finalized.
Still, some netizens were misled by the narrator's vague statement. "Yes, I'm in full support of having nuclear weapons in the country. So that we won't be oppressed by China," one commenter even said in Filipino.
The misleading video appeared four days after Harris visited Palawan, the closest province to the West Philippine Sea, and expressed support for the Philippines' sovereignty over the exclusive economic zones amid territory disputes with China.
FB page Uniteam Supporters (created May 19) published the video, garnering over 34,000 reactions, 4,400 comments, 2,800 shares and 985,000 views.
Have you seen any dubious claims, photos, memes, or online posts that you want us to verify? Fill out this reader request form or send it to 'VERA, the truth bot' on Viber.
(Editor's Note: VERA Files has partnered with Facebook to fight the spread of disinformation. Find out more about this partnership and our methodology.)