Another bogus Facebook (FB) page pretending to be an official account of the Department of Social Welfare and Development (DSWD) has harvested likes and shares from netizens after posting a fake schedule of the second wave of aid distribution.
DSWD issued an advisory on May 15 clarifying two things: the account is not an official account of the agency, and there is still no schedule for the next tranche of cash assistance.
"We would like to make it clear that there is no schedule yet for the second batch of the Social Amelioration Program (SAP)," DSWD said on its official FB page.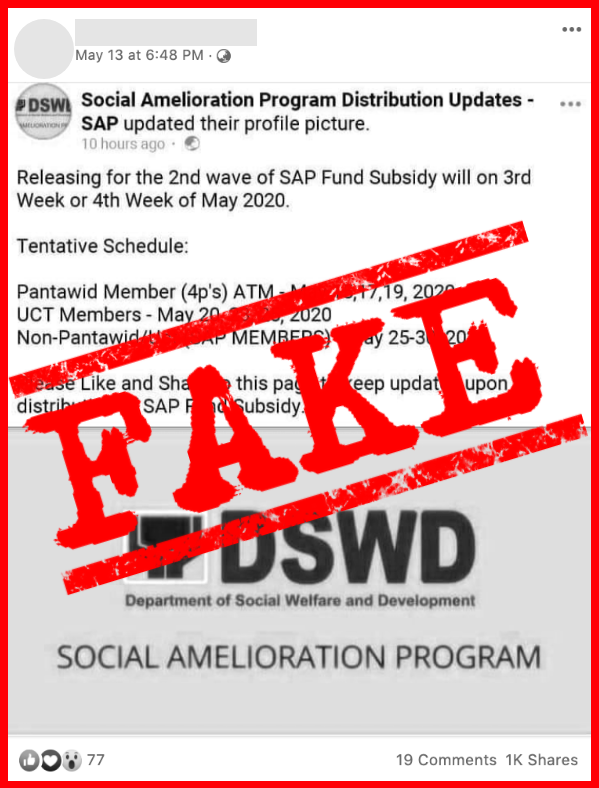 The agency, which handles the Emergency Subsidy Program (ESP) under SAP, also reminded the public to source official announcements only from the agency's primary website and social media account.
The four-day old page Social Amelioration Program Distribution Updates – SAP has since been taken down, but its post about the supposed "distribution schedules" have been captured in screengrabs by several netizens. Four such posts have received over 2,800 shares so far.
In a May 14 press release, DSWD said it is still waiting for a "written directive" from the Office of the President, which which be the basis of the implementing guidelines for the second wave of the SAP distribution.
Additionally, the distribution schedule of the cash assistance for eligible families will be determined and announced by the "assigned leader" or "distribution team" in each barangay, as stated in the SAP Frequently Asked Questions page published in the DSWD website.
Under the Bayanihan to Heal as One Act which guides the government's response to the current coronavirus disease (COVID-19) outbreak, a subsidy of P5,000 to P8,000 per month will be provided to 18 million low-income families twice, once in April and another in May. The government later said that additional five million beneficiaries, who were "left out" in the first list will also receive cash aid. The distribution of the first tranche concluded May 10.
(Editor's Note: VERA Files has partnered with Facebook to fight the spread of disinformation. Find out more about this partnership and our methodology.)