Another supplement, this time for the liver, posted on two Facebook (FB) pages, is making two claims: first, that the Food and Drug Administration (FDA) has approved it; and second, it can cure all types of hepatitis and cirrhosis.
Both claims are false.
Published on July 28 and Aug. 7, the posts promote a health product called "Cagan Nano" and are still gaining traction this week. A text in one of the posts read: "36 ARAW ANG MGA ENZYME SA ATAY AY BUMALIK SA NORMAL. PAALAM HEPATITIS A, B, C, D, E CIRRHOSIS (Within 36 days, liver enzymes will go back to normal. Goodbye Hepatitis A, B, C, D, E, Cirrhosis)."
These posts further claim the supplement is "97 times more effective" than other treatments for liver-related conditions. Also not true. 
Cagan Nano does not appear in the FDA's Verification Portal, which records all food and drugs with certified product registrations.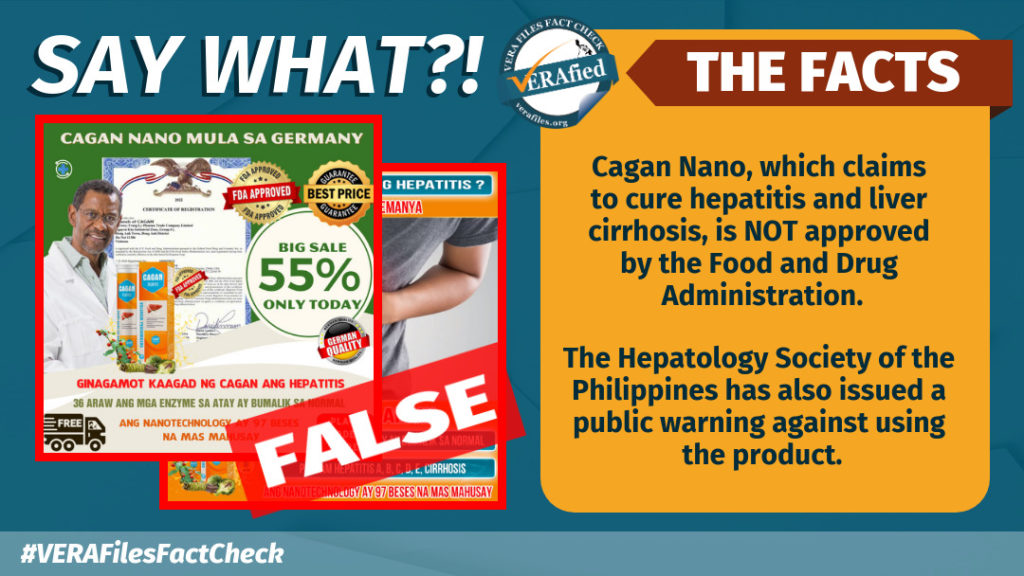 The Hepatology Society of the Philippines issued an Aug. 19 public health warning against the supplement, saying the organization does not support the claims of Cagan Nano on liver diseases. "We advise the public to be careful and to see their doctor if they have liver-related concerns," the organization added.
A certain "Dr. John Cagan" published the posts, using a supposed profile photo of a doctor. A reverse image search shows it is a Shutterstock image.
A link for online orders is part of the post. Clicking leads to a scam website that asks for personal information.
The posts appeared days after the observance of World Hepatitis Day in July.
Apart from FB page Dr. John Cagan (created on March 29, 2022), Cagan Dr. John (created only last July 22) also published the post. Both have garnered a total of over 3,400 reactions, 1,000 comments and 2.4 million views, according to FB.
Have you seen any dubious claims, photos, memes, or online posts that you want us to verify? Fill out this reader request form or send it to 'VERA, the truth bot' on Viber.
(Editor's Note: VERA Files has partnered with Facebook to fight the spread of disinformation. Find out more about this partnership and our methodology.)