Netizens have been misled by a satirical Facebook (FB) post insinuating no one gathered at the People Power Monument during the 50th anniversary of the declaration of martial law. 
Published on the anniversary, Sept. 21, the post read: "Thousands gather at people power shrine for the 50th martial law declaration commemoration."
Yet it showed a photo of an empty monument with this caption: "LOOK: Thousands of anti-Marcos activists gather at the EDSA People Power Monument to commemorate the declaration of Martial Law. #NeverAgainToMarshmalLow."
The post is a satire.
On the top right portion of the image is "Philippine Daily New Society," an imitation of the Philippine Daily Inquirer, while at the bottom of the image are the words "News You Can't Trust," a spoof of CNN Philippines' tagline, plus icons of its social media accounts.
The post appearing in other FB pages and groups was labeled "Satire Page." A disclaimer that it was only "for satire, parody, and entertain[ment]" was also carried by an FB page.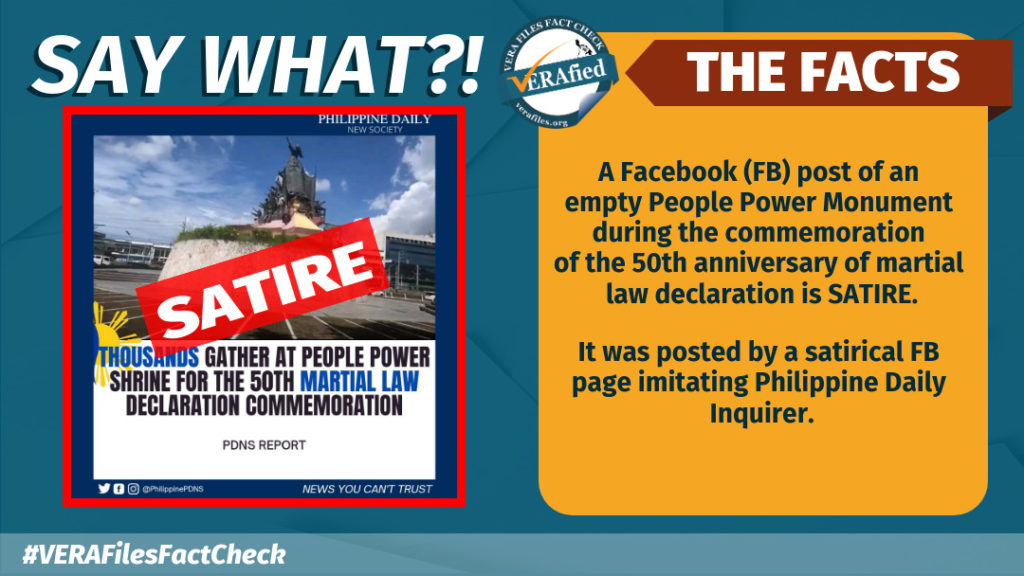 But many netizens still thought it was an official news report. In the comments section, some asked where the people were, fooled into thinking no one attended the commemoration. Others said nobody showed up because people have realized that Martial Law was good for the country.
Have you seen any dubious claims, photos, memes, or online posts that you want us to verify? Fill out this reader request form or send it to 'VERA, the truth bot' on Viber.
(Editor's Note: VERA Files has partnered with Facebook to fight the spread of disinformation. Find out more about this partnership and our methodology.)