A Facebook (FB) video claimed that former president Ferdinand Marcos Sr. is the wealthiest man in the world, with US$987 billion to his name. 
Posted on May 23 by FB page GM TV (created on Oct. 1, 2021), the in-video text read: "Marcos talaga Ang pinaka mayaman sa buong mondo [sic] | Wala na makatalo sa yaman ni Ferdinand Marcos dahil Jan marami na inggit sa kanya (Marcos is really the wealthiest in the world | No one can beat Ferdinand Marcos' wealth, a lot of people envied him because of that)."
This caption misleadingly implied that Marcos was the most affluent person – dead or alive – in the history of the world, and no one has ever topped his riches, making him the envy of many.
The video has no basis. Marcos was never recognized or named in any list as the "wealthiest person in the world." Forbes Magazine's 2022 World Billionaires List named businessman Elon Musk as the richest person in the world, with a net worth of US$219 billion.
While former first lady Imelda Marcos previously claimed in a documentary that an account in a Brussels, Belgium bank in her husband's name held the $987 billion, there is no evidence to prove or disprove the claim.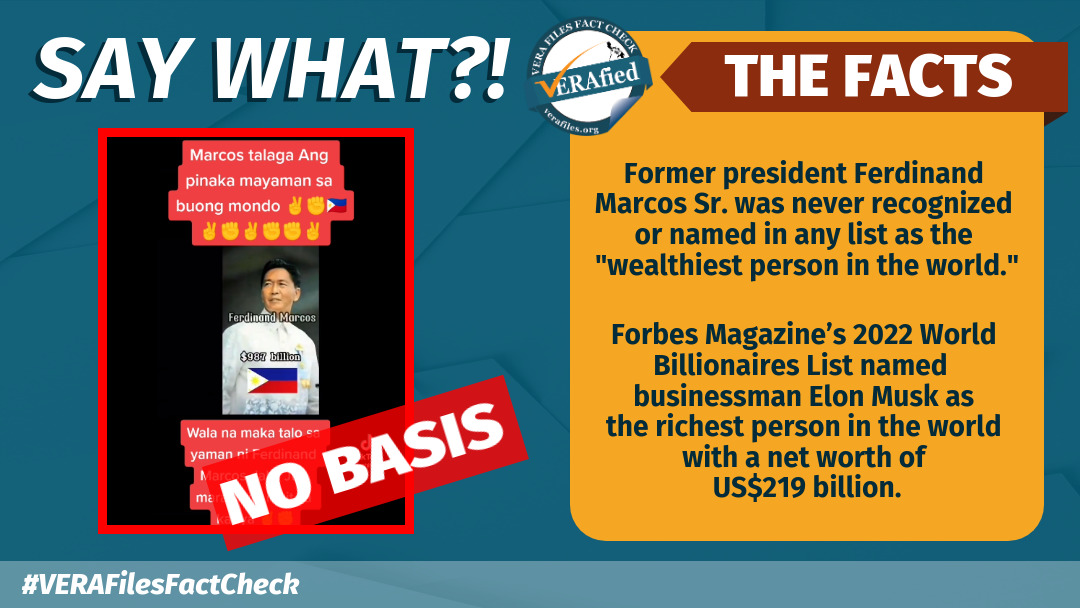 Never listed as the world's wealthiest man
American businessman Howard Hughes, not Marcos, was listed as the world's wealthiest man from 1960 to 1975, according to the Wealthy 100 book. 
Daniel Ludwig was named the Forbes 400 wealthiest man in 1982 with a wealth of US$2 billion (US$6.04 billion today), while Sam Walton held the title in 1986 with a net worth of US$4.5 billion (US$11.88 billion today.)
In 2014, Forbes Magazine disclosed that in selecting who to include in the list of wealthiest individuals, they "do not include royal family members or dictators, who derive their fortunes entirely, as a result of their position of power." 
Further, this "is because their wealth was not a result of individual or entrepreneurial endeavors and can be passed down generations or be truly given away."  
 Origin of the US$987 billion claim
Cursory search reveals that the claim originated from a 2009 documentary where Mrs. Marcos showed British Broadcasting Corporation journalist Simon Reeve a treasury certificate allegedly proving that Mr. Marcos has US$987 billion stored in a bank account in Brussels, Belgium. 
GM TV's video got a total of 16,000 reactions, 796 comments, 2,100 shares, and 372,000 views. It was a reuploaded version of two TikTok videos uploaded on April 13, which got 3.038 million and 359,707 interactions, respectively.
Have you seen any dubious claims, photos, memes, or online posts that you want us to verify? Fill out this reader request form.
(Editor's Note: VERA Files has partnered with Facebook to fight the spread of disinformation. Find out more about this partnership and our methodology.)