A clip that shows Vice President Leni Robredo giving incorrect answers and failing to answer questions during a quiz in a radio show in 2016 is circulating on social media. The viral video needs context as it was edited deliberately to show only Robredo's wrong answers.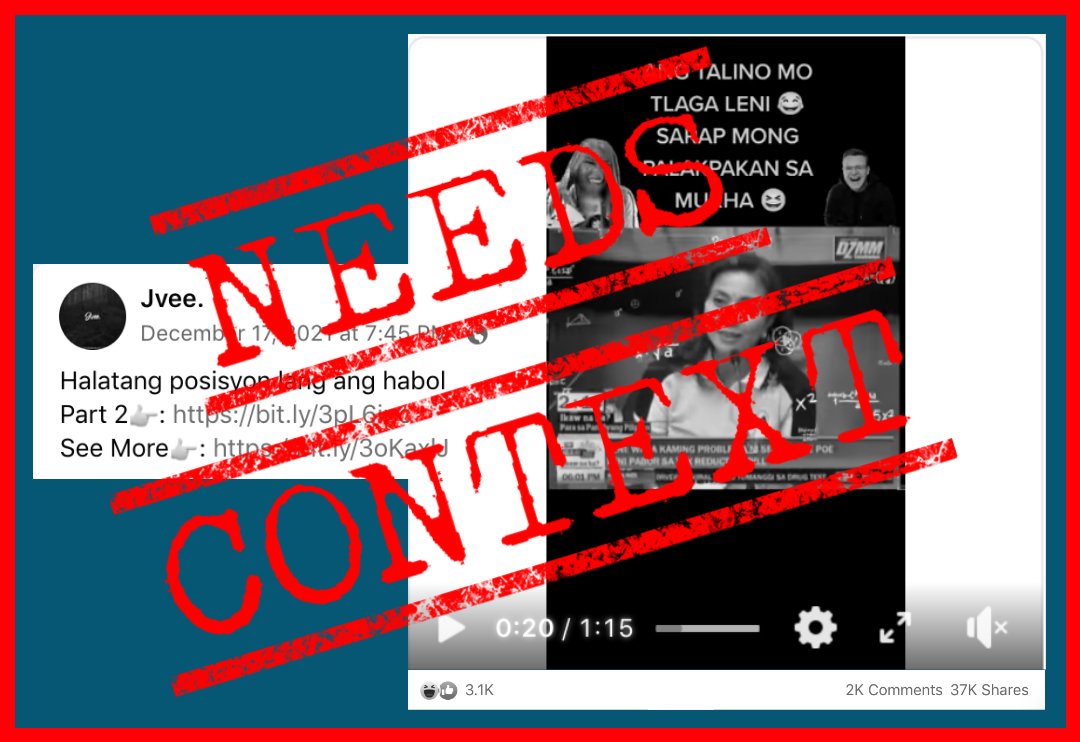 The one-minute, 15-second-long video is carried by a Dec. 17 post of two-month-old Facebook (FB) page Jvee. Its caption said, "Halatang posisyon lang ang habol (She's obviously only after the position)" and had two links that redirect to e-commerce sites.
The spliced clips of Robredo's wrong answers were lifted from a short segment of a January 2016 interview-cum-quiz she had with DZMM TeleRadyo ahead of the May polls. The segment Testing Lang quizzed vice-presidential candidates on current events, Philippine history and general knowledge. Robredo answered 14 out of 18 questions correctly.
But featured in Jvee.'s inaccurate clip were only the four answers she got wrong, and one which she initially skipped but answered correctly later on.
The table below shows how each of the 2016 vice presidential aspirants fared in DZMM's Testing Lang segment:
*Depended on the number of questions given and answered within the three minute-limit.
The inaccurate clip was published a day after Robredo told reporters it was important for government officials to be visible and on the ground when calamities strike. This comment came following the onslaught of Super Typhoon Odette on parts of the Visayas and Mindanao last December. Robredo, who is running for president in the May 9 polls, also vowed to be "hands-on" during disaster monitoring and response if elected.
Jvee.'s video has been viewed over 1.8 million times, garnering 3,100 reactions, 2,000 comments and 37,000 shares since its publication. Jvee. was created just last Nov. 8.
A reupload of the video on TikTok by user @kacocah got over 600 engagements and 13,700 views, while a reupload on FB by page SWORD TV Philippines Broadcasting has been viewed by netizens a thousand times.
Have you seen any dubious claims, photos, memes, or online posts that you want us to verify? Fill out this reader request form or send it to 'VERA, the truth bot' on Viber.
(Editor's Note: VERA Files has partnered with Facebook to fight the spread of disinformation. Find out more about this partnership and our methodology.)