Senatorial aspirant Willie Ong wrongly implied in a statement that voter preferences in pre-election surveys will result in actual vote count on polling day.
STATEMENT
A verified Facebook account of Ong, a cardiologist, health columnist and former consultant of the Department of Health under Health Secretary Enrique Ona, posted Feb. 16:
"Ayon sa mga Private Survey, mga 3 million votes lang daw ang makukuha ko. Pero ayon sa Independent Surveys, aabot sa 7-8 million votes na tayo. Maganda malaman sa Mayo 13, kung tunay ba ang Private Survey sa sinabi nila. Kung LALAMPAS tayo sa 3 million votes, ibig sabihin ay MALI ang private surveys na ginawa."

(According to private surveys, I will get around 3 million votes. But based on independent surveys, there will be around 7-8 million votes. It would be interesting to know come May 13 if private surveys are correct If I get more than 3 million votes, that means private surveys are wrong.)

Source: Facebook.com, Doc Willie Ong, Feb. 16, 2019
FACT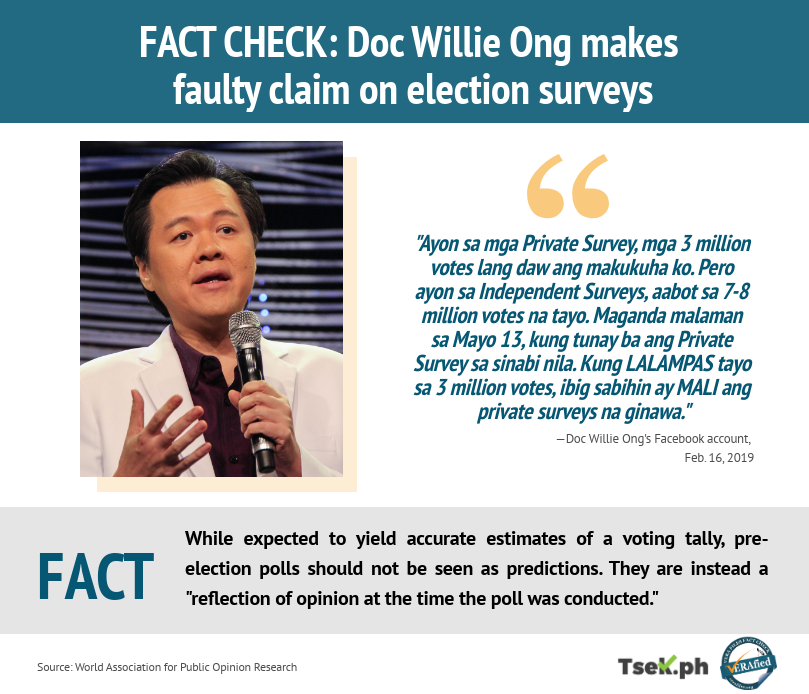 While Ong did not define what "private" and "independent" surveys are, professional election surveys do not predict actual election results – they are a reflection of voters' preferences at a given time frame.
The World Association for Public Opinion Research and the World Association for Social, Opinion and Market Research, international groups of public opinion and survey research professionals note:
Pre-election polls are expected to be accurate in their estimates of a voting tally or the share of the vote for parties and candidates in an election, especially if they are conducted close to the election itself. However, they should not be seen as predictions per se. They are instead a reflection of opinion at the time the poll was conducted.

Source: WAPOR, ESOMAR/WAPOR Guide to Opinion Polls
It added:
People do change their mind, some even in the second before marking their vote on the ballot slip and 'undecided' voters can have a decisive impact on the result.
Professional election surveys are those that include key information which researchers worldwide consider to be mandatory to observe transparency in publishing survey results.
These include disclosure of the organization that conducted the poll, the sponsor of the poll, the respondents and their demographics, sample size, fieldwork dates, the method used to determine the sample, the method by which the poll was conducted, the questions asked in the survey, among others. (See VERA FILES FACT SHEET: What to look for in election surveys)
Ong, who is running under Lakas-Christian Muslim Democrats (Lakas-CMD), ranked 24th to 29th in Pulse Asia's January 2019 senatorial survey, with an overall voter preference of 5.9 percent. He was 29th to 35th in its June 2018 survey.
Ong's name was not included in the roster of candidates in a commissioned senatorial survey of Social Weather Stations in September 2018.
Sources:
Pulse Asia Research, June 2018 Nationwide Survey on the May 2019 Senatorial Elections
Pulse Asia Research, January 2019 Nationwide Survey on the May 2019 Senatorial Elections
Social Weather Stations, SWS survey on senatorial preferences reported in Inquirer.net (10/12/2018) was sponsored by Mr. Alde Joselito Pagulayan, Oct. 12, 2018
Twitter.com, @jabjimenez, Jan. 10, 2019
World Association for Public Opinion Research, ESOMAR/WAPOR Guide to Opinion Polls
(Guided by the code of principles of the International Fact-Checking Network at Poynter, VERA Files tracks the false claims, flip-flops, misleading statements of public officials and figures, and debunks them with factual evidence. Find out more about this initiative and our methodology.)

(VERA Files is a part of Tsek.ph, a collaborative fact-checking initiative by the academe and the media for the 2019 Philippine midterm elections.)