Former presidential adviser for political affairs and now senatorial candidate Francis Tolentino gave a mistaken view that senior citizens are unable to return to the labor force under existing laws.
STATEMENT
At the Feb. 17 ABS-CBN senatorial debate, Tolentino and other candidates were asked what they would do to end the practice of labor contractualization in the country.
Apart from amending existing policies to ensure workers have security of tenure, Tolentino said he wants to take it a step further:
"Ang gusto ko ngayong mangyari yung mga senior citizens natin, yung retirees–56 years old, 60–makapagtrabaho uli, tanggapin uli sa labor force (What I want is for our senior citizens, the retirees–[those] 56 years old, 60–to be able to work again, to be accepted back into the labor force)."

Source: ABS-CBN News, Harapan 2019: The ABS-CBN Senatorial Town Hall Debate, Feb. 17, 2019, watch from 30:09 to 30:21
FACT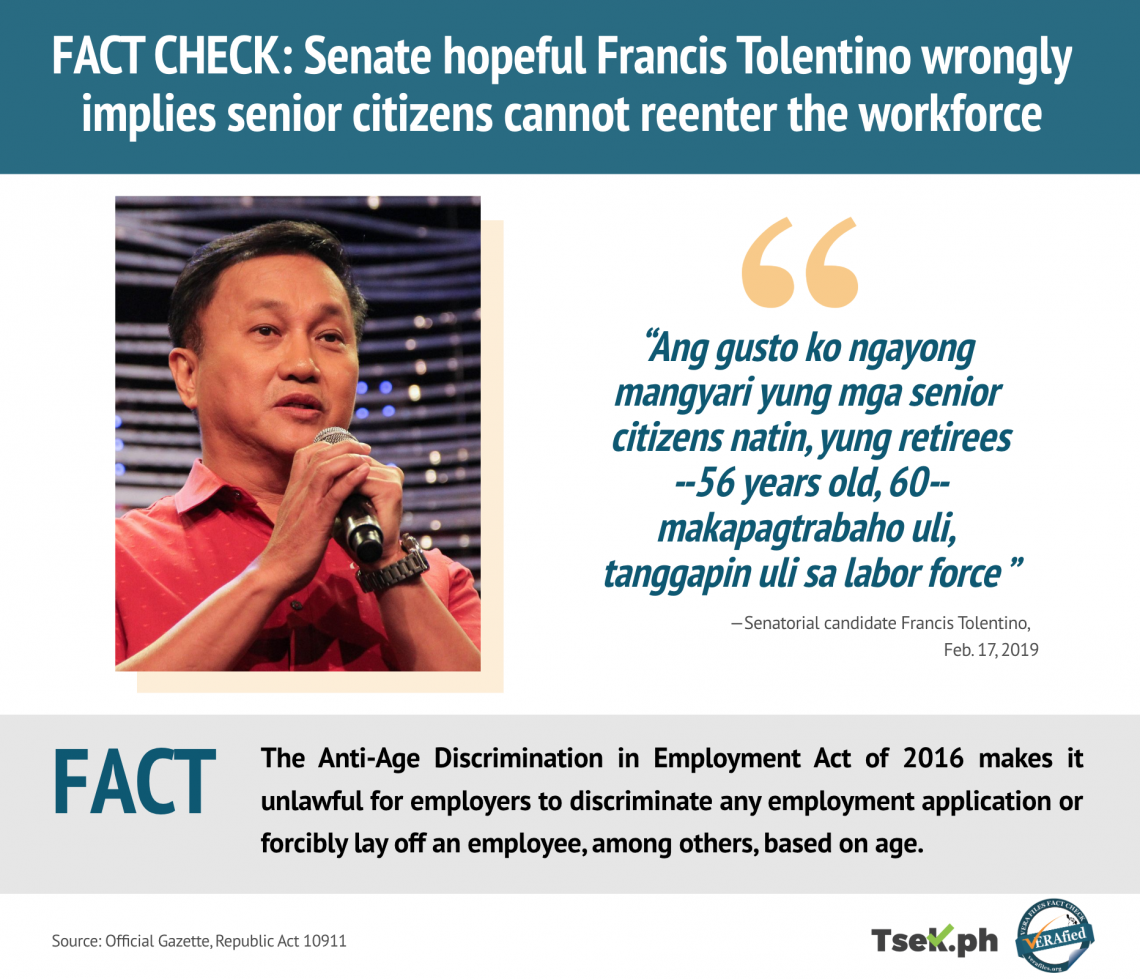 Tolentino's proposal is not a new idea; there are already laws that allow and promote senior citizens' re-entry to the workforce.
Republic Act 10911 or the Anti-Age Discrimination in Employment Act, which lapsed into law in 2016, makes it state policy to:
"Promote employment of individuals on the basis of their abilities, knowledge, skills and qualifications rather than their age."
Source: Official Gazette, Anti-Age Discrimination in Employment Act
Section 5 of the law makes it unlawful for employers to discriminate any employment application, forcibly lay off, deny promotion, or impose early retirement of an employee, among others, on the basis of one's age, subject to some exceptions.
Setting age limits in employment is only considered legal if:
age is considered a job-related requirement necessary for the normal operation of a business;
the employer observes a seniority system not intended to undermine the law;
a genuine retirement or voluntary early retirement plan, aligned with the Act and the Labor Code, is sought; or
certified by the labor and employment secretary.
The law also obligates the Department of Labor and Employment to conduct studies on "minimizing impediments to the employment of older persons" and to distribute such information to employers, labor groups and the general public.
More, the Expanded Senior Citizens Act of 2003, an amendment to a 1992 law, which seeks to "maximize the contributions of senior citizens to nation building," states that a senior citizen "may render his/her services to the community" through, but not limited to:
tutorial and/or consultancy services;
actual teaching and demonstration of hobbies and income generating skills;
lectures on specialized fields like agriculture, health, environmental protection and the like;
the transfer of new skills acquired by virtue of their training; and
undertaking other appropriate services, as determined by the Office of the Senior Citizens Affairs of local government units, such as school traffic guide, tourist aide, pre-school assistant, etc.
The 2003 Senior Citizen law was again amended in 2010.
A senior citizen is a Filipino aged 60 years and above.The compulsory retirement age for civilian employees, in government or the private sector is 65 years old. For members of the Armed Forces of the Philippines, Philippine Coast Guard, Philippine National Police, Bureau of Fire and Bureau of Jail and Penology, it is 56 years old.
Tolentino is running for senator under Partido Demokratiko Pilipino Lakas ng Bayan (PDP-Laban). He first ran in 2016 as an independent candidate but lost.
Sources
ABS-CBN News, Harapan 2019: The ABS-CBN Senatorial Town Hall Debate, Feb. 17, 2019
Department of Interior and Local Government, Republic Act 7432
Official Gazette, Expanded Senior Citizens Act of 2003
Official Gazette, Anti-Age Discrimination in Employment Act
Department of Labor and Employment, Implementing Rules and Regulations of the Anti-Age Discrimination in Employment Act
Presidential Communications and Operations Office, President Rodrigo Roa Duterte during the birthday celebration of former Presidential Adviser on Political Affairs Atty. Francis Tolentino at the Tagaytay International Convention Center in Tagaytay City, Cavite, Jan. 3, 2019
Department of Labor and Employment, Labor Code of the Philippines
Official Gazette, Presidential Decree 1650, s. 1979
Senate of the Philippines, Republic Act 9993
Official Gazette, Republic Act 6975
(Guided by the code of principles of the International Fact-Checking Network at Poynter, VERA Files tracks the false claims, flip-flops, misleading statements of public officials and figures, and debunks them with factual evidence. Find out more about this initiative and our methodology.)

(VERA Files is a part of Tsek.ph, a collaborative fact-checking initiative by the academe and the media for the 2019 Philippine midterm elections.)