Five fake Facebook (FB) pages are using the name of licensed physician Kilimanjaro Tiwaquen, also known by his social media moniker Dr. Kilimanguru, to promote a dried fruit cereal. 
"Edited din 'yan (that is also edited)," Tiwaquen answered after a netizen asked him on FB about the ads' legitimacy. 
Fresco Dried Fruits Cereal is not in the Food and Drug Administration's list of verified food products.
Tiwaquen has repeatedly said that ads posted on unverified FB pages that use his name are fake.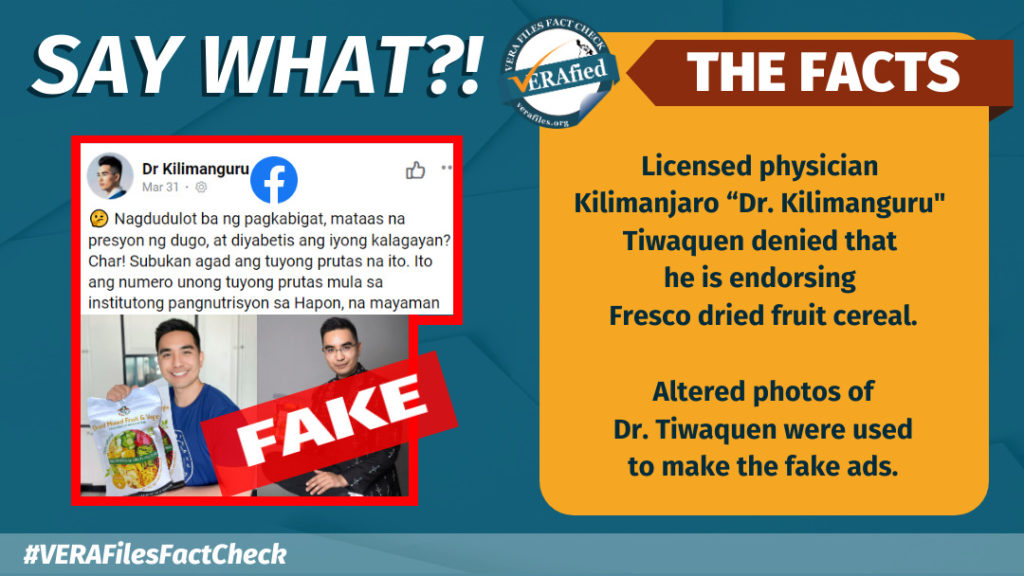 The six posts claimed that the product being advertised is rich in vitamins, fiber, antioxidants, and omega 3, 6, and 9. All carried links that when clicked lead to suspicious websites that also use false advertising to sell the cereal, or to defunct pages (delmonte.top, japanesenutrionphl.online, japanpremium247.online, osakastore.click, salehunter68.online, sendaistore.click).
Four photos of Tiwaquen were edited to make it look like he was advertising the product.
Note: Click on the photos to view their original source.
The earliest version of the posts appeared on March 31, two days after the Marcos administration launched a nationwide multisectoral nutrition project.
The sham posts got a total of 15,567 interactions collectively. Among those that carried the bogus ads are these imposter FB pages Dr. Kilimanguru (created on Sept. 19, 2022), Dr.Kilimanguru (created on April 10, 2023), Dr. Kilimanguru (created on Sept. 19, 2022), Dr. Kilimanguru (created on March 22, 2023), and Dr. Kilimanguru (created on Feb. 16, 2023).
Have you seen any dubious claims, photos, memes, or online posts that you want us to verify? Fill out this reader request form or send it to 'VERA, the truth bot' on Viber.
(Editor's Note: VERA Files has partnered with Facebook to fight the spread of disinformation. Find out more about this partnership and our methodology.)