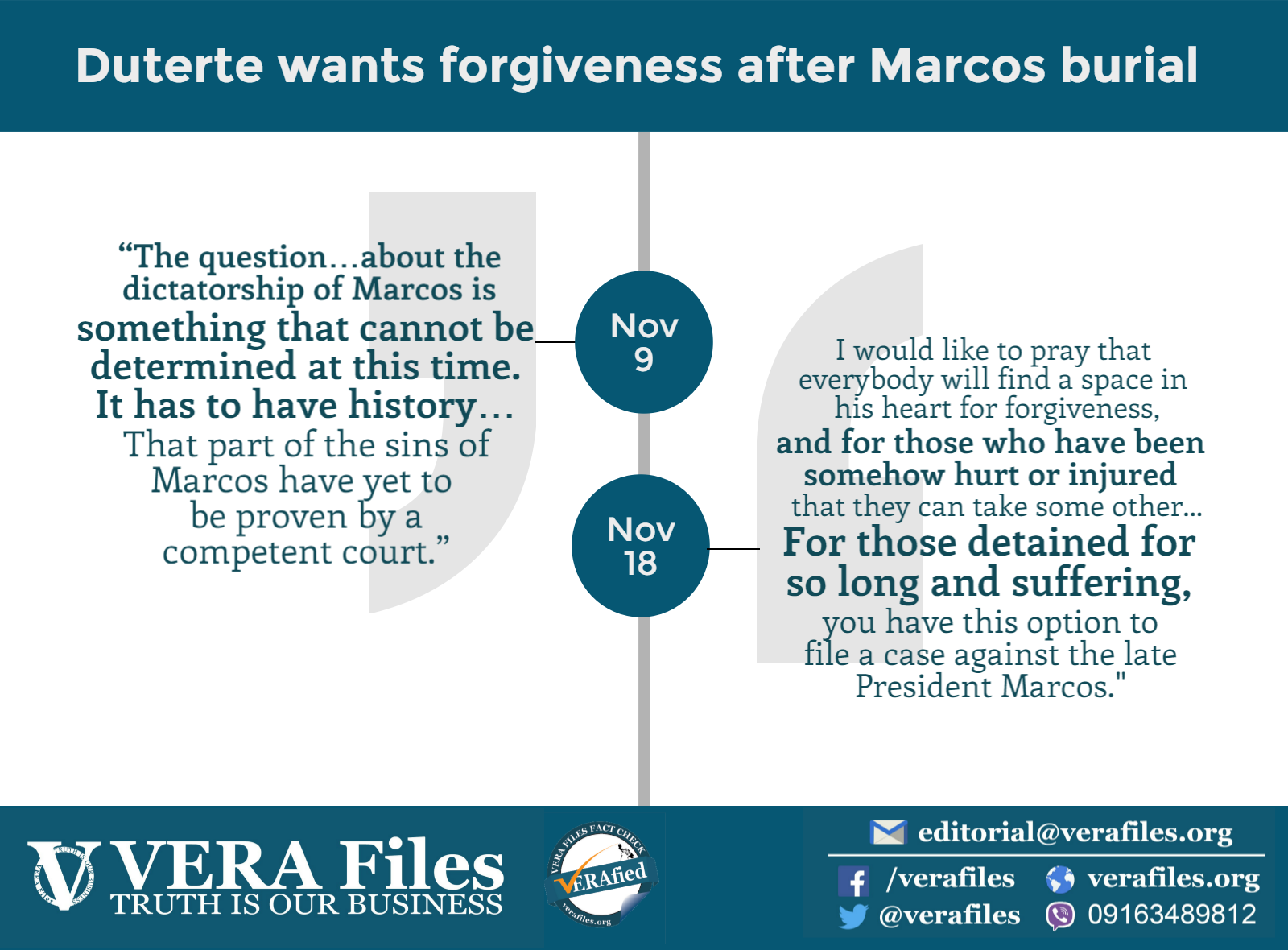 AS THE surprise burial of dictator Ferdinand Marcos at the Libingan ng mga Bayani on Nov. 18 triggered massive protests on the streets, President Rodrigo Duterte sought to unify Filipinos.
Upon arriving in Lima, Peru for the 24th Asia Pacific Economic Cooperation Economic Leaders' Meeting, he said in a statement:
"I would like to pray that everybody will find a space in his heart for forgiveness, and for those who have been somehow hurt or injured that they can take some other…For those detained for so long and suffering you have this option to file a case against the late President Marcos."
(Source: Press Release, "Duterte hopes for forgiveness for Marcos, asks people who've been hurt to file case." Media Accreditation and Relations Division. Nov. 19, 2016)
FLIP-FLOP:
By asking Filipinos to forgive Marcos, Duterte has acknowledged that the late president had done a number of them harm.
Yet nine days earlier, just as he left for his trip to Malaysia on Nov. 9, he said the sins of Marcos have yet to proven.
"The question…about the dictatorship of Marcos is something that cannot be determined at this time. It has to have history….That part of the sins of Marcos have yet to be proven by a competent court," he said.
(Source: "Duterte won't change mind about Marcos burial at Libingan." ABS-CBN. Nov. 9, 2016. Watch 2nd video)
FACT:
Victims of Marcos' strongman rule had gone to court to sue the dictator and his family for years now. An earlier VERA Files fact check shows human rights violations committed during the Marcos regime have been explicitly discussed in several rulings of the high court and also institutionalized by law.
See: VERA FILES FACT CHECK: Marcos' sins not yet proven in court?