A Facebook (FB) page posing as the Department of Social Welfare and Development (DSWD) is duping netizens through a fake announcement for students of the incoming school year. 
FB page DSWD 4ps Update asked netizens to sign up for a "DSWD scholarship program" claiming to give away a monthly P6,500 cash allowance, a free laptop and cell phone, some school supplies, and an additional stipend of P7,000 for mothers. It also instructed the public to share the post to 20 different FB groups and register through a website.
"Ang DSWD walang scholarship program. Meron lang kaming educational assistance na tinatawag (The DSWD does not have a scholarship program. We only provide educational assistance)," Vico Angelo Fajardo, Project Development Officer III of DSWD Central Office's Crisis Intervention Division, told VERA Files Fact Check in a phone call on Aug. 15.
"Wala rin po kaming ipinamimigay na libreng cellphone at laptop (We are also not giving away free cell phones and laptops)," he added.
Fajardo advised the public to visit their nearest DSWD office or go to the DSWD's official social media and web pages to verify announcements about alleged assistance programs.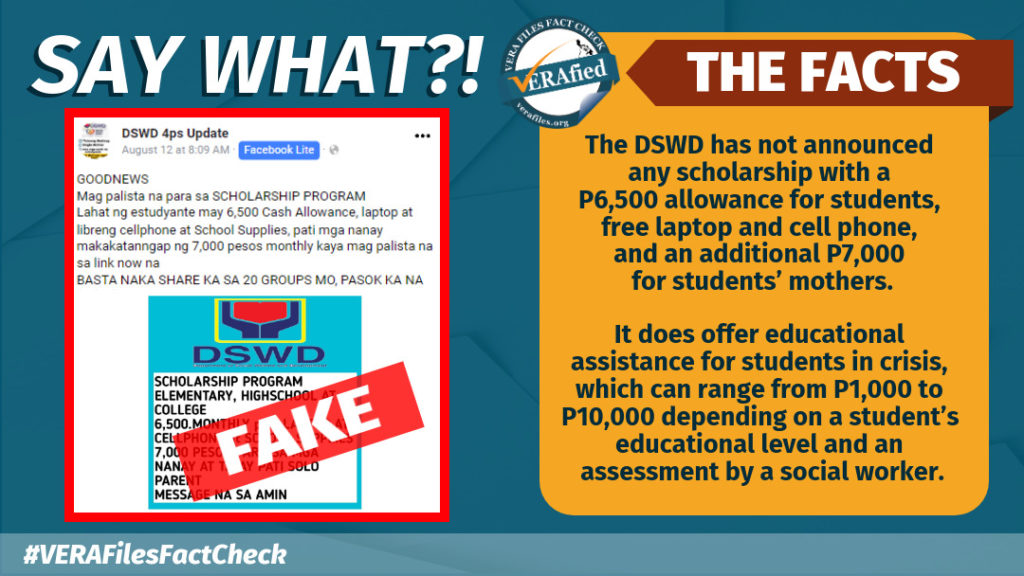 The agency offers educational assistance in the form of cash under its Assistance to Individuals in Crisis Situation (AICS) program. It is for working students, children of persons deprived of liberty, and victims of abuse and natural disasters, among others, to help with school expenses.
Elementary and highschool students receive a maximum of P5,000 per school year, while senior high school, college and vocational students get a maximum of P10,000 per semester.
The fake "DSWD" posts included a link to the blog Ayuda-para-sa-pilipino (libreng-ayuda-pilipinas.blogspot.com), which also carried other scams. Blogspot user AXIE, previously flagged in two other VERA Files Fact Check articles, owns the Ayuda-para-sa-pilipino website, plus five other blogs with similar bogus announcements.
Netizens who believed the scam provided their name, contact details, age, and address on both the bogus FB post and the fake website. 
DSWD 4ps Update's bogus scholarship post, which garnered over 16,200 interactions, was published four days after the DSWD announced on Aug. 8 a new memorandum circular to expedite the release of aid to beneficiaries of the AICS program. The imposter page was created on July 27.
Have you seen any dubious claims, photos, memes, or online posts that you want us to verify? Fill out this reader request form or send it to 'VERA, the truth bot' on Viber.
(Editor's Note: VERA Files has partnered with Facebook to fight the spread of disinformation. Find out more about this partnership and our methodology.)