Another Facebook (FB) page has illicitly used the face of Web-popular cardiologist Doc Willie Ong, this time, to promote a supplement supposedly effective against diabetes.
On Oct. 20, the page uploaded a video advertising a product called "Gluzabet," which could supposedly stabilize blood sugar levels in just a week without using insulin. The video received more than 235,000 recent views, according to FB.
At the start of the video, it showed Ong discussing ways to control diabetes, suggesting the doctor is endorsing the use of the supplement.
Ong did not promote the product nor make a reference to it, in the original 2021 video published on his official YouTube channel from where the clip was grabbed.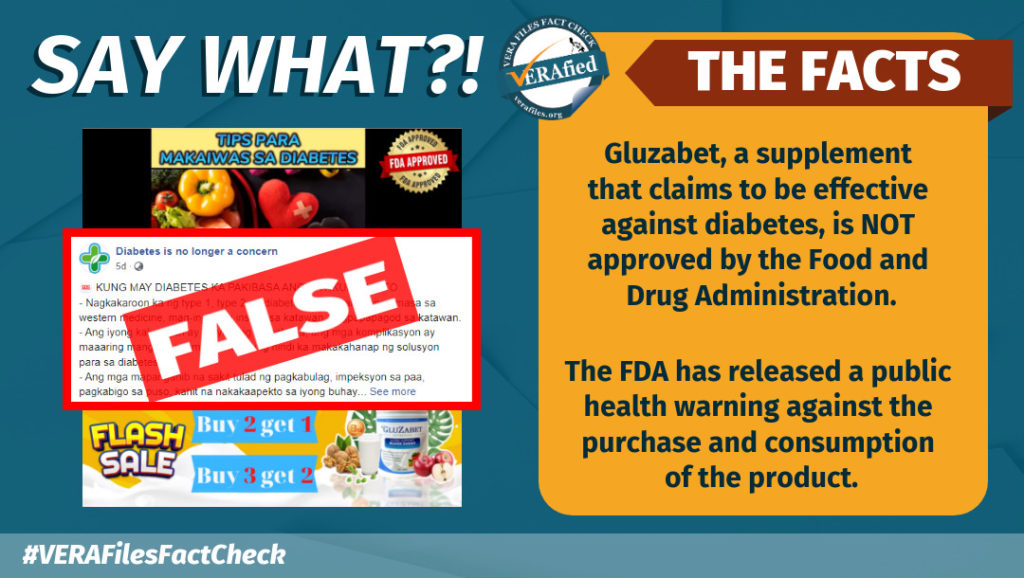 Gluzabet is not on the Food and Drug Administration's (FDA) list of food and drugs with certificates of product registration. The circulating video brandished a fake "FDA-approved" label.
In fact, the FDA warned against the purchase and consumption of the supplement in an Oct. 4 public health warning. It stated the product has not gone through the agency's evaluation process and thus "cannot assure its quality and safety."
Health agencies and organizations recommend consulting a medical professional before switching insulin medications. While there is still no cure for diabetes, the World Health Organization states this is manageable through blood sugar control or changes in lifestyle and diet.
The video appeared ahead of World Diabetes Day, celebrated in November.
FB page Diabetes is no longer a concern (created on Aug. 31) published the video, which garnered over 660 reactions, 380 comments, 150 shares and 63,000 views.
Have you seen any dubious claims, photos, memes, or online posts that you want us to verify? Fill out this reader request form or send it to 'VERA, the truth bot' on Viber.
(Editor's Note: VERA Files has partnered with Facebook to fight the spread of disinformation. Find out more about this partnership and our methodology.)