A Facebook (FB) post shared a fake website promoting eye drops named Shiliwangxiongdanye, allegedly approved by the Philippines' health and drug organizations. This is fake. 
The liquid drops in question, said to treat early senile cataract and nearsightedness, is not approved by the Food and Drug Administration (FDA) as a drug or cosmetic product. Neither has the Department of Health (DOH) promoted its use.
Agence France-Presse Philippines previously debunked a fake ad of the same product.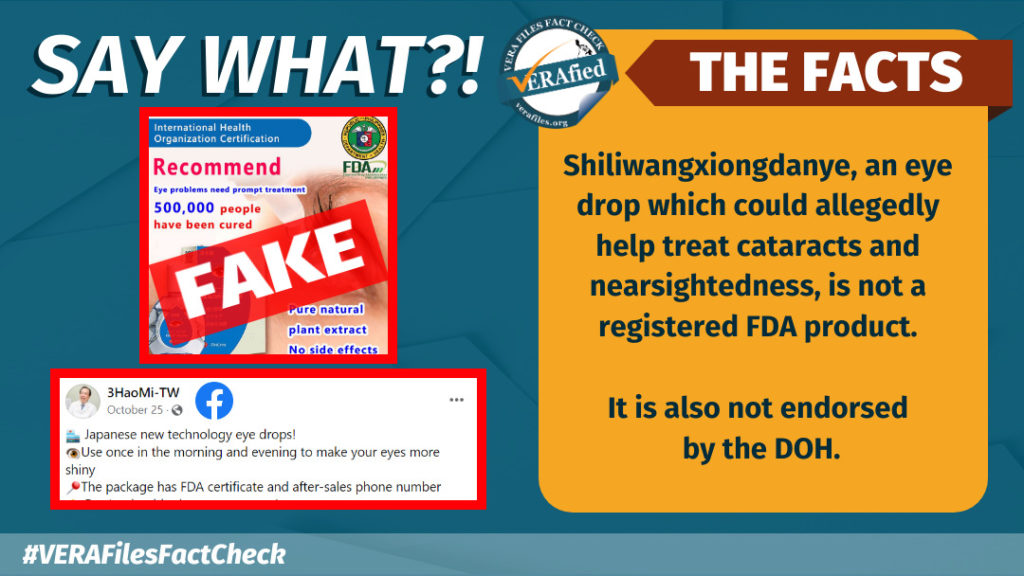 Early-stage cataracts are manageable with eyeglasses and magnifying glasses, but advanced cases would require surgery. Remedies for nearsightedness include eyeglasses, contact lenses, or laser eye surgery.
The dubious website (mall.haoni-sh.top), which entices people to order the product through a "buy now" prompt, made it appear like DOH endorsed the product by posting edited versions of the following: 
To bolster its claim that the fake eye drops were also given an international health organization certification and is used by the Japanese aviation department, the website posted edited versions of these photos: 
FB page 3HaoMi-TW, created on July 20, 2021 under the name 3Shanghai Hao Mi Trading Co., Ltd., created the fake post that got 7,200 reactions, 2,800 comments, and 751 shares. 
It was posted on Oct. 25, but netizens are still engaging with it. "I will order only one bottle, how much?" a netizen asked. Others inquired whether the eye drops would help treat cataracts. 
Website mall.haoni-sh.top's fake post got over 15,263 interactions, according to social media monitoring tool CrowdTangle.
Have you seen any dubious claims, photos, memes, or online posts that you want us to verify? Fill out this reader request form or send it to 'VERA, the truth bot' on Viber.
(Editor's Note: VERA Files has partnered with Facebook to fight the spread of disinformation. Find out more about this partnership and our methodology.)