At least two Facebook (FB) pages and six private netizens, including former National Commission for Culture and the Arts (NCCA) chair Felipe Mendoza de Leon, reuploaded as new a photo from July 2019 showing flags of China and the Philippines supposedly hanging along the roads of Carmona, Cavite.
The posts, which came a few days before the country's 122nd independence day anniversary on June 12, sparked outrage as netizens were misled to think that the photo was taken recently.
STATEMENT
On May 31, De Leon posted on his personal FB account a screengrab of an FB post carrying two images — both showing Philippine and Chinese flags hanging alternately on lampposts in the center of a road.
The name of the publisher and the posting date were cropped out, but the original post's caption was left in, providing a location of the display:
"From Carmona SLEX tollgate going to POGO Island, Kawit, Cavite."
Calling it a "grave insult" to the country, de Leon said in his post:
Pwde (sic) ba mga kabitenyo, sunugin nyo ang mga ito. Sa Kawit, Cavite pa nman (sic) idineklara ang kalayaan ng bansa noong June 12, 1898. Mapapayagan ba ninyo ang panggagagong ito? (Please, Caviteños, burn these. The country's independence was even declared in Kawit, Cavite on June 12, 1898. Will you allow this disrespect?)

Source: Felipe Mendoza de Leon, "SINONG MGA HAYOP ANG GUMAWA NITO?" May 31, 2020
The former NCCA chair's misleading post has since been taken down, but not before it received over 2,100 shares and more than 1,700 reactions, most of which were "Angry" reactions from netizens. The comments section also showed readers demanding an explanation from the local government of Cavite. Some echoed de Leon's call for the Chinese flags to be taken down, while others asked when the photos were taken.
FACT
The posts were misleading; the circulating photos were not taken recently.
A keyword search on FB showed that the images — as well as other captures of the flags taken from other angles — have been circulating online as early as July last year.
One of the earliest posts on the Chinese flag display, uploaded on July 27, 2019, shows two people on an aerial work platform affixing Chinese flags on a lamppost. The uploader said in his caption that the photo was taken "in Carmona, Cavite, near Carmona Exit," and asked what the flags were for.
Charmaine Distor, current officer-in-charge of the Carmona Municipal Information, Tourism, Culture and Arts Office, commented on the post, explaining that the display of the Chinese flags with the Philippine flags was for a signing ceremony of a "sisterhood agreement" between the Municipality of Carmona and Jiyang County in China. Distor reiterated this in a private message to VERA Files on June 2.
A livestream video on the town's official FB page and photos uploaded by Carmona Mayor Roy Loyola confirm that the event did happen on July 29, 2019.
Distor added that Carmona has previously done a similar display of foreign flags with the municipality's other sister cities such as those from South Korea. She said it is "one of [municipality's] ways to show [its] hospitality with [its] partner countries."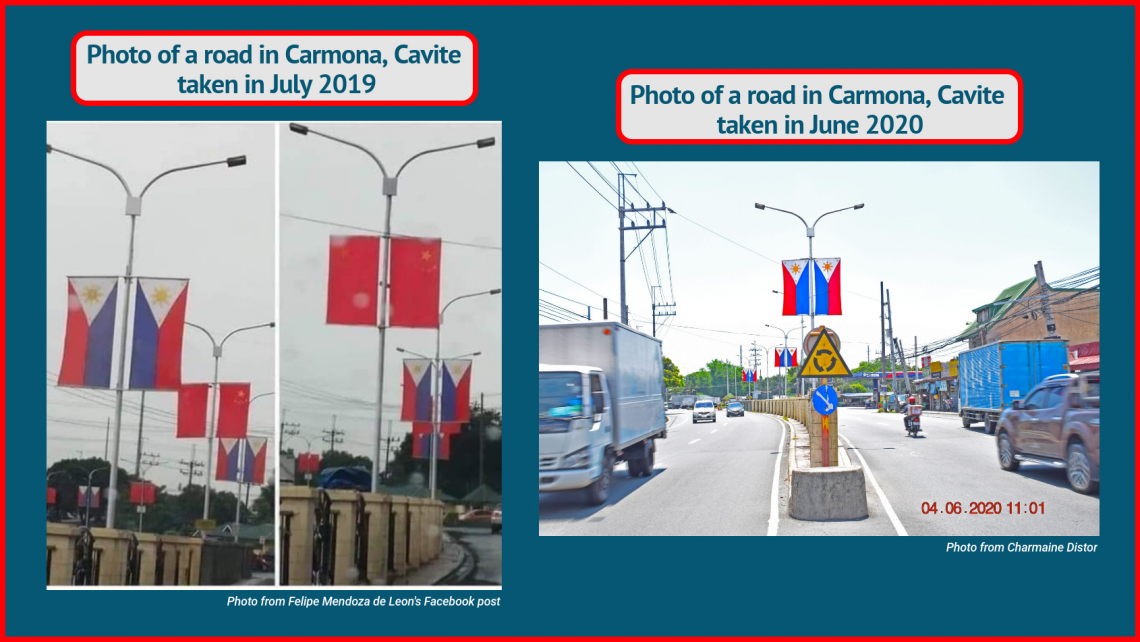 Several netizens who commented on de Leon's post suggested Carmona's display was illegal, citing Section 34 of Republic Act No. 8491, or the "Flag and Heraldic Code of the Philippines," which states it is prohibited "to display in public any foreign flag, except in embassies and other diplomatic establishments, and in offices of international organizations."
However, the National Historical Commission (NHCP) clarified that the display of a foreign flag in public places is allowed during "events involving a foreign nation," as long as it is displayed alongside the Philippine flag.
"Puwede lang po siyang i-display kapag sa mga consulate o kaya po kapag may bisita po — may state visit o kaya po may mga event po na may kinalaman yung foreign nation (It can be displayed in consulates or when there are visitors — during a state visit or when there is an event involving a foreign nation)," Juan Paolo Calamlam, officer-in-charge of NHC's Heraldry Section, said in a phone interview with VERA Files.
"Pero hindi po puwedeng maiwan mag-isa 'yung foreign flag, kailangan po laging may nauuna po 'yung Philippine flag (But it is prohibited that a foreign flag is left alone; the Philippine flag should always precede it)," Calamlam added.
The revived photo made rounds online just as Chinese nationals in the country once again made the headlines after 90 of them were recently arrested in Bacoor City in Cavite for violating quarantine rules amid the COVID-19 pandemic.
The offenders claimed they work for a legal Philippine Offshore Gaming Operator (POGO) in the country, but failed to present proper travel documents and work permits to the authorities.
Social media tool CrowdTangle shows that from May 28 to June 2, 22 FB posts carried the controversial photo, accumulating over 1,500 interactions from social media users.
Its earliest revival was by a netizen who uploaded the photo on May 28 and noted in the caption that the image was from a Reddit entry published nine months ago. Its reshares and reposts, however, failed to include this crucial piece of information.
Top traffic generators to the misleading reuploads of the photo are all public FB groups: Online Rambulan, THE FORCE OF SEN. BAM AQUINO, and World Boycott of China Goods.
Editor's note: This article has been updated to reflect a more recent photo of the road in Carmona, Cavite.
Sources
Felipe Mendoza de Leon, "SINONG MGA HAYOP ANG GUMAWA NITO?" May 31, 2020
Philippines Defense Forces Forum, "From the inbox," July 28, 2019
Pepc Paloma, "Installation of Chinese Flags seen in Carmona, Cavite," July 28, 2019
Gardener's Tambayan Community, "Cavite de china," July 30, 2019
Reddit, "Somewhere in Carmona, Cavite..," July 28, 2019
Patrick Lopez Revilla, "Welcome to the province of China," July 27, 2019
Nik Barcelona, "Just now in Carmona, Cavite," July 27, 2019
Municipality of Carmona, Cavite, Sisterhood Agreement between Jiyang County, China and Mun. Gov't of Carmona, Cavite, Philippines, July 29, 2019
Atty. Roy M. Loyola, Signing Ceremony of Sisterhood Agreement with Jiyang, China, July 29, 2019
The Official Gazette, Republic Act No. 8491, Feb. 12, 1998
International Labour Organization, Batas Pambansa Bilang 880, Oct. 22, 1985
CNN Philippines, 90 Chinese nationals arrested in Cavite for violating quarantine protocols, May 31, 2020
GMA News, 90 Chinese, 2 Malaysians nabbed in Bacoor, Cavite —police, May 31, 2020
Business World, 90 Chinese, 2 Malaysians nabbed for violating lockdown guidelines, June 1, 2020
Presidential Communications Operations Office, Public Briefing #LagingHandaPH, May 1, 2020
Information Technology & Business Process Association of the Philippines, "… has directly benefitted millions…," May 4, 2020
Za Olegario, "Credits To The Owner…" May 28, 2020
(Guided by the code of principles of the International Fact-Checking Network at Poynter, VERA Files tracks the false claims, flip-flops, misleading statements of public officials and figures, and debunks them with factual evidence. Find out more about this initiative and our methodology.)