A YouTube video falsely claimed that the late president Ferdinand Marcos Sr. established the Asian Development Bank (ADB). Marcos Sr. was not ADB's founder, though he inaugurated the regional bank's headquarters in the country during his first term as president in 1966.
The ADB was established through the efforts of the United Nations (UN)' Economic Commission for Asia and the Far East (ECAFE). 
The video, posted on May 22 by YouTube channel PweDelie TV, carried this title: 
"GRABE IBINUNYAG NA! SI DATING PANGULONG FERDINAND E. MARCOS ANG NAGTATAG NG ASIAN DEVELOPMENT BANK (Wow, it's now revealed! Former president Ferdinand E. Marcos founded the Asian Development Bank)."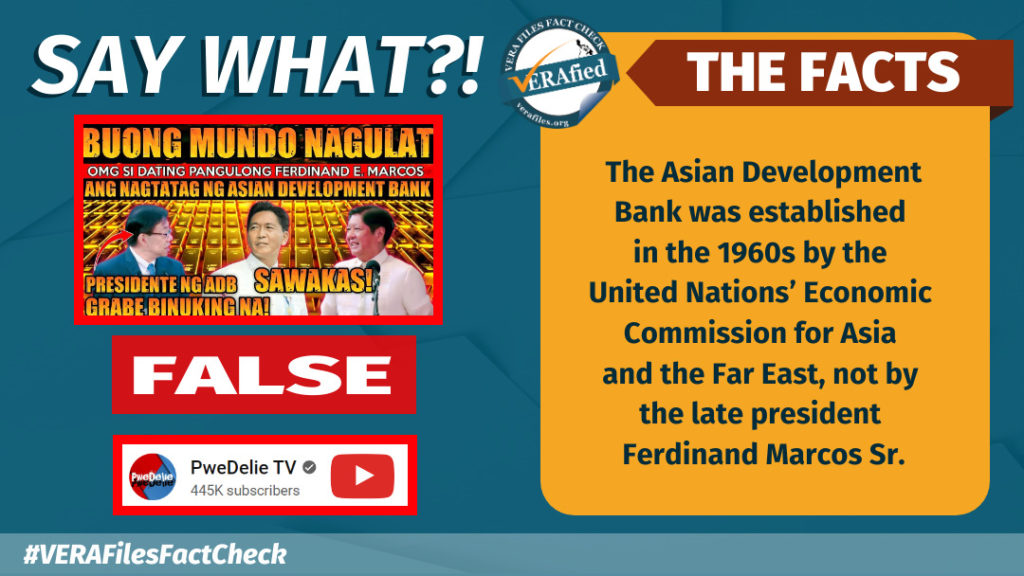 To support the claim, the erroneous video used part of RTVMalacanang's broadcast of an ADB reception held on May 22 during which ADB president Masatsugu Asakawa told President Ferdinand Marcos Jr:
"Mr. President, your father, the late Ferdinand E. Marcos, was instrumental in establishing ADB's headquarters in Manila in 1966."
Marcos Sr. did inaugurate the ADB's headquarters on Dec. 19, 1966, according to the Official Gazette. It is now located in Mandaluyong.
The ADB was conceived in the 1960s, its official history states. Specifically, it began as a resolution passed in 1963 at the first Ministerial Conference on Asian Economic Cooperation held by the U.N. ECAFE. On December 4, 1965, the U.N. drafted an agreement establishing the regional bank.
The video by YouTube channel Pwedelie TV (created on date) got 33,000 interactions. It appeared hours after Marcos Jr. held a meeting with Asakawa.
Have you seen any dubious claims, photos, memes, or online posts that you want us to verify? Fill out this reader request form or send it to VERA, the truth bot on Viber.
(Editor's Note: VERA Files has partnered with Facebook to fight the spread of disinformation. Find out more about this partnership and our methodology.)