Sen. Imee Marcos claimed that China has not even once attempted to take over the Philippines "in any way." This lacks important context.
Marcos left out the fact that China has been found by a Hague-based tribunal to have violated the Philippines' sovereign rights in the West Philippine Sea on a number of occasions.
STATEMENT
In an interview on ANC's Headstart on June 1, Marcos, sister of president-elect Ferdinand "Bongbong" Marcos Jr., expressed "interest" in chairing the Senate committee on foreign relations.
When asked for her recommendations on foreign policy, the senator said she is for a "more inclusive" approach which would entail reaching out to a "wider range of contacts," apart from "reinvigorating" ties with the country's treaty ally, the United States.
She then said in part:
"But at the same time, it is very clear, China is our No. 1 trade partner. And despite certain anti-Chinese elements, I would have to remind everyone that China never conquered us; never invaded the Philippines; never attempted, in any way, to take us over. So dapat (it should be) friendly socio-cultural ties and the exploitation of trade and commerce."

Source: ABS-CBN News Channel 24/7, Headstart: One-on-One with PH Senator Imee Marcos | ANC, June 1, 2022, watch from 30:35 to 31:06
Shortly after, however, Marcos said she agrees with her brother's recent "firm" pronouncement regarding the West Philippine Sea, adding that the Philippines should "definitely … hold China to account on all the agreements" such as the United Nations Convention on the Law of the Sea (UNCLOS). (See VERA FILES FACT CHECK: President-elect Marcos Jr. shifts gears on SCS arbitral ruling)
FACT
The 2016 arbitral award on the South China Sea dispute, which nullified Beijing's expansive nine-dash line claim, ruled that China violated the Philippines' sovereign rights on at least four counts:
it interfered with oil exploration activities in Recto (Reed) Bank, which is within the Philippines' exclusive economic zone (EEZ) and continental shelf, in March 2011;
it issued a moratorium on fishing, covering almost the entire South China Sea, in 2012;
it failed to prevent Chinese fishermen from operating in Panganiban (Mischief) Reef and Ayungin (Second Thomas) Shoal, both within the Philippine EEZ, in May 2013; and
it built installations and artificial islands on Mischief Reef without authorization from the Philippines.
Sovereign rights refer to a state's "exclusive rights … to the economic use and conservation of marine resources," explained lawyer Romel Bagares, a professorial lecturer on international law at the Lyceum of the Philippines University, in a 2019 commentary on VERA Files. (See UNCLOS explained, yet again)
Read more about each incident in this infographic:
With these four incidents, the tribunal concluded that:
"China had violated the Philippines' sovereign rights with respect to its [EEZ] and continental shelf."

Source: Permanent Court of Arbitration, PRESS RELEASE 1 THE SOUTH CHINA SEA ARBITRATION (THE REPUBLIC OF THE PHILIPPINES V. THE PEOPLE'S REPUBLIC OF CHINA), July 12, 2016
The EEZ is an area beyond and adjacent to a coastal state's 12-nautical-mile territorial sea, but may not extend beyond 200 nautical miles from its baseline, as defined by UNCLOS.
The continental shelf of a coastal state, on the other hand, comprises the seabed and subsoil of the submarine areas beyond its territorial sea up to a distance of 200 nautical miles from its baseline. While "coterminous with the EEZ," the continental shelf "may extend for another 150 nautical miles under the Extended Continental Shelf Regime, depending on the presence of certain geological features," Bagares noted.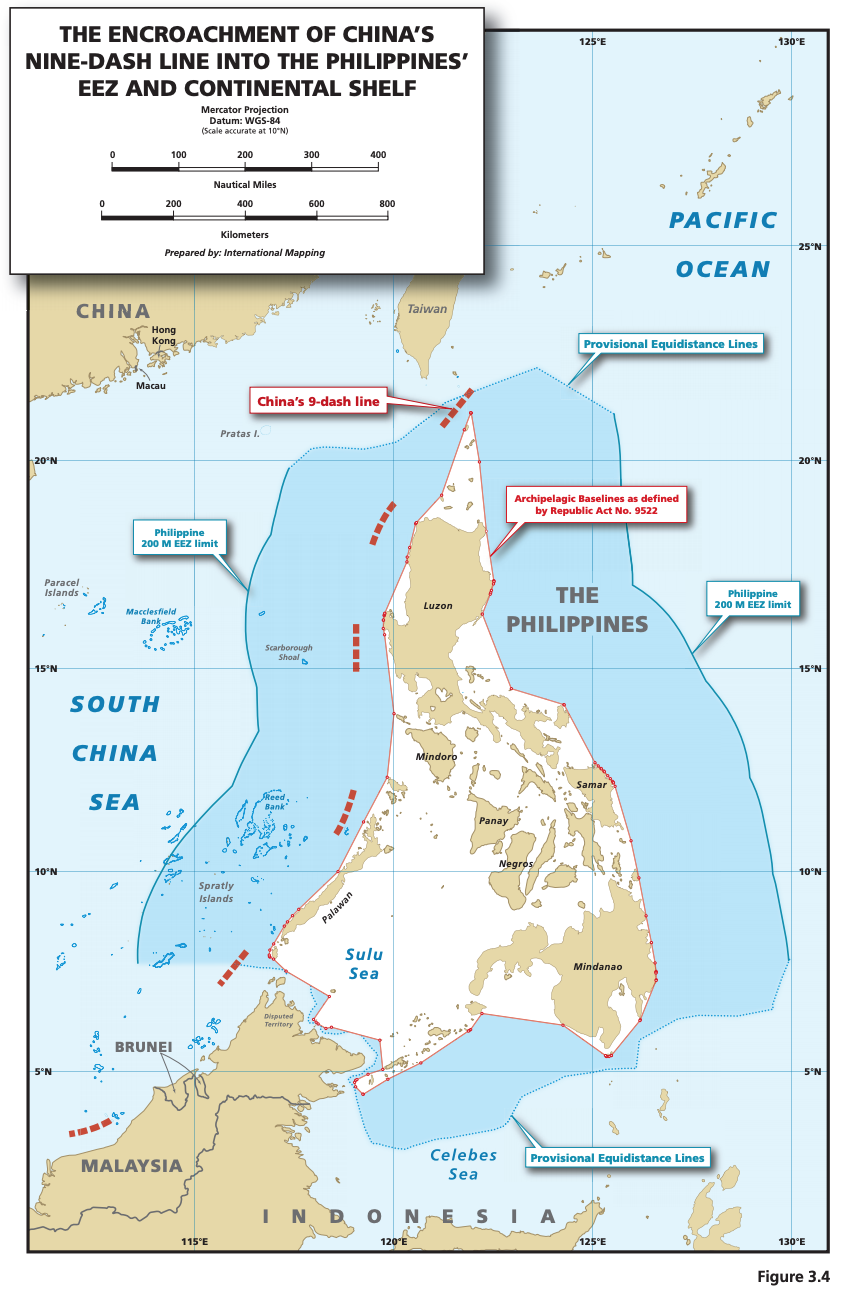 The arbitral ruling also found that China "unlawfully" prevented Filipino fisherfolk from engaging in traditional fishing at Bajo de Masinloc or Scarborough Shoal from May 2012 onwards. The tribunal classified the Shoal as a traditional fishing ground for several countries, including China and the Philippines. (See VERA FILES FACT CHECK: Three things Duterte got wrong on PH-China maritime standoff)
Having ratified UNCLOS, China is still bound to the award issued by the arbitral tribunal even if it refused to participate in the proceedings. (See VERA FILES FACT CHECK: Duterte is wrong; South China Sea arbitral award binds China, too)
The Philippine government has protested many times over China's continued incursions in Philippine-claimed waters in the South China Sea even after the issuance of the arbitral award in 2016. As of June 9, the Department of Foreign Affairs, in a message to reporters, said it had filed "over 300 [diplomatic] protests" with Beijing since the start of President Rodrigo Duterte's term in July 2016.
The most recent one concerned the return of over 100 Chinese vessels "illegally operating" in the waters in and around Julian Felipe (Whitsun) Reef, the Philippines claims, in April. (VERA FILES FACT CHECK: Chinese Embassy maintains FALSE claim that Julian Felipe Reef is China territory)
The arbitral tribunal did not rule on "any question of sovereignty over land territory" in its award.
Have you seen any dubious claims, photos, memes, or online posts that you want us to verify? Fill out this reader request form.
Sources
ABS-CBN News Channel 24/7, Headstart: One-on-One with PH Senator Imee Marcos | ANC, June 1, 2022
Permanent Court of Arbitration, PRESS RELEASE ON THE SOUTH CHINA SEA ARBITRATION, July 12, 2016
Permanent Court of Arbitration, South China Sea Arbitral Award, July 12, 2016
United Nations, UNCLOS, Accessed on July 10, 2022
Department of Foreign Affairs, STATEMENT: ON THE RETURN OF ILLEGAL CHINESE VESSELS IN JULIAN FELIPE REEF, July 9, 2022
(Guided by the code of principles of the International Fact-Checking Network at Poynter, VERA Files tracks the false claims, flip-flops, misleading statements of public officials and figures, and debunks them with factual evidence. Find out more about this initiative and our methodology.)