President Rodrigo Duterte made three wrong claims when he said China is in possession of the entire West Philippine Sea, and that the Philippines lost the entire Spratly islands to China in a standoff during the previous administration.
STATEMENT
In his State of the Nation Address on July 22, Duterte recalled a conversation he had with Chinese President Xi Jinping, during which the latter supposedly warned of "trouble" if the Philippines starts to "dig" oil in the West Philippine Sea.
Duterte then said:
"You know, I cannot go there even to bring the Coast Guard to drive them away. China also claims the property and he is in possession. 'Yan ang problema. Sila 'yung (That's the problem. They are) in possession and claiming all the resources there as an owner. We are claiming the same but we are not in the position because of that fiasco noong dalawang nag-standoff doon (when we had a standoff there) during the time of my predecessor si Albert, ambassador. If I'm correct. I do not know his real name." [Editor's note: Duterte was referring to former ambassador Albert Del Rosario, who served as Foreign Affairs secretary during the claimed "fiasco."]
He added:
"Tayo ang umatras. Pagsabi niya umatras, (We were the ones who backed off. When he said to back off) that was a kind of a compromise. Tayo ang umatras. Noong umatras tayo, pumasok sila. Marami na (We backed off. And when we did, [China] entered. A lot of them). That day, we lost the Spratly and the Panganiban Island. Iyan ang totoo. Walang bolahan 'yan (That's the truth. No kidding)."

Source: PCOO, 4th State of the Nation Address of President Rodrigo Roa Duterte, July 22, 2019, watch from 43:57 to 45:17
FACT
Duterte got three things wrong: First, China is not in possession of the entire West Philippine Sea; second, the standoff he was referring to did not happen in the Spratlys; and third, the Philippines did not "lose" Panganiban Reef to China during the previous administration.
China currently possesses seven reefs in the oil-rich Kalayaan (Spratly) Island Group: McKennan (Hughes), Mabini (Johnson), Burgos (Gaven Reefs), Calderon (Cuarteron), Kagitingan (Fiery Cross), Zamora (Subi), and Panganiban (Mischief).
Mischief Reef is a low-tide elevation, not an island.
China also exercises control over Panatag or Scarborough shoal because of the continuing presence of Chinese vessels in the area.
Rebuffing Duterte's claim, Supreme Court Senior Associate Justice Antonio Carpio said these areas, "including their territorial seas (if any), [comprise] less than seven percent" of the West Philippine Sea.
Other claimants, including the Philippines, occupy other reefs and features in the Spratlys. Those held by the Philippines include Pag-asa (Thitu) Island; Likas (West York) Island; Parola (Northeast) Cay; Lawak (Nanshan) Island; Kota (Loaita) Island; Melchora Aquino (Loaita) Cay; Patag (Flat) Island; Rizal (Commodore) Reef; and Ayungin (Second Thomas) Shoal.
In a July 23 press briefing, National Security Adviser Hermogenes Esperon Jr. sought to clarify Duterte's statement. He said the president "did not say" China is in possession "but [that] they are in position," referring to China's military installations in the West Philippine Sea as "positional advantage." The official transcript of the president's speech says otherwise.
Palace Spokesperson Salvador Panelo, on the other hand, stood by Duterte's statement, saying possession need not necessarily mean physically since "there's such thing as legal possession."
Panelo's claim contradicts the Permanent Court of Arbitration's (PCA) 2016 ruling that China's nine-dash line claim based on historic rights in the South China Sea has "no legal basis."
After being called out by Carpio, Panelo said that what he actually meant was "constructive possession," which, he said, is the same as Esperon's explanation on "positional advantage."
Duterte mistakenly claimed the standoff between the Philippines and China in 2012, during Del Rosario's term as foreign affairs secretary, happened in the Spratlys some 220 nautical miles off Palawan. It was actually in Scarborough shoal, also known as Bajo de Masinloc, a traditional fishing ground about 120 nautical miles off the coast of Zambales.
The two areas are approximately 300 nautical miles or 540 kilometers apart — almost the same distance between Manila and Sorsogon province.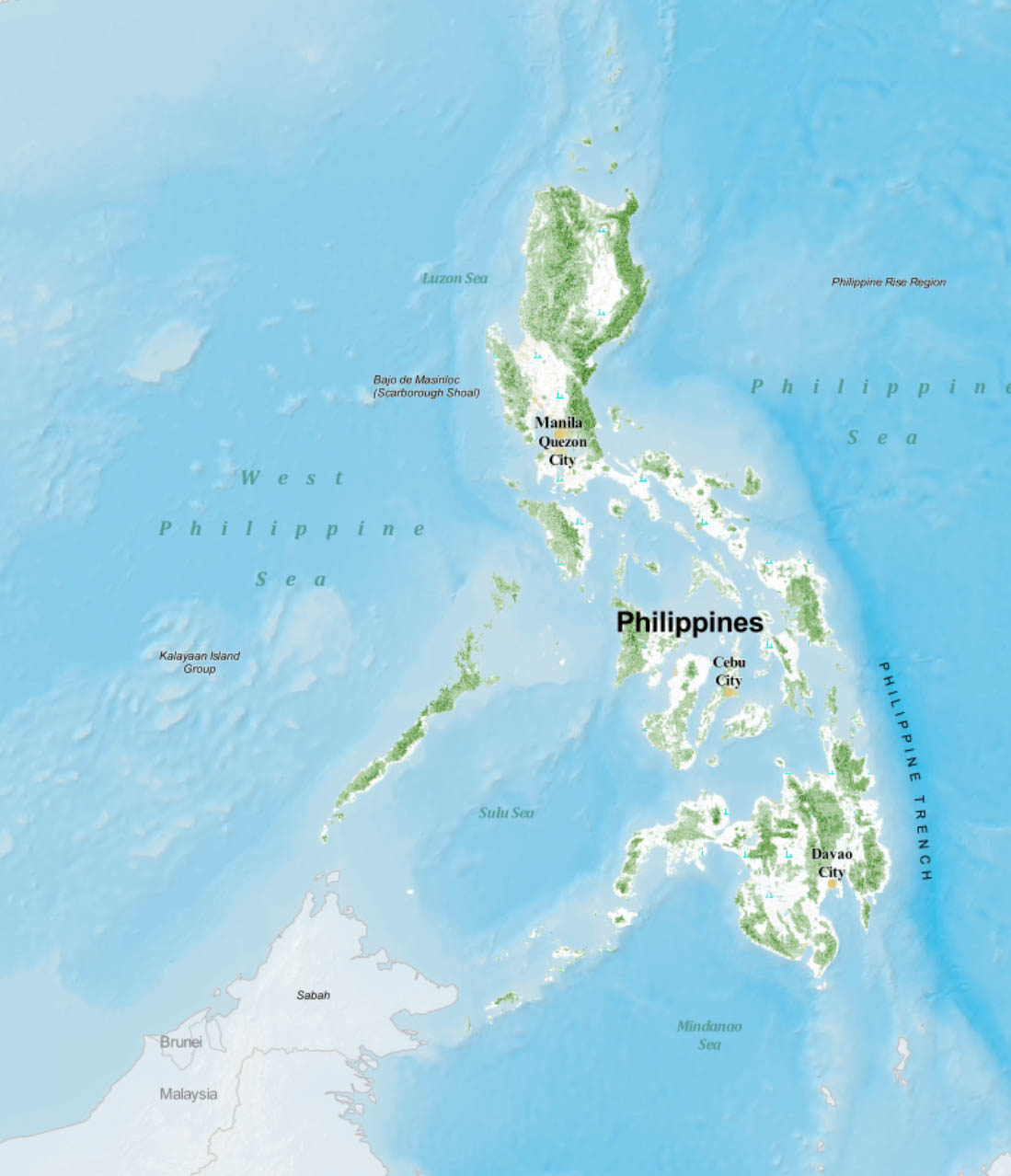 Screenshot from www.geoportal.gov.ph/.
China illegally occupied Panganiban or Mischief Reef, which is part of the Spratlys group of islands, in 1995, during the term of President Fidel V. Ramos.
BACKSTORY
The two-month standoff between the two countries started with the apprehension by the Philippine Navy's warship BRP Gregorio del Pilar of eight Chinese fishing boats with sizable quantities of endangered marine species, corals, live sharks, and giant clams near the Scarborough Shoal on April 8, 2012. The Chinese fishermen radioed for help, and China sent three Chinese Marine Surveillance. Then President Benigno Aquino III ordered the withdrawal of BRP Gregorio del Pilar immediately in consonance with maritime rules of engagement of "white to white, gray to gray."
"White to white" means civilian ships are to deal only with civilian ships, in this case the Philippine Coast Guard (PCG) to the Chinese Marine Surveillance. "Gray to gray" means navy to navy.
More Chinese vessels came. At the height of the standoff, Chinese vessels and fishing boats numbered about 100 as against the Philippines' three; two PCG ships and one Bureau of Fisheries and Aquatic Resources patrol ships.
Two behind-the-scenes negotiations were credited with the termination of the standoff: The brokering by Kurt Campbell, U.S. Assistant Secretary of State for East Asian and Pacific Affairs, with Fu Ying, a ranking official in China's Foreign Ministry, and the backchanneling done by then Sen. Antonio Trillanes IV between Aquino and Fu.
There are several versions of how the standoff ended with three Chinese Coast Guard ships remaining in Scarborough shoal up to this day. Del Rosario said the Chinese reneged on a simultaneous withdrawal agreement. China said there was no agreement. Trillanes said Del Rosario prematurely ordered the withdrawal of Philippine ships from Scarborough shoal.
The standoff and the continued presence of the three Chinese Coast Guard ships in Scarborough shoal were among the reasons cited by the Philippines when it initiated proceedings against Beijing in the Permanent Court of Arbitration (PCA) in The Hague.
In 2016, the PCA ruled that China "interfered" with the Philippines' traditional fishing rights at the shoal by "halting access" to Filipino fisherfolk.
It also said China "unlawfully created a serious risk of collision" on two occasions in April and May 2012 when its vessels "sought to physically obstruct Philippine vessels from approaching or gaining entrance to the Shoal."
Sources
Presidential Communications Operations Office, 4th State of the Nation Address of President Rodrigo Roa Duterte, July 22, 2019
On WPS possession
On 2012 stand-off
On Mischief Reef
Backstory
Permanent Court of Arbitration, South China Sea Arbitration Award (pp. 325-327 and 399-401), July 12, 2016
Permanent Court of Arbitration, PRESS RELEASE: South China Sea Arbitration Award, June 12, 2016
Permanent Arbitration Court, The Philippines' Memorial – Volume I (p. 8), March 30, 2014
Geoportal.gov.ph, Philippine Map
(Guided by the code of principles of the International Fact-Checking Network at Poynter, VERA Files tracks the false claims, flip-flops, misleading statements of public officials and figures, and debunks them with factual evidence. Find out more about this initiative and our methodology.)