In a fabricated SMNI News post making the rounds on social media, Foreign Affairs Secretary Teodoro "Teddy Boy" Locsin Jr. is quoted as saying Vice President Leni Robredo is "not essential" and "not a loss to the country" even if she dies.
The fake quote card was published on Facebook (FB) by at least two netizens, three pages, and in three public groups. The concocted quote of Locsin appeared alongside Robredo's statement lifted from her April 9 interview in ANC's Headstart, where she addressed the public's concern over President Rodrigo Duterte's absence amid the still rising number of COVID-19 cases in the country.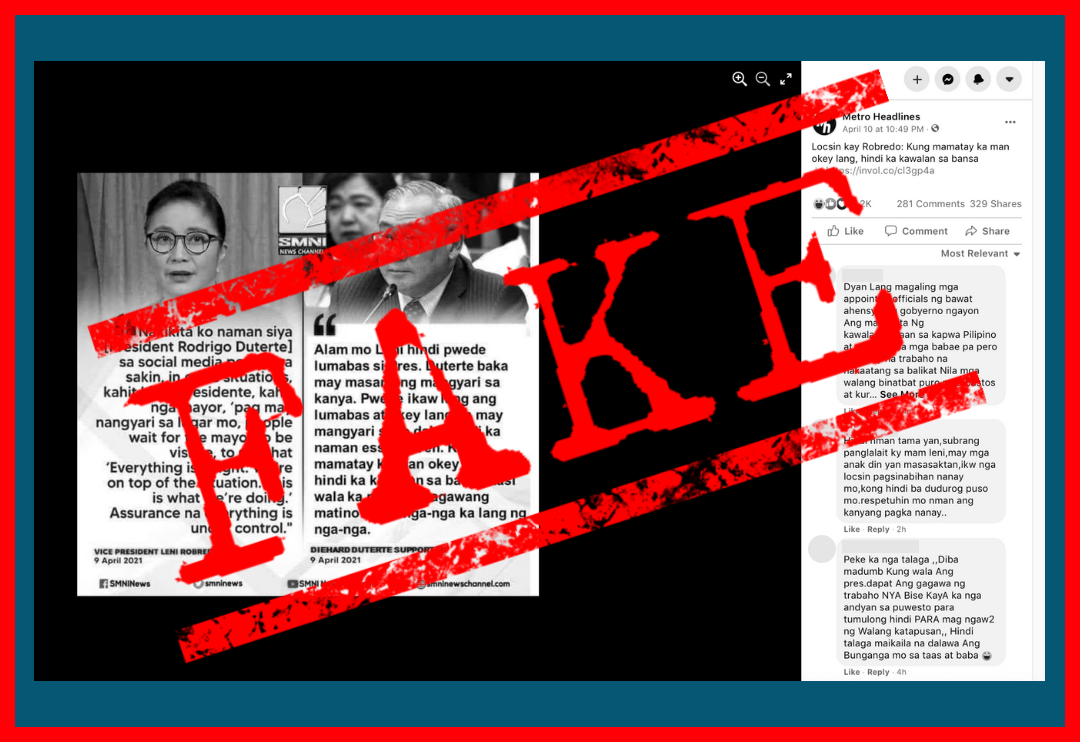 Locsin, who was referred to in the quote card as a "diehard Duterte supporter," made no such derogatory comment toward Robredo.
Also, the fake statement was not what SMNI News carried in its April 9 post. The real version of the quote card instead bore an April 9 tweet of Locsin simply assuring Robredo that Duterte is "working."
The cabinet secretary already belied such a quote in an April 12 tweet. SMNI News has already issued a warning over the unauthorized use of their logo and social media materials. Its April 11 notice specifically mentioned self-proclaimed "news agency" Metro Headlines — one of the three FB pages which uploaded the fake quote card on April 10.
The two others were pages Anti-Communist Coalition and Viraltrends. The captions of both Metro Headlines' and Viraltrends' posts included links to either a local e-commerce website or a Youtube video unrelated to Locsin and Robredo.
Meanwhile, the three earliest copies of the fabricated photo could be found in the public groups RODANTE D. MARCOLETA Movement for Good Government, CEBU for SARA DUTERTE, and ATTY. PERSIDA ACOSTA – PAO CHIEF FOR SENATOR MOVEMENT – SUPPORTERS GROUP!. All three posts were published by the same netizen on April 9.
The forged quote card came two days after #NasaanAngPangulo (Where is the President) trended again on Twitter. Netizens were questioning Duterte's absence after his Talk to the People for the first week of April — initially expected to be held on April 5 but was moved to April 7 — was postponed the second time that week.
His late night address to the nation resumed on April 12.
The eight FB posts bearing Locsin's fabricated statement have collectively received over 2,700 reactions, 600 comments, and 750 shares from social media users. Metro Headlines' post, which got the highest level of engagement with netizens, could have reached almost a million FB users, according to social media tool CrowdTangle.
(Editor's Note: VERA Files has partnered with Facebook to fight the spread of disinformation. Find out more about this partnership and our methodology.)