Three YouTube videos are falsely claiming that President Ferdinand Marcos Jr. has appointed SAGIP Partylist Rep. Rodante Marcoleta as the new secretary of the Department of Energy (DOE). 
A 10-minute and 32-second video uploaded on July 26 bore this false headline: 
"KAKAPASOK LANG FINISH NA! (JUST IN, IT IS FINISHED!) PRES MARCOS BINIGYAN ng POSISYON CONG MARCOLETA DOE (PRES. MARCOS GAVE CONG. MARCOLETA THE DOE POSITION) GOODBYE DlLAWAN NA! (GOODBYE YELLOWS!)"
Less than three weeks later, another YouTube channel posted on Aug. 11 an 11-minute and eight-second video with a similar headline:
"JUST NOW: BIGLAANG UTOS (SUDDEN ORDER) PRES BBM VPSARA BINIGYAN ng POSISYON CONG MARCOLETA DOE (PRES. BBM VP SARA GAVE CONG. MARCOLETA THE DOE POSITION) GOODBYE DlLAWAN NA (GOODBYE YELLOWS!)"
A reaction video on the latter post was then uploaded last Aug. 13 by pro-government YouTube content creator AI TOO KAYE.  
The videos' claims are not true. The current administration has not announced such an appointment for Marcoleta nor has incumbent Energy secretary Raphael Lotilla been replaced.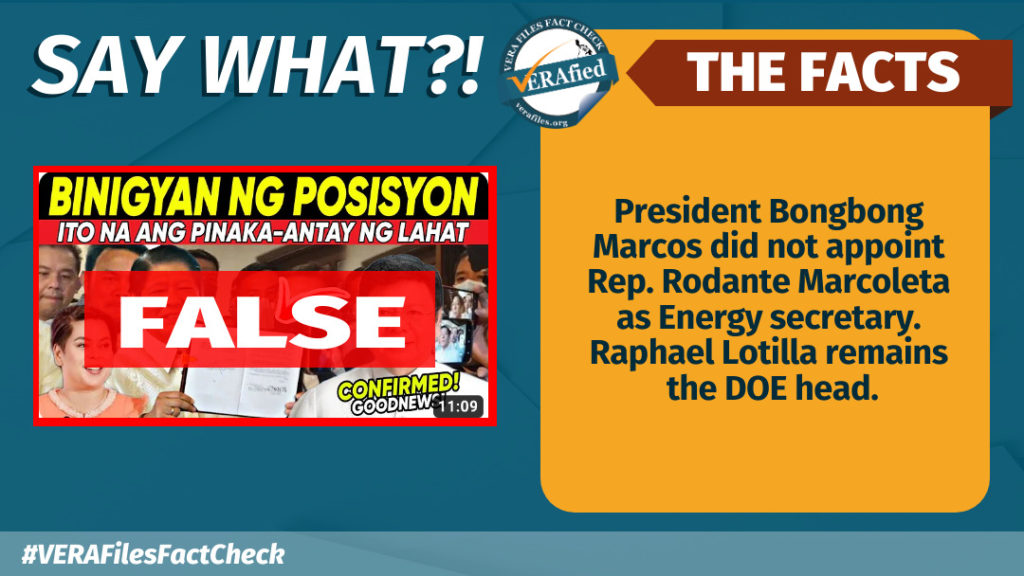 The YouTube videos' headlines and thumbnails are clickbait as the content itself showed no evidence to support the false claim. Instead, the posts spliced together various video and audio clips from different days. 
All videos heavily featured portions of Marcoleta's interview on the NET25 program Sa Ganang Mamamayan last June 3, 2022 following reports that he was among Marcos' picks to lead the DOE. 
During this episode, Marcoleta only denied that he was lobbying for the post. He said he was thankful that Marcos was considering him but reiterated that he was not jostling for the position.
The circulating false YouTube post also showed footage of the president's second State of the Nation address as well as his visit to the Filipino community in Malaysia last July 25. Meanwhile, the  Aug. 11 post featured clips from Marcoleta's privilege speech last July 31.
VERA Files Fact Check has previously verified similar posts this past March claiming Marcoleta was appointed to a cabinet post by Marcos. 
(Related story: Marcos DID NOT appoint Marcoleta as Agriculture secretary and Marcos did NOT appoint Marcoleta to a cabinet post)
As of writing, the three videos have collectively garnered over 245,000 views, 5,600 likes, and 616 comments. Apart from AI TOO KAYE (created on April 11, 2019), the false videos were also published by the channels PHILIPPINES TRENDING NEWS (Dec. 10, 2014) and PINAS NEWS INSIDER (Dec. 26, 2015).
Have you seen any dubious claims, photos, memes, or online posts that you want us to verify? Fill out this reader request form or send it to VERA, the truth bot on Viber.
(Editor's Note: VERA Files has partnered with Facebook to fight the spread of disinformation. Find out more about this partnership and our methodology.)