Another erroneous online article claimed President-elect Ferdinand "Bongbong" Marcos Jr. wants returning senator Alan Peter Cayetano replaced, this time by Rep. Rodante Marcoleta. It is a false claim.
On June 17, an article on the alleged plan of Marcos to unseat Cayetano for being a "traitor" bore the spurious headline: "Papalitan na? Pres. Bongbong Marcos gustong ipalit si Cong. Marcoleta sa Dalawang hudas sa Senado (A replacement soon? Pres. Bongbong Marcos wants Rep. Marcoleta in place of two traitors in the Senate)"
Embedded in the article is a YouTube video with a similar false title that read: "JUST IN: HALA! PresMARCOS IPALIT si MARCOLETA sa SENADO CAYETANO TINULD0 KAN NA! (Oh, no! President Marcos to place Marcoleta in the Senate; Cayetano, finished!) ROBIN PRRD VPSARA"
The video's supposed proof is seen three minutes into the report but only showed 'suggestions' from netizens to remove Cayetano as senator after criticizing Marcos, followed by unrelated audio of Marcoleta's opinion on the lack of transparency in the Senate.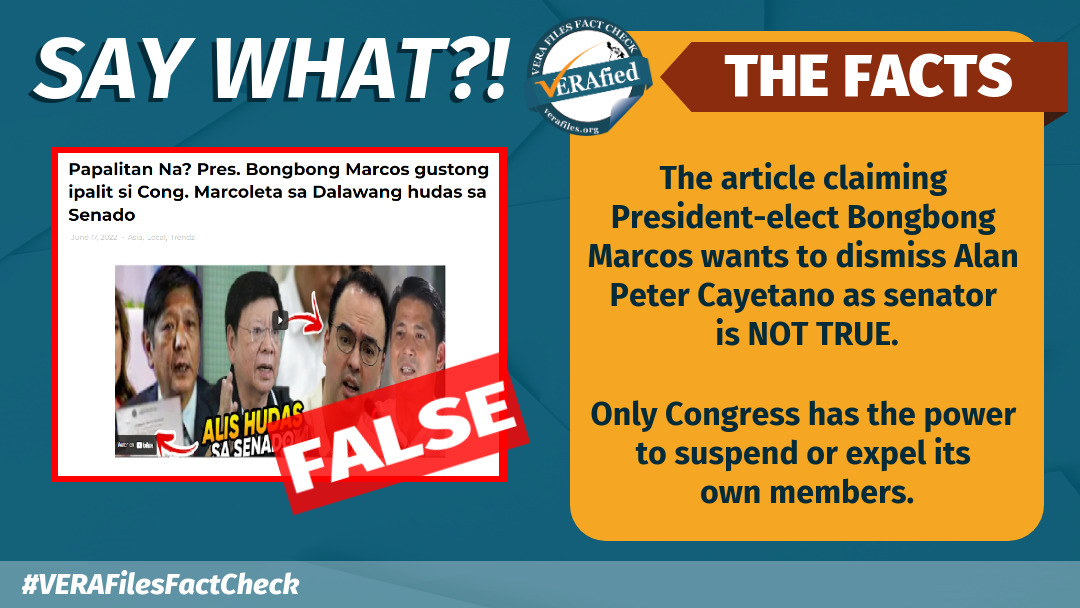 Marcos has made no official statement or speech, nor is there any document outlining a supposed plan to dismiss Cayetano from office. Neither have any legitimate news organizations reported that Marcoleta will take the place of the Taguig-Pateros congressman.
On June 15, the same website, Balitang Pinaz, published a similar claim where it said Marcos wanted Cayetano replaced by lawyer Larry Gadon. Days earlier, it published another piece of disinformation. (Read VERA FILES FACT CHECK: NAIA will NOT be renamed Manila Int'l Airport again).
Senators are voted into office by the public. According to Article VI, Sec. 16 of the 1987 Constitution, the power to "suspend or expel" any member of either House of Congress rests with the chamber where the erring lawmaker belongs. Two-thirds of its members must concur with the decision.
The fictitious article appeared a few days after Cayetano questioned Marcos' plan to lower the price of rice to P20 per kilo during the June 9 groundbreaking ceremony of the Taguig City Science Terminal and Exhibit Center.
The inaccurate article was shared on at least 10 Facebook (FB) pages and could have reached more than 1.5 million users, according to social media monitoring tool CrowdTangle. The video was uploaded by YouTube channel PHILIPPINES TRENDING NEWS (created on Dec. 10, 2014) and has received more than 143,000 views. Its top traffic generators are FB groups Tulfo Brothers Worldwide (June 21, 2018), The Big 5 Supporters – Marcoleta, Defensor, Barzaga, Remulla & Bautista (June 28, 2020), and FB page Duterte Loyal Supporters (Sept. 20, 2016).
Have you seen any dubious claims, photos, memes, or online posts that you want us to verify? Fill out this reader request form.
(Editor's Note: VERA Files has partnered with Facebook to fight the spread of disinformation. Find out more about this partnership and our methodology.)