A website article falsely claimed President-elect Ferdinand "Bongbong" Marcos Jr. will supplant returning Senator Alan Peter Cayetano with controversial lawyer Lorenzo "Larry" Gadon. Marcos has said no such thing.
On June 15, an article was published that carried the headline: "Papalitan? Pres. BBM kumpirmado at handang ipalit si Atty. Gadon kay Cayetano sa Senado para walang kokontra (For replacement? President Marcos has confirmed and is preparing to substitute Atty. Gadon for Cayetano in the Senate so that no one will oppose [him])"
The website article erroneously stated that Marcos plans to remove Cayetano because of his criticisms and embedded a 9-minute YouTube video that bore the title: "JUST IN: HALA (Oh, no)! Pres.BBM GOODNEWS! (sic) Atty.GADON IPALIT sa SENADO KUMPIRMADO NA (Atty. Gadon to fill in slot in the Senate, it's confirmed) / PRRD VPSARA MALACANANG"
Only the opinion of netizens on Cayetano's wish to chair the Senate Blue Ribbon Committee were mentioned three minutes into the video and showed no evidence to support its spurious claim that Marcos intends to unseat Cayetano.
There are no reports in the media that the incoming president is scheming to replace Cayetano.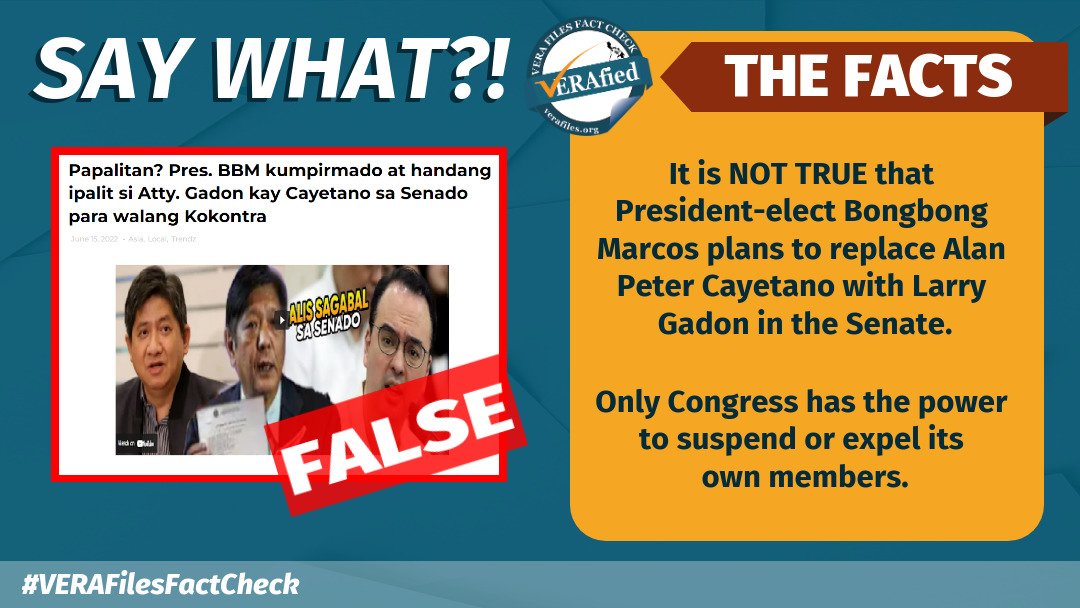 Senators are elected by popular vote, and according to Article VI, Sec. 16 of the 1987 Constitution, only the two legislative chambers of Congress "can suspend or expel" their respective members, with the concurrence of a vote of two-thirds of the members of the chamber where the erring lawmaker belongs.
VERA Files Fact Check has debunked another false claim of this website and YouTube channel just this week. (Read VERA FILES FACT CHECK: NAIA will NOT be renamed Manila Int'l Airport again)
The erroneous article appeared after Cayetano, during the June 9 groundbreaking ceremony of the Taguig City Science Terminal and Exhibit Center, questioned if Marcos' promise of a P20 per kilo of rice was possible.
Website Balitang Pinaz published the article and could have reached more than 1.4 million Facebook (FB) users, according to the social media monitoring tool CrowdTangle. The video, uploaded by the YouTube channel BANAT NEWS TV (created on Dec. 26, 2015), got more than 295,000 views. Its top traffic generators are FB pages Tatay Digong – Official (Sept. 21, 2016) and Philippines CCTV & DASH CAM Spotted (Sept. 10, 2016), and Duterte Loyal Supporters (Sept. 20, 2016).
Have you seen any dubious claims, photos, memes, or online posts that you want us to verify? Fill out this reader request form.
(Editor's Note: VERA Files has partnered with Facebook to fight the spread of disinformation. Find out more about this partnership and our methodology.)