Another video on YouTube is erroneously claiming that the name of Ninoy Aquino International Airport (NAIA) will revert to Manila International Airport (MIA). This time, by misrepresenting a clip of an airport inspection of President Ferdinand "Bongbong" Marcos.
On Jan. 25, a YouTube channel published a video with this untrue headline: "KAKAPASOK LANG GRABE! PRES MARCOS BIGLAANG NILUSOB ang NAIA PAPALITAN NA TO MIA, YAP TULFO UMAKSYON (Just in, this is bad! Marcos barged into NAIA, which will be changed back to MIA. Yap, Tulfo took action)."
At the 3:55-mark of the 10-minute video, a clip of Marcos going around NAIA was shown.
This has been given false context. Marcos never "barged" through the airport with the intention of changing its name.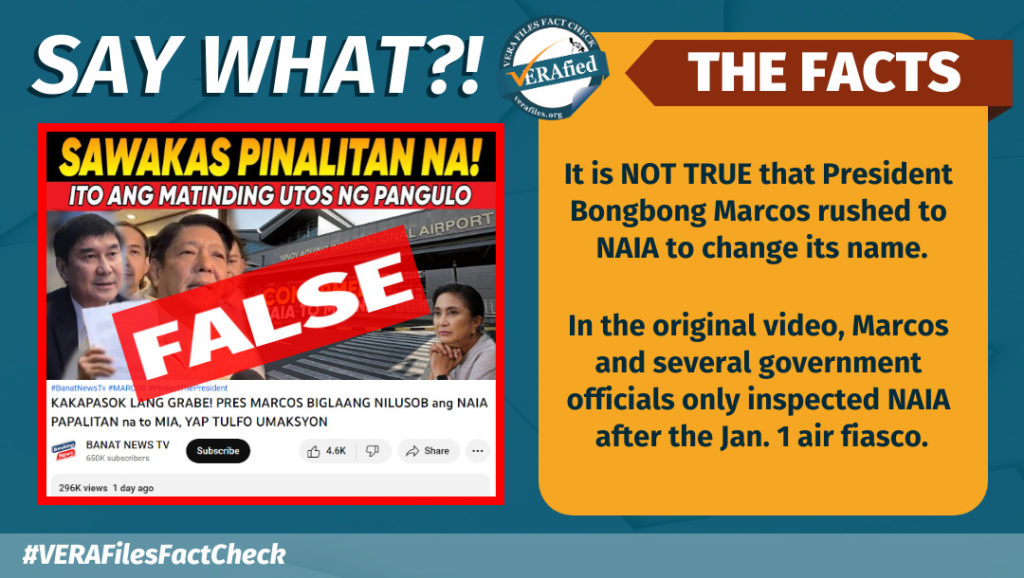 The original clip is over two weeks old, grabbed from a Jan. 6 video published by Radio Television Malacanang. It showed Marcos and several government officials assessing NAIA after the New Year's Day air fiasco which affected thousands of passengers.
No legitimate media organization has reported Marcos' alleged march to the international gateway. In a Sept. 13, 2022 interview, Marcos said renaming the airport was "not at all" a priority under his administration.
The misrepresented clip was spliced together with a 2020 interview of radio broadcaster Ben Tulfo with then-ACT-CIS Party-List Rep. Eric Yap on a bill that sought to change NAIA's name. The proposal never became a law. The interview was spuriously made to look recent. 
This claim of renaming NAIA reemerged two days after Marcos said he has no plan to privatize the international airport, contrary to Transportation Secretary Jaime Bautista's earlier remark on putting NAIA under private control.
YouTube channel BANAT NEWS TV (created Dec. 26, 2015) published the video, garnering over 294,000 views and 6,000 interactions. VERA Files Fact Check flagged the channel for spreading a similar false claim early this month. (Read FALSE 'NAIA reverting to MIA' claim resurfaces)
Have you seen any dubious claims, photos, memes, or online posts that you want us to verify? Fill out this reader request form or send it to 'VERA, the truth bot' on Viber.
(Editor's Note: VERA Files has partnered with Facebook to fight the spread of disinformation. Find out more about this partnership and our methodology.)