Amid the Manila airport fiasco on New Year's Day, a YouTube video making the rounds online erroneously claims that President Ferdinand "Bongbong" Marcos has ordered the renaming of Ninoy Aquino International Airport (NAIA) to Manila International Airport (MIA).
This claim is false. Neither the president's office nor airport authorities made such an announcement. There are also no reports on the matter from the media. 
Posted on YouTube and Facebook on Dec. 29, the untrue video bore the headline: 
"KAKAPASOK LANG TAGUMPAY! BIGLAANG UTOS! PRES MARCOS NAIA PAPALITAN NA SAWAKAS! DlLAWAN NGA-NGA NA!

(JUST IN SUCCESS! SUDDEN ORDER! PRES MARCOS NAIA WILL BE RENAMED FINALLY! YELLOWS SPEECHLESS!)"
Its thumbnail featured images of Marcos, former president Rodrigo Duterte, former senator Kiko Pangilinan and former vice president Leni Robredo, as well as the text: 
"FINALLY! PINALITAN NA. ITO ANG BIGLAANG UTOS NI PBBM PRRD. (NOW CHANGED. THIS IS THE SUDDEN ORDER OF PBBM PRRD) CONFIRMED! GOODBYE! NAIA."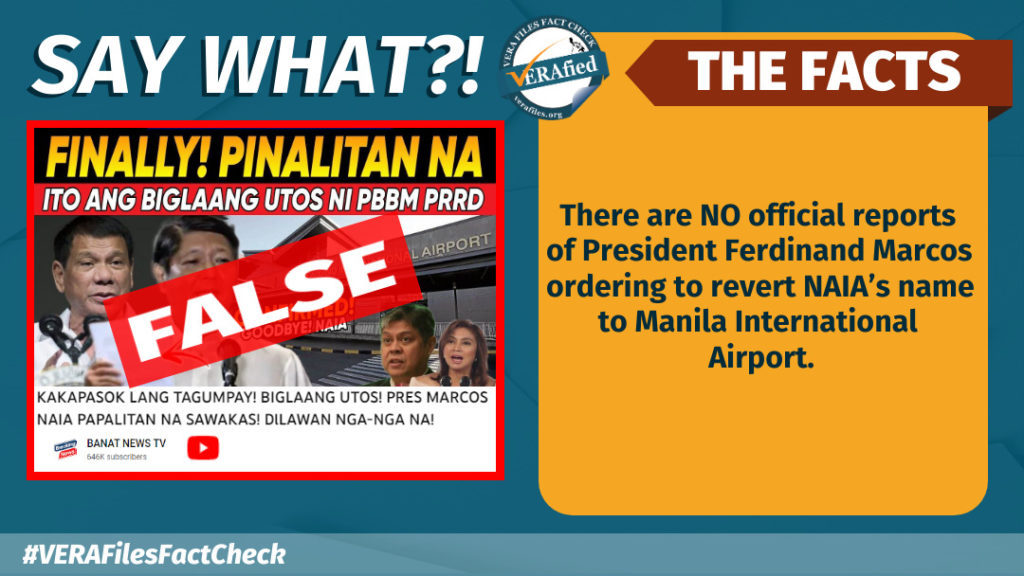 The contents of the circulating video did not show any evidence supporting its headline.
It used a narration from a previously fact-checked video about a six-year-old Change.org petition for the name change.
(Read Another FALSE claim about NAIA reverting to MIA)
To pass it off as new, the old clip was spliced together with unrelated news reports of Bombo Radyo about Marcos' state visit to China and the administration's housing program, as well as a speech during a Department of Social Welfare and Development event.
Marcos said in September that renaming the airport was not part of his administration's priorities. 
A day before the video was published, Transport Secretary Jaime Bautista talked about preparations to kickstart talks of privatizing NAIA. Meanwhile, on Jan. 1, NAIA made headlines after a supposed power outage caused hundreds of flights to be delayed or diverted, affecting thousands.
The video uploaded by the previously fact-checked YouTube channel BANAT NEWS TV (created on Dec. 26, 2015) garnered 329,923 views.
YouTube channels TUNAY NA KRITIKO (Jan. 22, 2020) and XCREW (Mar. 18, 2014) also made reaction videos collectively garnering 85,174 views. The FB page Bbm-Sara WATCH (April 3, 2022) posted a clip of XCREW's video getting 624 reactions, 133 comments, 36 shares and 12,000 views.
Have you seen any dubious claims, photos, memes, or online posts that you want us to verify? Fill out this reader request form or send it to 'VERA, the truth bot' on Viber.
(Editor's Note: VERA Files has partnered with Facebook to fight the spread of disinformation. Find out more about this partnership and our methodology.)