Spreading among Facebook (FB) users this January is a bogus warning attributed to the Department of Health (DOH), supposedly cautioning the public against an antibiotic-resistant "upper respiratory infection" from China.
A part of the text read: "DOH Health Bulletin to the Public: The Upper Respiratory Infection affecting China at present is quite serious. The virus causing it is very potent and is resistant to existing antibiotics."
It also mentioned that drinking water, staying away from crowds, wearing masks, and avoiding spicy food can prevent infection. High fever, prolonged coughing and headaches were among the symptoms of the illness listed.
The advisory is fake. DOH has disowned the health bulletin making the rounds online.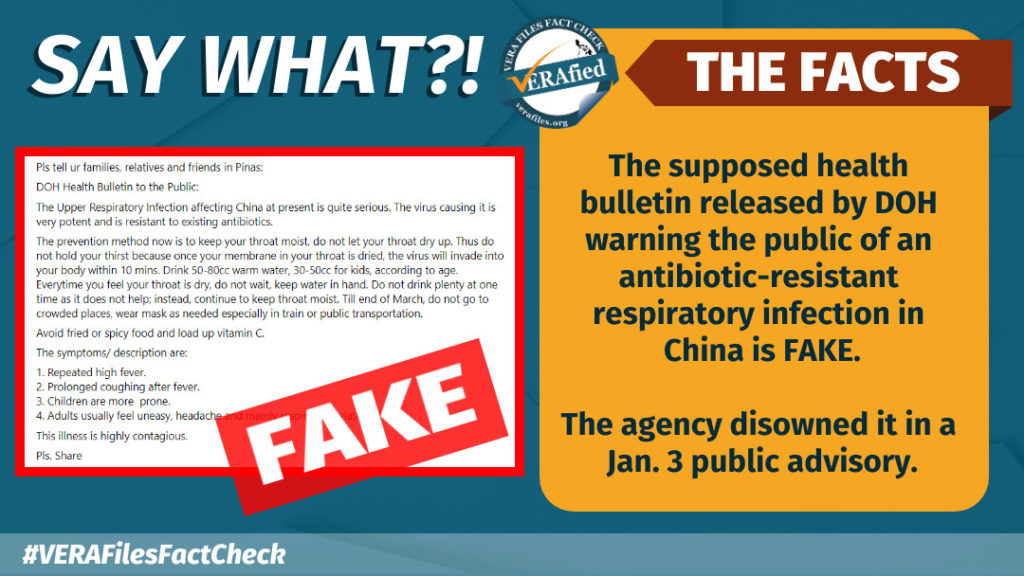 In a Jan. 3 advisory, the health agency warned the public against the circulating fake warning which "maliciously" used its name.
"The DOH would like to clarify that the message did not come from any verified platforms of the Department," it said.
The DOH reminded the public to eat a proper diet and exercise to avoid getting sick. Further, respiratory diseases are preventable via "sanitation, masking, distancing, good ventilation and vaccination."
It is not the first time the fake public advisory fooled Filipinos. It first appeared around January 2020, during the onset of the COVID-19 pandemic.
Days before the fake advisory recirculated this new year, several countries increased restrictions for travelers from China following the recent COVID-19 surge there.
A manual search on Facebook shows that at least 74 FB users have shared or posted the made-up health warning this week.
Have you seen any dubious claims, photos, memes, or online posts that you want us to verify? Fill out this reader request form or send it to 'VERA, the truth bot' on Viber.
(Editor's Note: VERA Files has partnered with Facebook to fight the spread of disinformation. Find out more about this partnership and our methodology.)