An edited video clip of Vice President Leni Robredo forgetting the title of the first House Bill she filed is circulating on social media, misleading viewers and portraying her as dumb. The portion where she remembered the name of the proposed measure was deliberately cut.
On Nov. 5, Facebook (FB) page Filipino Community published a 19-second clip lifted from the vice president's Oct. 29 press conference that showed Robredo struggling to recall the title of her first ever proposed legislation when she served as the representative of Camarines Sur's 3rd District from 2013 to 2016.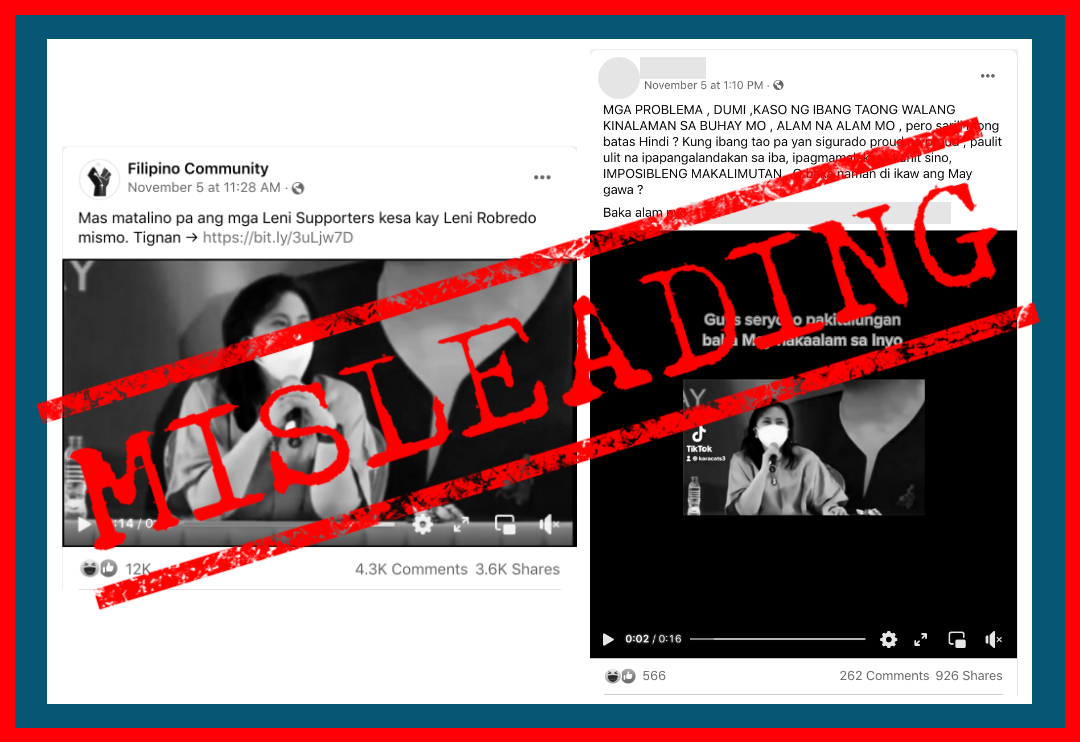 The FB page captioned the video: "Mas matalino pa ang mga Leni Supporters kesa kay Leni Robredo mismo." ("Leni Supporters are smarter than Leni Robredo herself.")
Robredo was responding to a question about her "edge" over other presidential aspirants. The press conference at the Sorsogon Provincial Gym was broadcast live on Facebook (FB) by local media outlets, including 102.3 Spiritfm Sorsogon.
The misleading clip showed Robredo's brief moment of forgetfulness and excluded the part when she remembered the name of her very first proposed measure — House Bill No. 19 or the Full Disclosure Act of 2013. She later enumerated her continued efforts to tackle corruption and promote transparency in government transactions.
Filed by then Rep. Robredo in July 2013, HB No. 19 requires all government offices, agencies, and instrumentalities to disclose all of their budget and financial transactions "to ensure transparency and accountability in public service" among employees of the government.
Filipino Community's post came just two days after Robredo launched her #KalayaanSaCOVID (Freedom from COVID) plan as part of her campaign for next year's national elections.
The misleading video has been viewed more than 165,000 times and already got over 12,000 reactions, 4,300 comments, and 3,600 shares.
It was reposted by at least two netizens on FB, and by user karacats3 on TikTok. The three copies collectively garnered 600,000 views, 19,700 reactions, 8,600 comments, and 26,900 shares from social media users.
Page Filipino Community was created in July last year.
Have you seen any dubious claims, photos, memes, or online posts that you want us to verify? Fill out this reader request form.

(Editor's Note: VERA Files has partnered with Facebook to fight the spread of disinformation. Find out more about this partnership and our methodology.)