A fake quote card of Vice President Leni Robredo calling for an additional two years of senior high school under the K to 12 program has been revived on Facebook (FB).
The graphic that was reposted on Nov. 1 read: "Kulang pa ang K to 12 education system natin. Kelangan [sic] apat na taon sa Junior HS at apat na taon sa Senior HS." (Our K to 12 education system is still lacking. It should be four years of junior high school and four years of senior high school).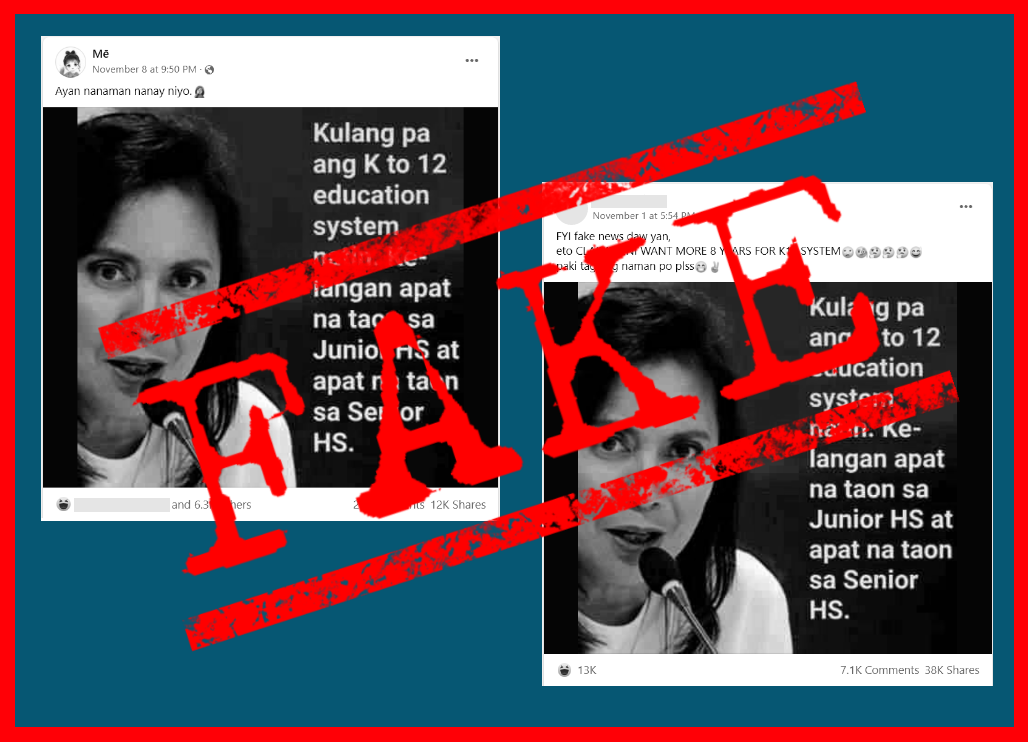 This is fake. Robredo had debunked the statement on her FB page back in 2020, where she said she supports a review of the program to ensure there are enough "facilities and equipment for the specialized tracks."
The K to 12 program introduced in 2013 mandates that students undergo kindergarten class, six years of elementary education, four years in junior high and two years in senior high school.
A cursory Google search revealed that the fabricated quote card started circulating in March last year, months after Robredo, on her radio show in October 2019, advocated for a review of the system to make it more effective.
The photo of Robredo was taken in November 2019 during her first media briefing as co-chair of the Inter-Agency Committee on Anti-Illegal Drugs (ICAD).
The statement in the rehashed graphic is just one of the many fake quotes attributed to Robredo, some of them created to mock her intelligence. (See VERA FILES FACT CHECK: FB pages, groups spread FAKE Robredo quote cards on face shields and VERA FILES FACT CHECK: Altered Robredo quote card draws criticisms from netizens)
The quote card was posted by a netizen in FB group Rosario Cavite – Mega Job Hiring. The post has garnered more than 13,000 reactions, 7,100 comments and 38,000 shares.
A similar quote card was posted by FB page Mē on Nov. 8. Their post garnered more than 6,200 reactions, 2,000 comments and 12,000 shares.
Have you seen any dubious claims, photos, memes, or online posts that you want us to verify? Fill out this reader request form.
(Editor's Note: VERA Files has partnered with Facebook to fight the spread of disinformation. Find out more about this partnership and our methodology.)