Several Facebook (FB) pages uploaded a satirical graphic claiming that Senator-elect Alan Peter Cayetano turned back on his promise to provide a P10,000 ayuda (cash assistance) as if it were true.
On June 8, the satire FB page Philippine Daily New Society published a news card that read: "CAYETANO CANCELS 10K AYUDA DUE TO HIGH DEMAND IN FB COMMENT SECTIONS."
The graphic is clearly labeled "SATIRE ONLY," and bore the tagline "News You Can't Trust," possibly derived from CNN Philippines' "News You Can Trust" slogan.
"This page is for satire, parody, and entertainment purposes only. This page is NOT a source of factual information," Philippine Daily New Society's About page on FB read.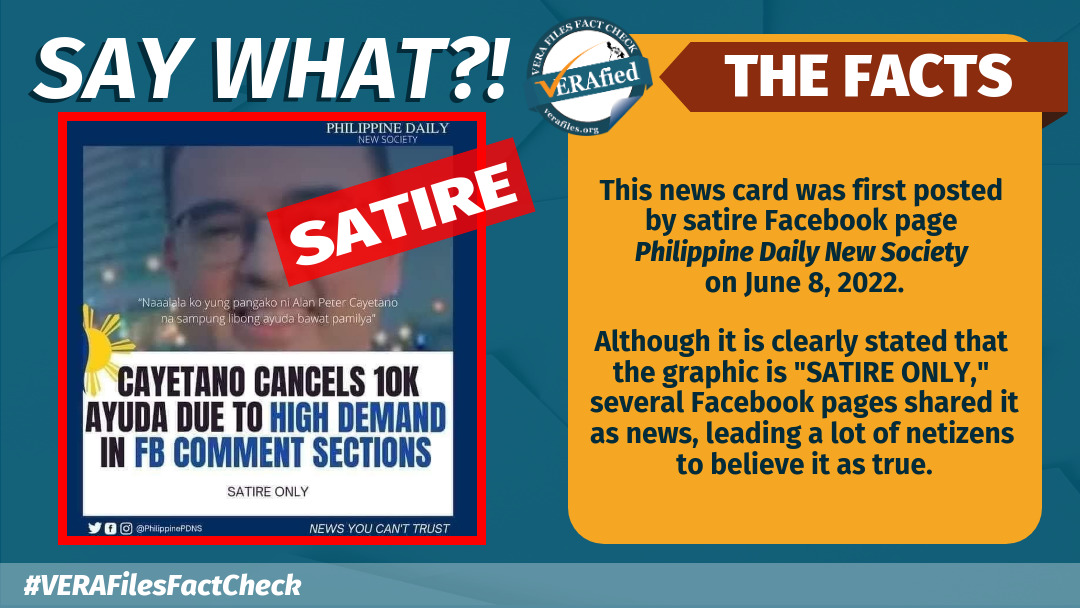 Netizens criticized incumbent Taguig-Pateros Rep. Cayetano for promising the P10,000 assistance in his senatorial bid. "Budol in highest level ang mudos [sic] (His modus fools people at the highest level)" and "Good job Boy ayuda (Mr. Cash Assistance)," they said.
In a June 1 press release, Cayetano said he and his team temporarily stopped his "Sampung Libong Pag-asa" and "Sari-saring Pag-asa" cash assistance programs in early February to comply with the Commission on Elections' rules during the campaign period.
The former House Speaker launched Sampung Libong Pag-asa on May 1, 2021, which aimed to provide P10,000 in cash assistance to select beneficiaries from the poorest sectors in different areas in the country. Sari-Saring Pag-asa, a program to provide sari-sari stores to people, started on June 15, 2021.
Philippine Daily New Society's quote card was reuploaded by FB pages PHLRC Riders (created on Nov. 7, 2011), Kamote PH (Aug. 24, 2018), Basta (June 19, 2019), All About Homes (May 7, 2021), Mr. Contractor (Oct. 23, 2019) and FoodAtics (April 25, 2021) starting June 15, with over 5,565 interactions combined.
It appeared two days after Cayetano warned netizens on June 6 not to fall for scammers pretending to be staffers or members of his two cash assistance programs.
Five of the six FB pages prompted readers to click on a link for the full story, but the link redirects to an advertisement for e-commerce company Lazada.
Have you seen any dubious claims, photos, memes, or online posts that you want us to verify? Fill out this reader request form.
(Editor's Note: VERA Files has partnered with Facebook to fight the spread of disinformation. Find out more about this partnership and our methodology.)