Two days short of the one-year anniversary of the Metro Manila-wide community quarantine, netizens on Facebook (FB) circulated a manipulated copy of an Inquirer.net graphic that says local land, air, and sea travel to and from the National Capital Region is being suspended beginning March 15 until April 14.
The image was an altered screenshot of a March 12, 2020 FB post of Inquirer.net about President Rodrigo Duterte's pronouncement temporarily prohibiting domestic travel in and out of Metro Manila to curb the spread of COVID-19.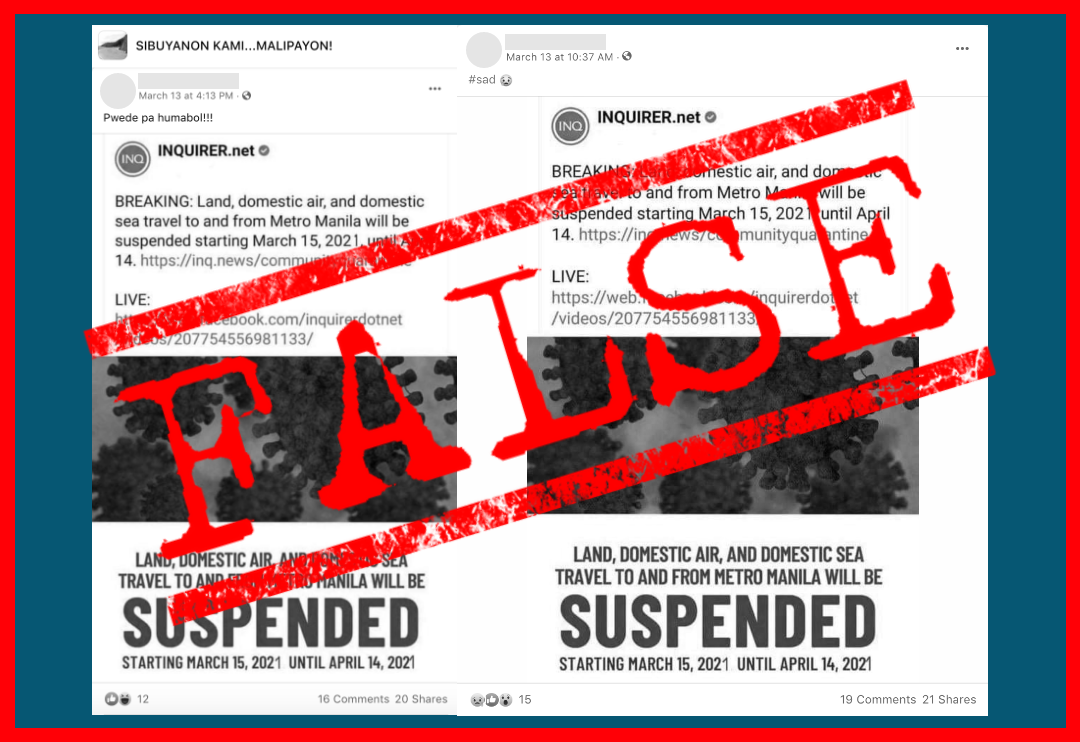 At least 16 FB users published the manipulated screenshot as true on March 13 and 14, and collectively received around a hundred reactions, 120 comments, and a hundred shares from netizens.
While some internet users were able to point out how the "2020s" in the photo were edited to show "2021," others fell for the falsehood and were quick to express their disbelief.
In a March 13 statement, Inquirer.net warned the public of the circulating manipulated copy of the year-old post, calling it "fake."
There has been no announcement from authorities about a suspension of domestic travel, amid the still-growing number of COVID-19 cases in the country.
But a year after the government first imposed a lockdown, Metro Manila mayors are enforcing uniform curfew hours — from 10 p.m. to 5 a.m. — throughout the region starting today, March 15, because of a spike in cases. This is simultaneous to "granular lockdowns" being implemented in areas that have clusters of COVID-19 cases.
Latest Department of Health data show the Philippines recording over 626,800 infections on March 15 — with more than 12,800 deaths, 53,400 active cases, and 560,500 recoveries.
On March 13, the country hit a record-high of 5,000 new cases tallied in a single day. Professor Guido David of the OCTA Research group said if the trend continues, this number could climb up to 8,000 new cases a day by the end of March, and to 18,000 to 20,000 daily cases by mid-April.
(Editor's Note: VERA Files has partnered with Facebook to fight the spread of disinformation. Find out more about this partnership and our methodology.)