The tabloid Pinoy Exposé wrongly claimed in an article on its website that Vice President Leni Robredo included Neri Colmenares, a candidate of the Makabayan coalition for the Senate, in her senatorial slate in exchange for the coalition's endorsement of her presidential bid.
STATEMENT
In an article published on Feb. 4, Pinoy Exposé claimed that Robredo "entered into an 'alliance' with CPP (Communist Party of the Philippines) front groups" — citing without evidence the Makabayan bloc — to "boost her candidacy."
It added:
"Makabayan has formally endorsed Robredo's candidacy last January 28, 2022, with Robredo agreeing to accept Neri Colmenares, former Makabayan congressman and a perennial loser in the Senate race, as one of her candidates for the Senate."

Source: Pinoy Exposé, Robredo Sets 'One Condition' In SMNI Presidential Debate: 'No Usec. Badoy, Please', Feb. 4, 2022 (archive)
FACT
While the Makabayan coalition has endorsed Robredo's candidacy for president, it was not in exchange for including Colmenares in her lineup for the Senate.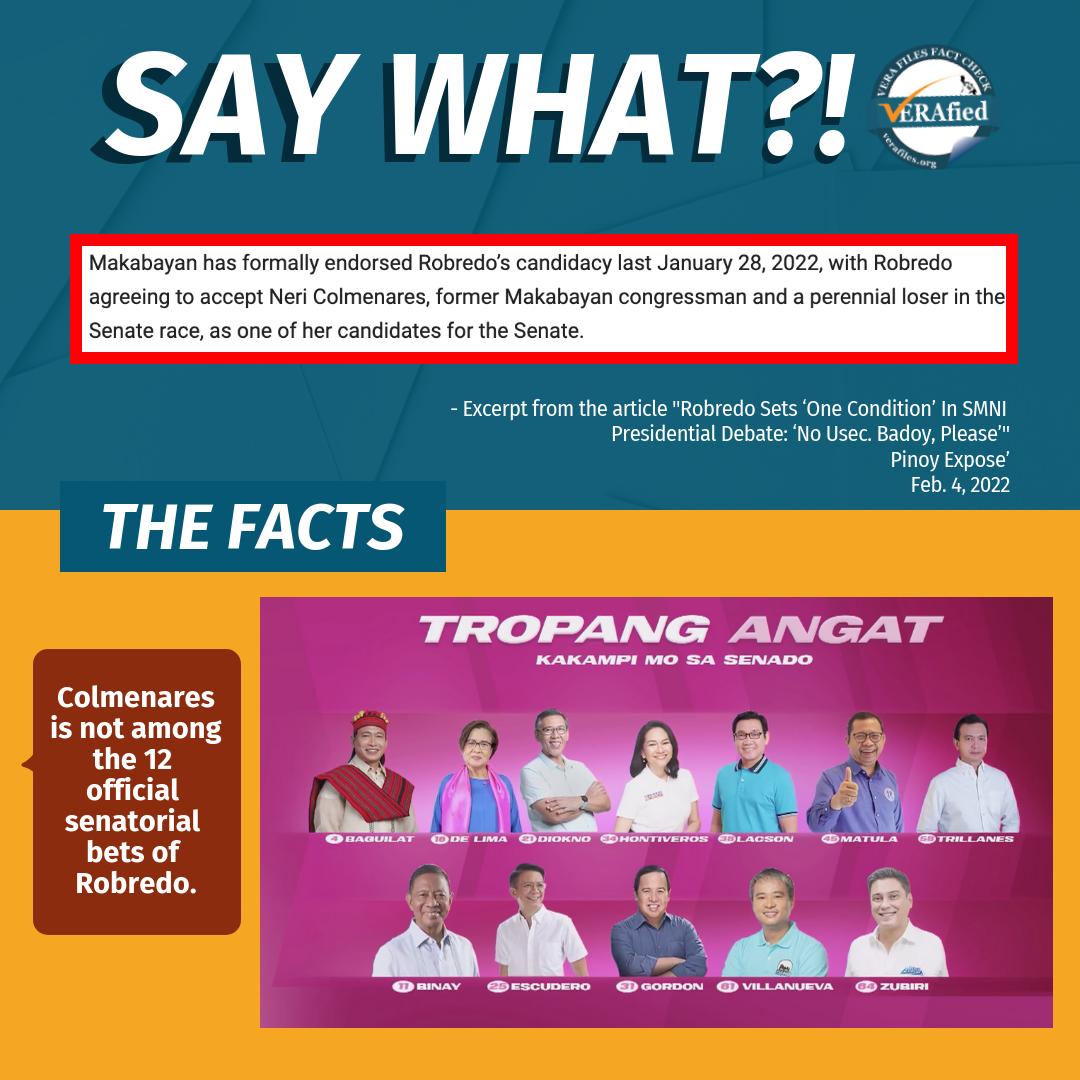 Robredo and her running mate, Sen. Francis Pangilinan, completed their final list of senatorial bets in late October 2021. It includes former House representative Teddy Baguilat, detained Sen. Leila De Lima, lawyer Alex Lacson, labor leader Sonny Matula, human rights lawyer Chel Diokno, and former senator Antonio "Sonny" Trillanes IV. To complete the lineup, they adopted as guest-candidates Sens. Richard Gordon, Joel Villanueva, and Migz Zubiri; former vice president Jejomar Binay; and former senator Francis "Chiz" Escudero.
Robredo initially announced on Oct. 15, 2021 the tandem's first 11 picks (excluding Matula) and told reporters that Colmenares was among those they were considering for the twelfth spot in the lineup. She announced seven days later that Matula had been chosen over the other contenders.
Despite the non-inclusion of Colmenares in the ticket, Makabayan, a political coalition of eight progressive groups such as Bayan Muna, still endorsed the tandem of Robredo and Pangilinan on Jan. 29.
As of Feb. 16, it is only through the endorsement of 1Sambayan, a coalition of pro-democracy groups endorsing a single slate of candidates for the May 9 polls, that Robredo and Colmenares appear in the same roster. Colmenares is one of eight senatorial candidates endorsed by the coalition, while Robredo is its presidential bet.
Colmenares is vying for a Senate seat for the third time after losing in the 2016 and 2019 elections. He was a Bayan Muna party-list representative in the House of Representatives from 2009 to 2016.
According to its website, Pinoy Exposé is a Manila-based tabloid run by Paul Gutierrez, president of the National Press Club, columnist/commentator Herman Tiu Laurel, and layout artist Francis Deocaris.
Have you seen any dubious claims, photos, memes, or online posts that you want us to verify? Fill out this reader request form or send it to 'VERA, the truth bot' on Viber.
Sources
Pinoy Exposé, Robredo Sets 'One Condition' In SMNI Presidential Debate: 'No Usec. Badoy, Please', Feb. 4, 2022 (archive)
Makabayan coalition, (Colmenares' acceptance of 1Sambayan endorsement), Jan. 29, 2022
Office of the Vice President, Pahayag ni Atty. Barry Gutierrez Ukol sa Tugon nina VP Leni Robredo at Senator Kiko Pangilinan sa Deklarasyon ng Suporta ng Koalisyong Makabayan., Jan. 29, 2022
Office of the Vice President, , PAGPAPAKILALA NI KGG. LENI ROBREDO SA IKA-LABINDALAWANG KASAPI NG SENATORIAL SLATE – Office of the Vice President of the Republic of the Philippines, Oct. 22, 2021
Office of the Vice President, OPENING STATEMENT OF HON. LENI ROBREDO ON HER INTRODUCTION OF THE SENATORIAL SLATE – Office of the Vice President of the Republic of the Philippines, Oct. 15, 2021
Office of the Vice President, Leni and Kiko on their 2022 senatorial slate, unity, COVID-19 matters Press conference with VP Leni Robredo, Sen. Kiko Pangilinan, and Sen. Frank Drilon – Office of the Vice President of the Republic of the Philippines, Oct. 15, 2021
Makabayan coalition, (declaration of endorsement for Robredo), Jan. 29, 2022
1Sambayan, About Us, Accessed Feb. 17, 2022
1Sambayan, (endorsement of official candidates of the coalition), Feb, 16, 2022
House of Representatives, ROSTER of Philippine Legislators (from 1907 to 2019), Accessed Feb. 17, 2022
Commission on Elections, 2016 elections ballot template
Commission on Elections, 2019 elections ballot template
National Press Club, JOINT NPC-PTFoMS PRESS CONFERENCE, Feb. 16, 2022
(Guided by the code of principles of the International Fact-Checking Network at Poynter, VERA Files tracks the false claims, flip-flops, misleading statements of public officials and figures, and debunks them with factual evidence. Find out more about this initiative and our methodology.)