Former broadcaster Jay Sonza misled people by using a different photo in a Facebook (FB) "congratulatory" post on the number of attendees in the April 23 #ArawNa10To! rally held in Pasay City for Vice President Leni Robredo. 
His post showed a photo of the rally in Mandaue City, Cebu on April 21.
STATEMENT 
On the early morning of April 24, Sonza posted this message: 
" congratulations/ 

to the organizers & the 412k attendees 

all star cast concert: leni@57 in pasay."

Source: Jay Sonza's official Facebook account, congratulations/…, April 24, 2022
Sonza's photo was from a rally for Robredo in an open field, with areas sparsely populated with people. A few netizens pointed out that this misled people because Robredo's Pasay City rally was held on a long stretch of road, not in an open area as shown. 
Another user who appeared to believe Sonza's post mocked the Robredo campaign for "bloating the number of attendees" in the rally.
The FB post garnered 17,000 reactions, 3,300 comments, and 736 shares as of April 27.
FACT 
Reverse image search shows that the photo Sonza posted was captured and uploaded by an FB user during the April 21 "CeBoom! Cebu Grand People's Rally 2.0" for Robredo. 
In his post, the FB user provided photos and videos of the Cebu rally shot from his condominium unit overlooking the North Reclamation Area (NRA) in Mandaue City, Cebu. A map posted by Ricky Ballesteros, one of the event's coordinators, shows that the NRA is an open square field.
The April 23 rally in Pasay City was held on a 1.6 kilometer portion of the Diosdado Macapagal Blvd., from J.W. Diokno Blvd. to EDSA, according to Youth For Leni – Pasay's official FB page.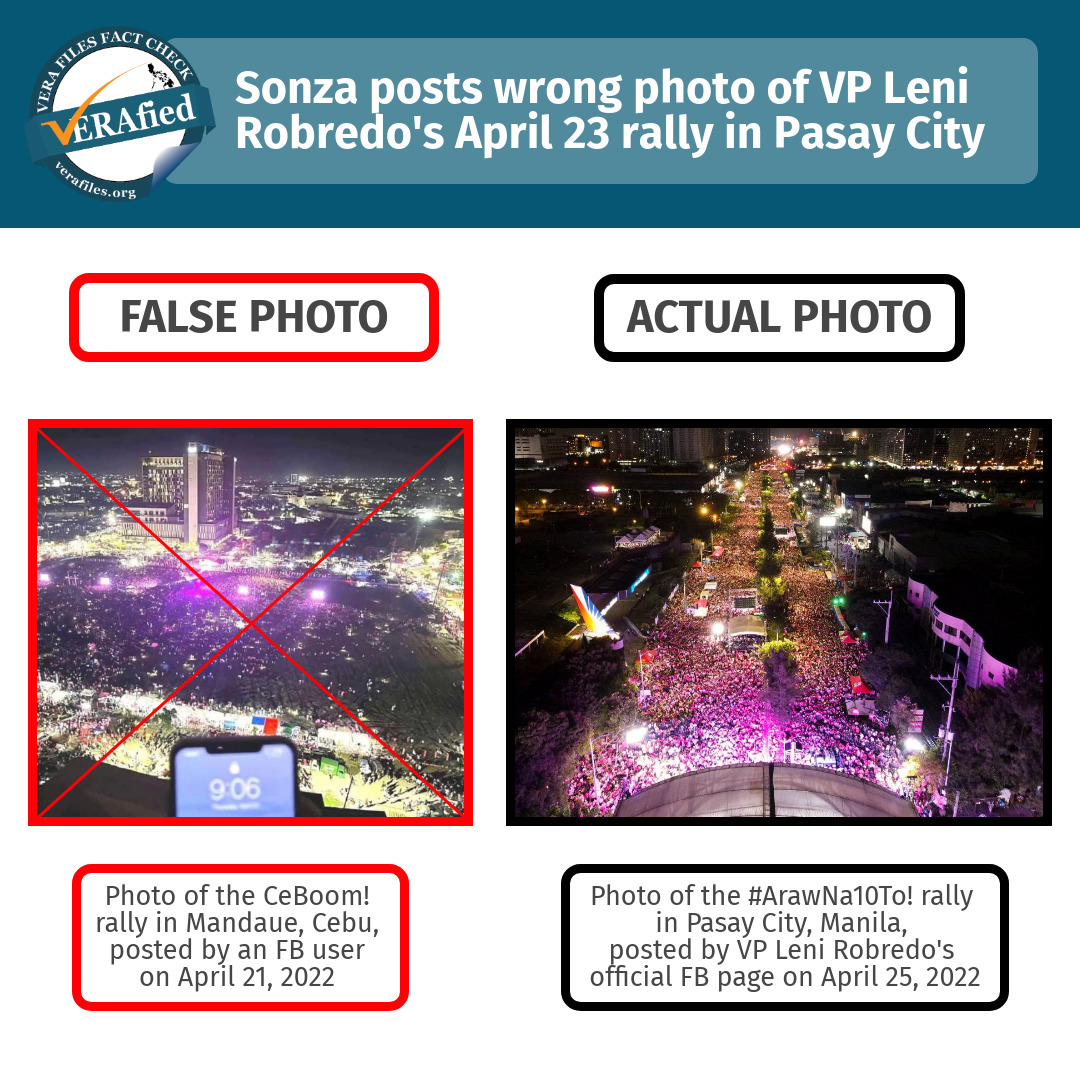 Sonza's post stated that approximately 412,000 people attended the #ArawNa10To! rally in Pasay City. This matches the crowd estimate provided by the local organizers and reported by multiple news organizations.
However, the National Capital Region Police Office said in an April 25 statement that only around 70,000 to 80,000 supporters and volunteers attended the rally. 
Have you seen any dubious claims, photos, memes, or online posts that you want us to verify? Fill out this reader request form or send it to 'VERA, the truth bot' on Viber.
Sources
The Freeman, Ceboom! grand people's rally: Huge crowd for Robredo, April 22, 2022 
GMA News, Robredo draws crowd in Mandaue City, says Cebu development aligned with her plans, April 22, 2022 
Cebu Daily News, 250k Kakampinks attend Cebu rally – organizers, April 21, 2022
Ricky Ballesteros' Facebook account, The land area for the Lenikiko Grand Rally…, April 21, 2022
Google Maps, Diosdado Macapagal Blvd., accessed Feb. 25, 2022
Youth for Leni – Pasay's official Facebook page, Handa na ba kayong magtipon-tipon… April 21, 2022
Rappler, Robredo's marching orders to 412,000 in Pasay: Open your hearts, fight fake news, April 24, 2022
BusinessWorld, Robredo celebrates birthday in Pasay rally, camp estimates 412K people, April 25, 2022 
Philippine Daily Inquirer, More celebrities pitch for Leni in record-breaking Pasay rally, April 25, 2022
National Capital Region Police Office, NCRPO Successfully Secures Campaign Rallies held in Pasay, Manila and San Juan, April 25, 2022
(Guided by the code of principles of the International Fact-Checking Network at Poynter, VERA Files tracks the false claims, flip-flops, misleading statements of public officials and figures, and debunks them with factual evidence. Find out more about this initiative and our methodology.)