A Facebook (FB) post erroneously claimed the Nutribun program was an initiative of the administration of the late ousted President Ferdinand Marcos Sr. This is false.
On May 31, an FB netizen published a post on the launch of the enhanced version of the Nutribun developed by the Department of Science and Technology (DOST) and Food and Nutrition Research Institute.
A part of the text read: "Matatandaang ang NUTRIBUN ay dati pang programa ni former President Ferdinand Marcos. (Recall that the Nutribun used to be a program of former President Ferdinand Marcos)."
Nutribun is a baked product developed by the United States Agency for International Development (USAID). It was introduced in the Philippines in 1970 to help combat child malnutrition and serve as emergency food during disasters.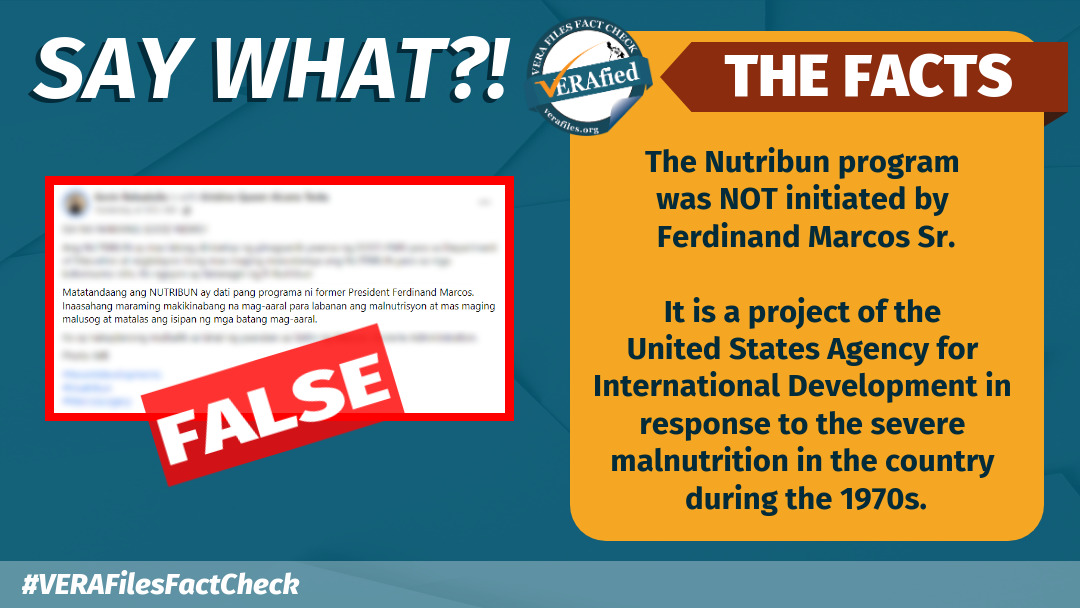 U.S. historian Paul E. Johnson wrote on the origin of the Nutribun in the 1973 issue of War on Hunger. He said "the testing and development of soy-fortified bread flour" began in 1967 "to improve the nutritive value of cereal-based foods." The soy-fortified flour developed was used for Nutribun baking in the Philippines.
The Nutribun became a household name in 1972 after the bread was airdropped to victims of a severe flooding disaster dubbed the "Great Luzon Flood," according to Dr. Grace Goldsmith in a 1974 issue of the journal International Nutrition.
According to a 2003 memoir of former USAID media advisor Nancy Dammann, packs of Nutribuns were "stamped with the slogan 'Courtesy of Imelda Marcos–Tulungan project'" even though Marcos had no involvement in the development of the bread product or conceptualizing the program. (Read Marcos propaganda in a time of plague)
USAID later tapped the Marcos administration to help implement the Nutribun program, but this only covered baking the buns, identifying beneficiaries and distribution. The USAID continued to supply the ingredients until the program ended in 1997. 
A couple of weeks before the false post emerged, the FB page of the DOST Region 1 unveiled the "new face" of the enhanced Nutribun. The agency noted that USAID developed the food program, contrary to the netizen's false post.
The FB user's post has garnered over 55,000 reactions, 3,100 comments and 6,300 shares.
Have you seen any dubious claims, photos, memes, or online posts that you want us to verify? Fill out this reader request form.
(Editor's Note: VERA Files has partnered with Facebook to fight the spread of disinformation. Find out more about this partnership and our methodology.)