A video of a Senate hearing in 2012 that showed former senator Antonio Trillanes IV walking out of a Senate hearing after a heated debate with Senate president Juan Ponce Enrile was tagged as breaking news on April 12 and shared over a thousand times on social media.
Facebook pages DU30 and News One TV uploaded a video with a news ticker that read: Enrile nabisto si Trillanes at China nagsabwatan (Enrille exposed Trillanes and China's conspiracy). These videos have been viewed around 274,700 times since its posting.
The posts, falsely labeled "breaking news", had this incorrect headline: "PRES DUTERTE ENRILE TRILLANES AT CHIN4 [sic] BISTADO NAG WALK OUT (President Duterte Enrile Trillanes and China exposed, walked out).
Aside from reusing an old video and passing it off as breaking news, the post is wrong on three other counts: Both Trillanes and Enrile are not currently sitting senators, there are no on-going in-person or live senate investigations. Rodrigo Duterte was not yet president at the time the Senate hearing took place.
Also, no media organization reported about any recent conspiracy between Trillanes and China.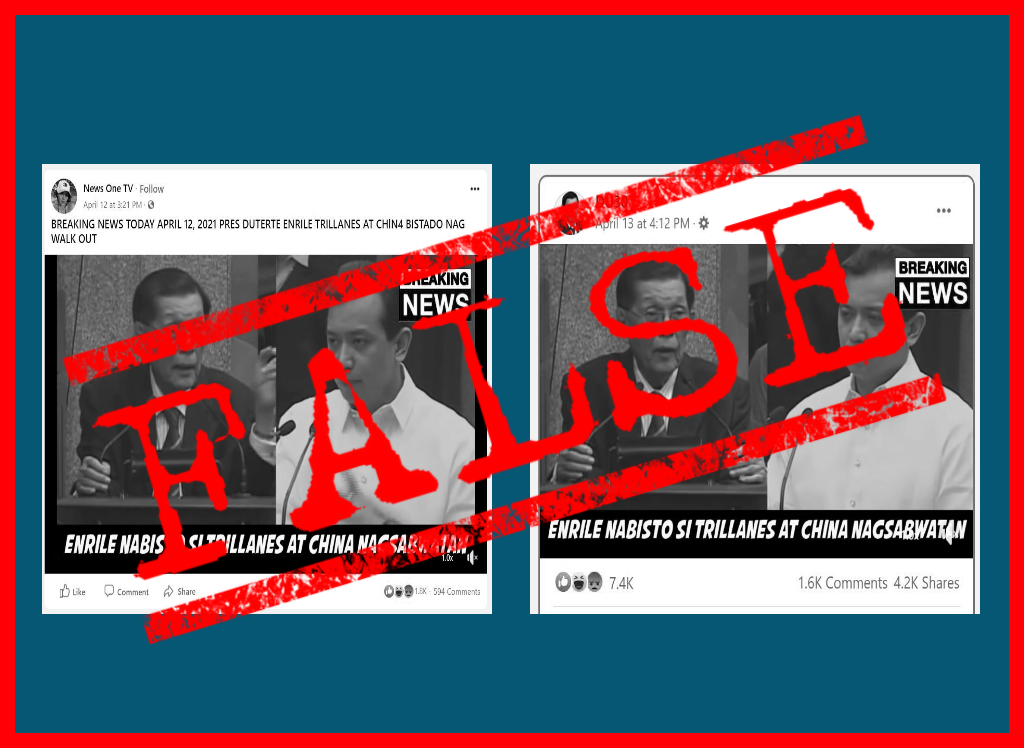 The erroneous video showed a 10-minute portion of a 44-minute September 2012 video by Rappler where Trillanes walked out of a Senate plenary session after Enrile accused him of working for China.
At the time, Trillanes worked as a back channel negotiator to help resolve a standoff at Scarborough Shoal between China and the Philippines.
During the heated exchange, Trillanes refused to answer Enrile's inquiry about his talks with China and about private notes from then Philippine Ambassador to China Sonia Brady, saying it was a matter of national security and foreign policy.
The video with the false headline and news ticker emerged a day after the former lawmaker tweeted on April 11 amid speculations over the president's health after he was not seen in public for days. Trillanes said he's "not buying the info that Duterte is sick".
DU30's post got 7,400 reactions, 1,600 comments, and 4,200 shares on FB, while News One TV's post got a total of 4,000 FB interactions. According to social media monitoring tool CrowdTangle, nine other FB pages have uploaded the same video, with a total of 108,600 views.
DU30 was created in May 2020, while self-proclaimed FB news page News One TV was created in July 2020.
(Editor's Note: VERA Files has partnered with Facebook to fight the spread of disinformation. Find out more about this partnership and our methodology.)