A two-month-old online post currently making the rounds on social media that implicates several members of the opposition, mostly from the Liberal Party, in the Dengvaxia vaccine controversy is misleading.
Facebook page Lapu-Lapu published Sept. 17 an 87-second video titled "Dengvaxia – Liberal Party" that showed at least 15 headlines of news reports on the issue.
Flanking the screen's upper corners were photos of Vice President Leni Robredo, Magdalo Rep. Gary Alejano, and Sen. Paolo Benigno "Bam" Aquino.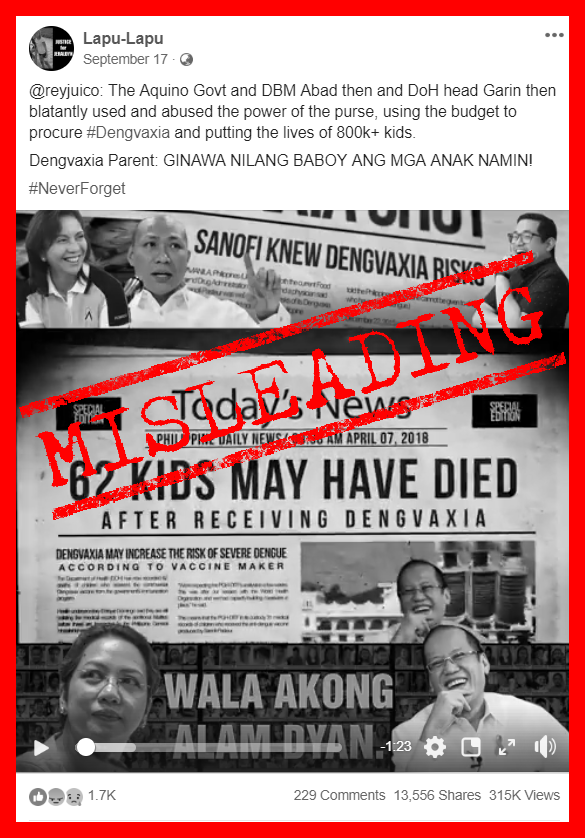 At the bottom of the still frame were photos of former Health secretary Janette Garin and former President Benigno "Noynoy" Aquino III with the statement, "Wala akong alam dyan (I don't know anything about that)," in bold, yellow letters.
The online post is misleading, wrongly insinuating that Robredo, who was then Camarines Sur Representative, along with Alejano and Bam Aquino, were included in the mess.
The three were lawmakers during the procurement and implementation of the P3.5 billion anti-dengue vaccine program but were not involved in what was primarily an initiative by the Department of Health.
Among those whose photos appeared in the video, only former president Aquino and Garin are facing technical malversation charges in relation to the dengvaxia controversy. Garin is also facing graft charges.
The yellow-fonted text beside the former president's image also paraphrases and takes out of context a statement Aquino made in a Dec. 14, 2017 Senate hearing, where he denied knowledge about the bribery, corruption and false product claims charges filed against pharmaceutical company Sanofi Pasteur, before meeting with them in China and France in 2014 and 2015.
The news reports featured in Lapu-Lapu's video is not about the December 2017 hearing and instead used – and paraphrased – the headlines of the following reports:
DOH says 62 kids may have died after receiving Dengvaxia (Inquirer.net)
Naniniguradolang! Noy admits he phoned senators on Dengvaxia report (politics.com.ph)
Sanofi knew Dengvaxia risks in 2015 but didn't tell PH – FDA, physician (Rappler)
DOH: Over 3,000 students hospitalized after Dengvaxia shot (Rappler)
New study confirms Dengvaxia poses more risks for kids without prior infection (Rappler)
DOH: More than 800,000 children vaccinated with Dengvaxia (CNN Philippines)
DOH list of Dengvaxia deaths grows (Inquirer.net)
Aquino faces another plunder complaint over Dengvaxia procurement (CNN Philippines)
NBI recommends charges vs Aquino, Garin, Abad over Dengvaxia mess (Rappler)
Senate urged to give priority to dengvaxia victims' fund (Manila Times)
400 children who received Dengvaxia injection, tested positive of dengue (UNTV)
Child dies after 'Dengvaxia' shot (Manila Times)
PAO sees 'pattern' in deaths of 4 Dengvaxia recipients (ABS-CBN News Digital)
Families claim Dengvaxia deaths (Philstar.com)
Nearly 2,000 Dengvaxiavaccinees hospitalized due to dengue in 2 years: DOH (ABS-CBN News Digital)
Lapu-Lapu's misleading post made the rounds the same week the Department of Justice concluded last Oct. 30 its preliminary investigation on the first batch of criminal complaints against Garin.
In December 2017, the Department of Health suspended the mass, school-based immunization program after Sanofi disclosed Dengvaxia posed a threat of more severe affliction with the disease for those who have not had previous dengue infection. About 800,000 public school students had been vaccinated prior the program's discontinuation.
More than 4.3 million people shared Lapu-Lapu's misleading online post, with traffic to the post largely coming from the Lapu-Lapu page itself, as well as MindaVote and Duterte Today.
(Editor's Note: VERA Files has partnered with Facebook to fight the spread of disinformation. Find out more about this partnership and our methodology.)